Chaplin Estates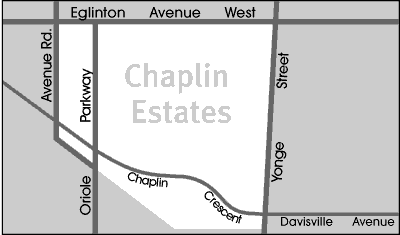 This distinguished neighbourhood remains one of the most sought after enclaves for the discriminating buyer and has always been one of Toronto's most exclusive addresses.  Situated in mid-town Toronto it is the area to the east of Avenue Road, west of Yonge Street, north of Davisville Avenue and south of Eglinton Avenue.    Homeowners in this upscale neighbourhood enjoy exclusive shops, parks and recreation, convenient access to excellent public and private schools, transit service and architecture dating back to the 1920's.
History
The Chaplin Estates neighbourhood began with a plan of subdivision registered by William John Chaplin and his son James D. Chaplin, who had been landowners in this area dating back to 1860. Chaplin Estates was marketed as a high end residential district. The developers included a long list of building restrictions and zoning bylaws in the sale of each property. There were no semi-detached houses allowed and stucco exteriors were not to cover more than half the house. Most of the lots were sold between 1921 and 1925 and the majority of its houses were built in the 1920's and 1930's.
Architecture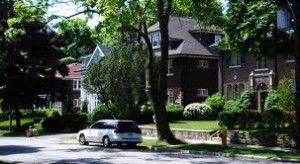 Chaplin Estates' two and three storey detached houses are situated on premium lots with private driveways.
The houses in this neighbourhood were built in the 1920's and 1930's, and include many fine examples of Tudor, Georgian, and English Cottage style architecture.
Shopping and Lifestyle
Chaplin Estates residents are within walking distance of "The Eglinton Way" shopping district along Eglinton Avenue West. This upscale shopping area includes high-end fashion boutiques, gourmet food shops, professional offices, restaurants and the Eglinton movie theatre.
The Yonge street shopping district is also within walking distance of Chaplin Estates. This highly visible shopping area includes many one-of-a-kind stores, and trendy restaurants that draw people from all over the city.
Parks and Recreation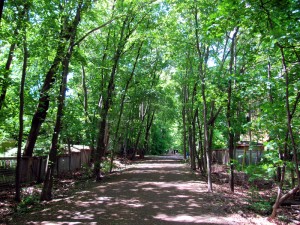 Chaplin Estates has a number of recreation opportunities. The ultra modern North Toronto Memorial Community Centre at 200 Eglinton Ave E. has an indoor and outdoor pool, water slides, a gymnasium, a walking track, and exercise rooms. Eglinton Park, adjacent to the community centre, includes: a baseball diamond, tennis courts, a wading pool and an artificial ice hockey rink. Of popular interest to residents is the historic Kay Gardner Beltline Trail, a beautiful walking and cycling path easily accessed from Oriole Park at the south end of the neighbourhood. This park has undergone many improvements as of late.  The Neshama Playground is now available to all children with or without disabilities. Residents of the neighbourhood can also enjoy a water park, tennis courts, and a baseball diamond. If you are a dog person, the park is a treasure.
Other parks within easy access of the Chaplin Estates neighbourhood include:
Lawrence Park
Blythwood Ravine
Sherwood Park
Sunnybrook Park
Moore Park Ravine
Schools and Libraries
| | | |
| --- | --- | --- |
| Davisville Jr. PS | 43 Millwood Road | (416)-393-0570 |
| Hodgson Sr. PS | 282 Davisville Avenue | (416)393-0390 |
| Oriole Park Jr. | 80 Braemar Avenue | (416) 393-5215 |
| North Toronto Collegiate Institute | 730 Eglinton Avenue West | (416) 393-1860 |
| Bishop Strachan School | 298 Lonsdale Road | (416) 484-4835 |
| St. Clement's School | 21 St. Clement's Avenue | (416) 488-1125 |
| Upper Canada College, Upper School | 200 Lonsdale Road | (416) 488-1125 |
| Upper Canada College Prep School | 220 Lonsdale Road | (416) 488-1125 |
The Northern District branch of the Toronto Public Library, is located at 40 Orchard View Boulevard. This branch offers programs for seniors, adults, and children. Nearby branches include:
Forest Hill, 700 Eglinton Ave W
Deer Park, 40 St. Clair Ave E
Locke, 3083 Yonge St.
Transportation
Chaplin Estates residents can walk to the bus stops on Yonge Street, Eglinton Avenue, Oriole Parkway, and Chaplin Crescent. The Davisville and the Eglinton subway stations are also within walking distance of this neighbourhood for convenient access to the downtown business core.
For motorists, the main east-west arterial roadway is Eglinton Avenue. Residents are approximately fifteen minutes from the Allen Expressway and the Don Valley Parkway. It is only fifteen minutes to downtown via Yonge Street or Avenue Road.