Lawrence Park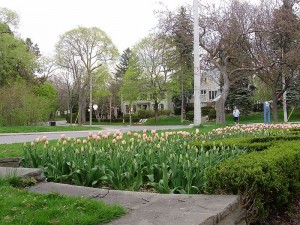 Lawrence Park is one of Toronto's most exclusive and wealthiest residential neighbourhoods along with Rosedale, the Bridle Path, and Forest Hill. This family oriented neighbourhoods close proximity to many high-end amenities like social clubs, green space, high end boutiques, fine dining and great schools is a big draw for the wealthy who wish to raise their children in a peaceful and tranquil setting.
Owning a car is a necessity in this area, however residents' cars are most likely the only vehicles you will see on its residential streets. There is a charming rural feel here with the neighbourhood's many tree-lined windy streets and gently rolling hills.
The neighbourhood is bordered by Yonge Street to the west and Bayview Avenue to the east, and from Blythwood Ravine on the south to Lawrence Avenue on the north. The vast green areas in the neighbourhood create its quiet atmosphere and Lawrence Park was one of Toronto's first planned garden suburbs. For census purposes, the City of Toronto officially splits the neighbourhood into two halves, Lawrence Park North and Lawrence Park South
History
Lawrence Park was established in 1907 by the Dovercourt Land Building and Saving Company, which acquired it from John Lawrence, after whom this neighbourhood is named. It was the company's president, Wilfred Servington Dinnick, who had a vision of this suburb becoming one of the most desired developments for affluent Torontonians, and he promoted it heavily as the "aristocratic neighbourhood." As with many other suburbs, the growth of this promising neighbourhood was slowed by the two World Wars and the economic crisis that shook the world. Most of the larger homes were built between the 1910s and the 1940s, and the typical architectural styles of that era are English Cottage, Tudor Revival, Georgian and Colonial. Even today, these styles are still visible throughout the area because homeowners are very careful to preserve historic details when renovating. Extensive landscaping and beautiful gardens are also very common in Lawrence Park.
Lawrence Park South retains some of its original character from the 1880s, when it was first developed by the Metropolitan Street Railway as the northern end of its Bloor rail line. Some of the street names, Cheltenham, St. Ives, Buckingham suggest the English character that the developers had in mind.
Architecture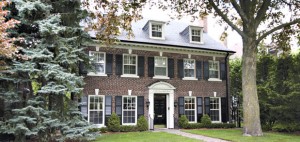 Lawrence Park homes include a variety of architectural styles including English Cottage, Tudor Revival and Georgian and Colonial designs. The houses were mostly built between 1910 and the late 1940's on large lots with private drives.
The architecture in Lawrence Park has been changing in recent years. The original homes are often renovated and many of the smaller, older properties are torn down to make space for bigger, more modern mansions. Renovations in this neighbourhood though have been sensitive to preserving the old-world charm of these houses and integrity of the neighbourhood, including leaded glass windows, wood trims around door and window frames, decorative fireplace mantels and rich hardwood floors. Lawrence Park is a good place to find a house that blends the old with the new.
Shopping
The high profile shops and restaurants in the Yonge and Lawrence, Bayview and Mount Pleasant area are well patronized by Lawrence Park residents. This shopping district includes fashion stores, lots of children's stores, sporting goods stores, gift shops, bakeries, gourmet dining at restaurants like Cravings (carefully prepared Pan-Asian food, fine décor, $$) and Blue Zen (Japanese fusion, $$$), North 44, and Centro (Italian, $$$), casual restaurants like Classico Louie's, and coffee shops. Boutique style establishments include everything from antique and art galleries to European bistros, while the 3080 Yonge Street shopping plaza at the corner of Lawrence and Yonge is much more casual, with dining running along the lines of the Golden Griddle Pancake House.
Away from Yonge Street, it becomes apparent that this is not a highly walk-able neighbourhood. Hot destinations on Avenue Road, such as Pusateri's Fine Foods and Royal Lighting, have large parking lots to accommodate the cars pulling in and out – there are large stretches where few pedestrians are to be found (at dinner hour, they are just south of the 401 having dinner at upscale restaurants with their families – a real event in Lawrence Park. Yonge Street, with The Friendly Butcher, Alex on Yonge with over 400 cheeses, and high end boutiques like Melmira Bra & Swimsuits and Felichia custom dresses, is a much better bet for strolling. There are even spas such as the Ivashi Bedrock Spa and Civello for hair, and eco-friendly stores like Dandelion Mud Pie on Fairlawn and Ten Thousand Villages, that are suggestive of mid-town rather than of North Toronto.
Parks and Recreation
This green oasis and its lush parkland defines the whole neighbourhood. The park has three tennis courts and a lawn bowling club. Because the park is so ideal for daily fitness routines, many people frequent its charming paths for an early-morning jog. Lawrence Park unravels the Blythwood Ravine footpath, which is perfect for long strolls. The ravine is bursting with a variety of native trees that provide shade for the picnic areas and footpaths. This is also a great spot for dog walking.
  Alexander Muir Memorial Garden
The award-winning Alexander Muir Memorial Garden is the most beautiful part of Lawrence Park. The best time to visit the garden is the early spring or summer, when all the flowers start to bloom. Sit down on one of the many benches and take in the lovely smell of lavender and roses trimmed to perfection throughout the garden's stunning landscaping.
The little park is nestled in the ravine, lying just south of Blythwood Ravine Park. A frequent destination for a Sunday walk, it hosts many locals enjoying a nice day out, jogging or walking their dogs on the large off-leash section of the park. Stop by at one of the lovely homestyle bakeries on Yonge or Eglinton and get a delicious snack to go.
Cheltenham Park is a small park located just minutes away from York University's Glendon Campus.
Schools
| | | |
| --- | --- | --- |
| (P) Blythwood Jr. | 2 Strathgowan Crescent | (416) 393-9105 |
| (P) Sunny View Jr. & Sr. | 450 Blythwood Road | (416) 393-9275 |
| (PH) Lawrence Park Collegiate Institute | 125 Chatsworth Drive | (416) 393-9500 |
| (PH) North Toronto Collegiate Institute | 70 Roehampton Avenue | (416) 393-9180 |
| (PH) Northern Secondary | 851 Mt. Pleasant Road | (416) 393-0270 |
| (PR) St. Clements School | 21 St. Clements Avenue | (416) 483-4835 |
| (PR) Havergal College | 1451 Avenue Road | (416) 483-3519 |
| (PR) The Toronto French School | 296 Lawrence Avenue East | (416) 484-6533 |
| (PR) Crescent School | 2365 Bayview Ave. | (416)449-2556 |
| (PR) Crestwood School | 411 Lawrence Ave. E | (416) 444-5858 |
| (PRH) Crestwood College | 411 Lawrence Ave. E |  (416) 391-1441 |
Transportation
Most Lawrence Park residents are within walking distance of bus routes that run along Yonge Street, Mount Pleasant Road, Bayview Avenue, and Lawrence Avenue. The Lawrence subway station, located at the intersection of Yonge and Lawrence, is part of the Yonge-University-Spadina subway line.
The Yonge Street on-ramp to Highway 401 is a five to ten minute drive from Lawrence Park.