Deer Park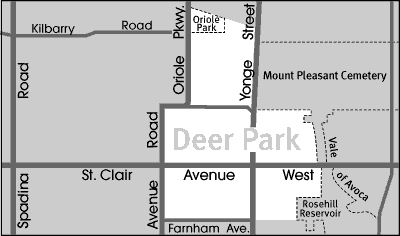 Deer Park is different from similar upscale Toronto neighbourhoods in that its homes are not isolated on the periphery of the neighbourhood. The residential streets spill out onto either Yonge Street or St. Clair Avenue into the heart of one of Toronto's busiest shopping, entertainment, and business districts.
Deer Park's commercial centre provides a good balance for this neighbourhood which is surrounded by lush green parkland, majestic trees and the Vale of Avoca Ravine.
Rich in natural beauty, Deer Park is centered on the bustling intersection of Yonge Street and St. Clair Avenue.  The official boundaries of the neighbourhood are the Vale of Avoca to the east, Farnham Avenue and Jackes Avenue to the south, Avenue Road and Oriole Parkway to the west, and the Belt Line trail to the north.
One of Toronto's older neighbourhoods, established in the 1830's,  Deer Park came into existence at a time when every necessity had to be within walking distance which explains the abundance of places to worship, shop, learn, socialize and play all steps from the fine old homes. Today, Deer Park residents enjoy vibrant streets filled with boutiques, fruit markets, butchers, bakeries, pet supply stores, coffee shops and fine restaurants.  Mid-town office buildings abound and Upper Canada College is only a stroll away from the area's homes as is the St. Clair subway station.
Deer Park has all the attributes that make a neighbourhood highly desirable for professional families.
History
The name dates from 1837, when the Heath family purchased 40 acres of land on the northwest corner of Yonge and St. Clair, then the Third Concession Road,  and named it Deer Park. The area was formerly referred to by the First Nations people as "Mushquoteh", which means a meadow or opening in the wood where deer come to feed.  Appropriately, the Heath family chose to name their land Deer Park.  The Heath property was subdivided in 1846 into 33 lots and was entirely sold off by 1874. By the 1850s the neighbourhood included country villas, a racetrack, a school, a store and a hotel at which patrons could feed deer which roamed the Heaths' property
In 1891 Upper Canada College moved from its urban location to the then still rural Deer Park area, establishing a large campus that remains in the same location today, interrupting Avenue Road north of St. Clair Avenue.
Deer Park was annexed by the City of Toronto in 1908, and by the 1930s it had become an upper-middle class residential district which it remains today. The intersection of Yonge and St. Clair is also the site of extensive commercial development.
Deer Park is also home to one of Toronto's oldest cemeteries. St. Michael's Cemetery (Toronto) was opened by the Roman Catholic Archdiocese of Toronto on September 28, 1855. There are some 29,000 graves in the cemetery. Ten acres in size, St. Michael's has the unusual characteristic of being surrounded on all sides by the backs of buildings, thus making it nearly invisible from the street. It is bound on the north by stores, apartments and office buildings along St. Clair Avenue West, on the west by houses along Foxbar Road, on the south by houses and a fire hall along Balmoral Avenue, and on the east by stores and office buildings along Yonge Street.  Entrance to the cemetery is gained through an alley off Yonge Street. The cemetery's octagonal mortuary vault was used to store bodies in the winter until the ground thawed. Designed by architect Joseph Sheard, who was also mayor of Toronto in 1871-72, the vault was designated a historic property under the Ontario Heritage Act in December 1975.
Architecture
Since the original "Deer Park" was an estate built in 1837, an eclectic mix of detached and semi -detached homes encompassing a variety of architectural styles have developed the neighbourhood. Most of the original Deer Park houses were built between 1875 and 1920. As well, modern luxury condos and townhomes that fit well with the older homes in the neighbourhood, have been added from the 1980's onward. Most of these units have balconies with picturesque views of the park, the ravine or the city skyline.
In addition to a diverse housing stock, Deer Park is also home to some notable addresses:
42 Heath Street West, where Canada's most notorious bank robber of the day, Edwin Boyd, was captured on March 15, 1952. The house is non-descript.
37, 39 & 41 Heath Street West, Hoskin House built 1880.  Altered and added to by architects Peter Gabor and George Popper in 1981. They were given an "Ontario Renews Award" for the restoration project.
55 Heath the Willis House built in 1888.  This Victorian home with its steeply pitched roof, eyebrow dormer window, and two-storey bay window, is listed in The City of Toronto inventory of Heritage Properties for its architectural importance. The stained glass transoms in the lower bay are possibly the work of the first owner, John Willis, a stained glass manufacturer.
Significant Deer Park buildings include the Imperial Oil building at 111 St. Clair Avenue West, built to the original design for the Toronto City Hall, with its top floor observation deck and famous mural.  This building is now being developed into condominiums.  Also, is the award-winning Wittington Tower, a 20-storey octagonal tower located at 22 St. Clair Avenue East.
Deer Park also has three famous churches.   Deer Park United Church was erected at 129 St. Clair Avenue West in 1913, and the immense Yorkminster Park Baptist Church, built from 1926 – 1928 at the northeast corner of Yonge and Heath Streets which is Canada's largest Baptist Church. Christ Church Deer Park, built at the northwest corner of Heath and Yonge in 1922, is an Anglican church with a variety of community events, clubs and activities including unique Jazz Vespers.
Shopping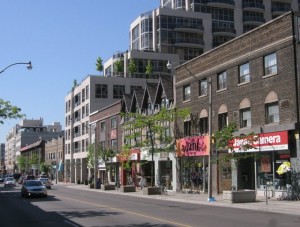 The Yonge and St. Clair shopping district is a vibrant area known for its many fine restaurants. The high profile retailers in this area attract shoppers from all over the city.  Most of the local staple and grocery stores are located inside the St. Clair Centre and the Delisle Court.
Deer Park feels similar to other North Toronto neighbourhoods in that it is filled with middle-class comfort. Everything from fine dining establishments and upscale boutiques to grocery stores and other staple retailers make up the commercial hub of Deer Park, which is surrounded by lush green parkland and majestic trees.
Parks and Recreation
The Rosehill Reservoir located just steps from Yonge and St. Clair at 75 Rosehill Ave., is one of Toronto's prettiest green space. Together with David Balfour Park this is an oasis in the bustling midtown core. The Rosehill Reservoir which forms the upper tier of this park includes a very pretty four acre reflecting pool lined with cobblestones. There is also an adjacent waterfall with a small bridge and a maze of stairs on each side, as well as a separate water fountain feature with a dramatic overhead spray that rushes water into the oval pool below. There is also a beautiful flower garden and wading pool tucked away at the far end of the park.
Wrapped around Rosehill Reservoir is David Balfour Park that features a surfaced path  ideal for walking, jogging and cycling. This well treed park has a large children's playground. Sign markers on the east side of the park indicate access points to the Vale of Avoca Ravine which features a hiking trail that follows the path of an adjacent meandering creek. The urban forest and all the nature it includes is remarkably vibrant and a pleasant surprise given the proximity to such a well established urban area.
Oriole Park located at the northern tip of Deer Park has a playground, wading pool, two tennis courts and access to the Belt Line', a seven kilometre path that follows the route of Toronto's old Belt Line Railway. Oriole Park is also home to the newly created Neshama Playground. The Neshama Playground features a water play area, sensory musical features, Braille panels, an enclosed climbing merry-go-round and bounce pad, accessible swings and play structures, and colourful, springy surfacing.
Schools
Children of Deer Park residents can attend a number of prestigious schools in the area, including
| | | |
| --- | --- | --- |
| Deer Park Junior and Senior Public School | 23 Ferndale Avenue | (416) 393-1550 |
| Brown Junior Public School | 454 Avenue Road | (416) 393-1560 |
| Montessori Schools of York | 1320 Yonge Street | (416) 926-1325 |
| Northern Secondary School | 851 Mt. Pleasant Road | (416) 393-0270 |
| De La Salle College Oaklands Private School | 131 Farnham Avenue | (416) 969-8771 |
Transportation
The St. Clair subway station is within walking distance of every home in Deer Park.
Motorists are approximately ten minutes from downtown, and fifteen minutes from Toronto's Expressways and Highways