This established North Toronto neighbourhood, centred around Lytton Park itself, is known for its largebeautiful character homes set on maturetree-lined streets.
Lytton Park, Toronto Real Estate Listings
Lytton Park is one of Toronto's most exclusive neighbourhoods. It is home to many professionals and corporate executives who value Lytton Park's quiet charm and the convenient access to transportation corridors leading in and out of the city.
The Lytton Park neighbourhood features beautiful homes on large lots, outstanding recreational facilities, and a close proximity to excellent public and private schools.
Lytton Park is the area encompassing Yonge Street on the east, Lawrence Avenue to the north, Briar Hill Avenue to the south and roughly a half block west of Mona Drive, where the former municipal boundaries of Old Toronto and North York aligned.  Lytton Park public schools are also a big draw for the neighbourhood.  These schools include the highly regarded John Ross Robertson elementary school, Glenview Middle school and Lawrence Park Collegiate High School. Havergal College girl's private school and Blessed Sacrament Catholic School also provide other options for families looking to move into this neighbourhood.
History
Lytton Park originally started out as a rural suburb of Toronto with a 200 acre farm lot granted to John MacDougall, a United Empire Loyalist. In 1828, the Snider family built the first house in the neighbourhood at 744 Duplex Avenue. The original Regency style cottage was expanded over the years and is now Georgian in appearance. It is one of the oldest private residences in Toronto.
Lytton Park's rich history includes a castle and a horse racing track. The castle known as Glen Castle – sometimes referred to as Ainsley Castle – once stood perched on the hill where Glen Castle Street is now situated. The racetrack was situated near Glengrove Avenue and Yonge Street. It began operations in 1887 and closed just two years later.
In 1886 the Metropolitan Street Railway began a one horse carriage service to what was then the Town of North Toronto which included Lytton Park. Speculating on future land development for the area the railway company purchased the 200 acre Beatty farm creating the Glen Grove Estates subdivision. The first houses in the neighbourhood along Glengrove Avenue were built in the 1890s and early 1900s.
When the Town of North Toronto was annexed by the City of Toronto in 1912 residential development in Lytton Park began to really grow. Families quickly started moving to Lytton Park which led to the building of John Ross Robertson Public School in 1921 and has been a neighbourhood landmark ever since.
The John Ross Robertson Public School is an elementary school named after John Robertson (1841–1918), who was a notable Canadian newspaper publisher, politician, and philanthropist. His battle to protect hockey from the influence of professionalism led to his being called the "father of Amateur Hockey in Ontario."
Architecture
Lytton Park predominantly features Georgian and Tudor Style homes built from 1890 to 1930. Houses in Lytton Park are situated on large lots with lush manicured gardens. There is an abundance of mature trees lining the streets which provide a shady canopy in the summer and creates a picturesque snowy effect in the winter.  Recently, many houses in Lytton Park have become subject to extensive renovations or have been totally rebuilt transforming the neighborhood architecture.
Lifestyle and Shopping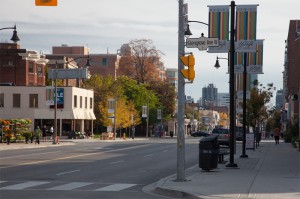 Lytton Park is well served by a variety of upscale shops and fine restaurants located along Yonge Street, Avenue Road and Eglington Avenue West. These shopping districts are all within walking distance.
Parks and Recreation
Lytton Park, from which this neighbourhood takes its name, is nestled in a deep valley hidden by trees and quiet of the traffic from Avenue Road above. This serene park includes three public tennis courts and is also home to the North Toronto Lawn Bowling Club.   Across from Lytton Park is the Herbert Begg Memorial Garden. This picturesque strolling garden was donated to the City by Herbert Begg's daughters as a memorial to their father.
Otter Creek Park located off Rosewell Avenue has a twin outdoor skating rink that is used for skateboarding in the summertime. The public schools adjacent to Otter Creek provide access to a running track, baseball diamond, basketball court and popular tobogganing hills.
Schools
Transportation
This neighbourhood is a very convenient twenty minute commute either by car or public transit to downtown Toronto's financial, business and medical districts. Highway 401 is just five minutes north of the neighbourhood connecting you to all parts of greater Toronto.
Both the Eglington and the Lawrence subway stations, located on Yonge Street are within walking distance of most Lytton Park homes. Yonge Street and Avenue Road both have bus routes connecting to the Yonge subway line.
Sorry we are experiencing system issues. Please try again.