From designs by Philip Johnson to Mies Van Der Rohe, these homes prove it's glass—with its lightness, transparency, translucency, and reflectivity—that best reveals a home's interior and provides a commune with nature.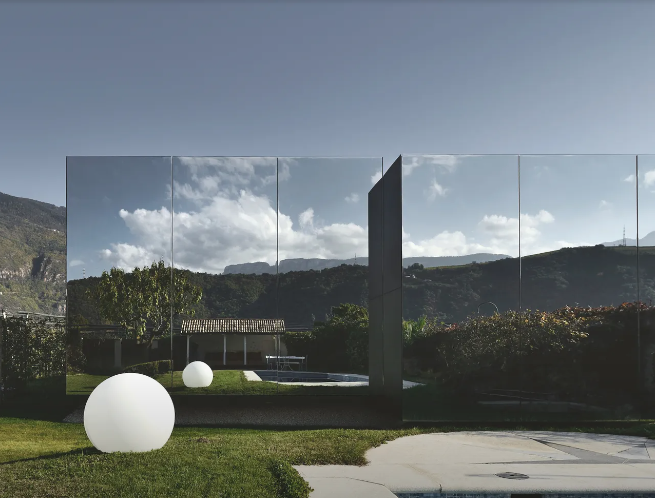 There is perhaps no better emblem of modernist design than glass houses. Alongside steel, wrought iron, and concrete, the material came to define an architectural movement and quickly captured architects' imagination. Glass structures—with their lightness, transparency, translucency, and reflectivity—intimately reveal their interiors and provide a commune with nature that was previously unachievable.
Of the many famous designs, Mies Van Der Rohe's Farnsworth House in Plano, Illinois, and Philip Johnson's Glass House in New Canaan, Connecticut, sit in the mind's eye as primordial examples of the medium, celebrated for their ingenuity and capture of the zeitgeist. The rise of experimentation and expansion in postwar America gave way to the popularity of glass as a primary building material in homes, but the style has since ricocheted around the globe, with architects in South Africa, Vietnam, Brazil, and the Netherlands among those in other far-flung destinations taking inspiration from glass architecture. A new book from Phaidon features 50 such homes and celebrates stunning feats of architectural wonder that engage glass in thoughtful and compelling ways. Ahead, discover 15 beautiful glass houses around the world that make a compelling case for ditching brick, stone, timber, and concrete altogether.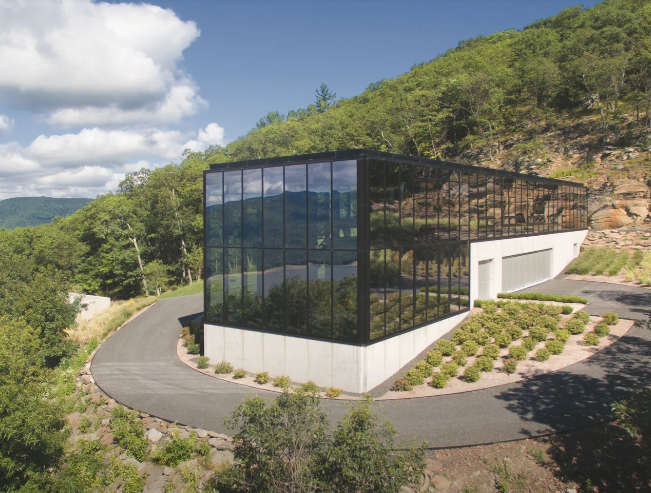 Shokan House, Shokan, New York, by Jay Bargmann Faia
Designed by Jay Bargmann of Rafael Viñoly Architects as a Catskills getaway for him and his family, the Shokan House appears at first glance as though it has emerged from the mountain's hillside with a paintbrush sweep of rock street surrounding it. The imposing structure is in stark contrast with the natural environment; but once inside, one feels as if they are enveloped by nature. Highly reflective glass panels and a black steel frame stand above a concrete foundation; and though the house is not specifically modular, it is easily demountable. The panels open vertically to allow for natural air, and the building materials include steel, glass, concrete, ceramic, and wood that are intentionally left exposed to play in contract with the serene settings just beyond.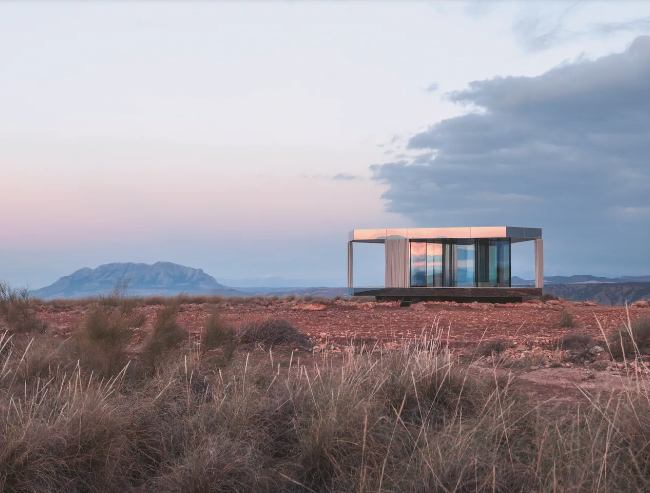 Glass Pavilion, Gorafe, Spain, by Ofis Arhitekti
In Spain's Gorafe desert—where the high elevation and lack of light pollution make for remarkable stargazing, but the wind's whiplash speed and extreme temperatures cast a harsh environment—Ofis Arhitekti's Glass Pavilion offers a holiday retreat amid unparalleled natural beauty. The mirrored-glass panels deflect the sun's rays and cool the house, thanks to their triple glazing. They also won't crack from high speed gusts of wind. The home, just large enough to fit two people comfortably, features only the essentials—a living room, sleeping quarters, and a bathroom—offering an exercise in restful solitude among the arid desert.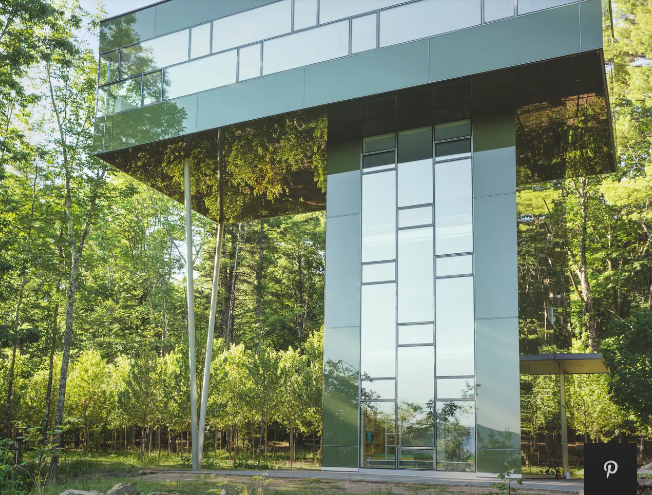 Tower House, upstate, New York, by Gluck+
The Tower House in upstate New York offers an unconventional floor plan, but then again, there's nothing conventional about it to begin with. The home's minimal footprint—intended to reduce the intervention on the natural surroundings as much as possible—shifts the living areas into the sky, floating above the ground and supported by a V-shaped beam. The first three floors are connected by a glass-enclosed stairwell and include only bedrooms and en-suite baths stacked atop one another. The top floor, with the largest footprint and a view enveloped in nature, gives the impression of being in a modern treehouse.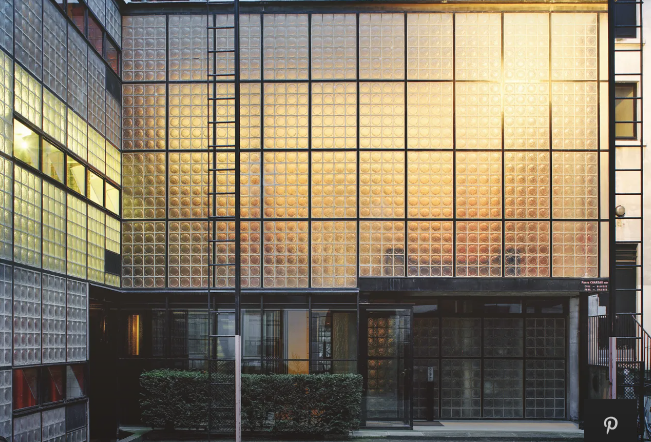 Maison de Verre, Paris, France, by Pierre Chareau and Bernard Bijovet
The Maison de Verre sits tucked away behind an imposing door in a quiet courtyard of Paris's 7th arrondissement. Designed by Pierre Chareau in collaboration with Bernard Bijovet at the commission of the Dalsace family—who sought out a modern and unconventional design—the project challenged the status quo of the time with its use of industrial materials in a residential space. With glass blocks and steel beams, the architectural duo carefully transformed an existing building by keeping the upper floors in place and excavating the lower structure.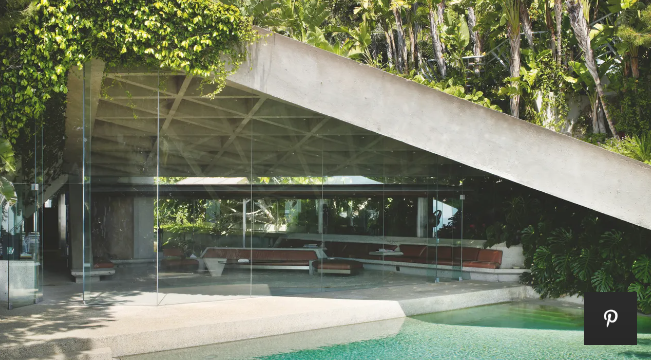 Sheats-Goldstein Residence, Los Angeles, California, by John Lautner
Built in 1963 by architect John Lautner, the Sheats-Goldstein Residence in Los Angeles marks the first architectural acquisition by LACMA. Every structure, fixture, and detail was designed by Lautner—down to the windows, lighting, garden, and furniture—making the home a true expression of the visionary architect's eye. The residence is simultaneously airy and cave-like. An imposing slab of concrete stretches up from the ground to the roof in quick angular fashion; but when inside, magnificent glass panels stretch seamlessly from floor to ceiling with sweeping views of Los Angeles and minimal interruption (save for small metal joineries). In addition to its architectural significance, cinema fans may recognize the home as the backdrop of the Coen brothers' film The Big Lebowski.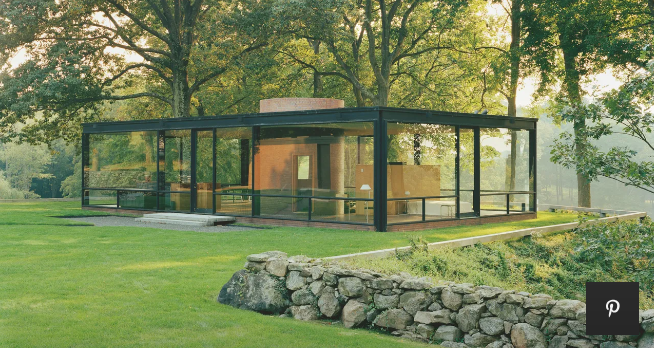 Glass House, New Canaan, Connecticut, by Philip Johnson
Philip Johnson's Glass House is perhaps one of the finest and most celebrated examples of glass architecture. Designed in tribute to his friend and inspiration, Mies Van Der Rohe, the historic home was built in New Canaan, Connecticut, between 1948 and 1949 and is considered to be the architect's signature work. It also served as his primary residence for almost sixty years. Whereas many glass homes have separate sleeping quarters to afford more privacy, Johnson's Glass House is comprised of one large room enclosed in glass. A small brick vestibule inside encloses the bathroom, and a hidden staircase leads to the home's brick counterpart on the grounds not too far away.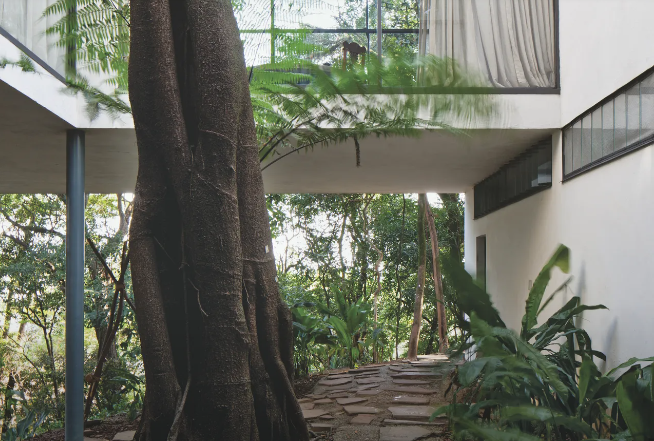 Glass House, São Paulo Brazil, by Lina Bo Bardi
The Glass House in São Paulo, also sometimes known as the Casa de Vidro, was built in 1952. It's architect Lina Bo Bardi's most celebrated project, as well as her first project to be realized. The home, which the Italian-born Brazilian modernist architect designed for herself and her husband (journalist and museum director Pietro Maria Bardi) has since transformed into a foundation to introduce Bardi's work to a new audience, as well as a gathering place for artists and other luminaries. The wrap-around glass windows and its perch upon stilts, coupled with the location—a remote area of the rainforest that's nestled in lush vegetation—make the home feel like a magical treehouse.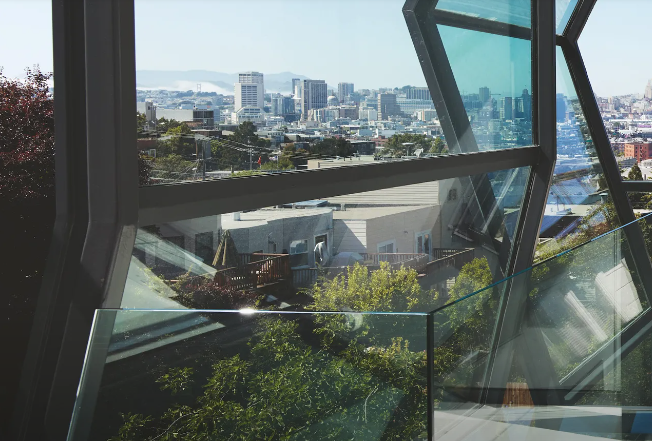 Flip House, San Francisco, California, by Anne Fougeron
San Fracisco's Flip House earned its name in honor of architect Anne Fougeron's visionary decision to flip the floor plan and anchor the house around the dramatic flood of south-facing natural light. The prismatic custom-built glass façade offers a dynamic view of the city beyond, and glass partitions inside allow the light to bounce more freely through the space.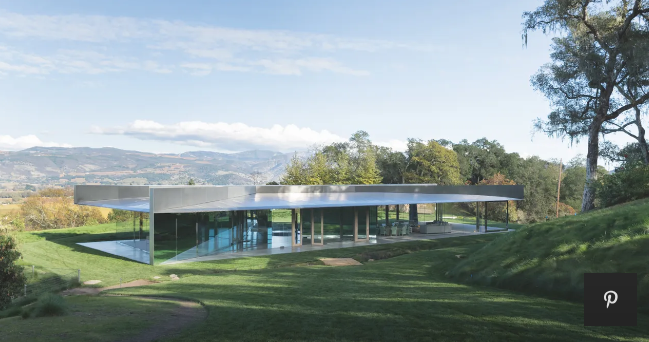 Kramlich Residence and Collection, Napa, California, by Herzog & de Meuron
In Herzog & de Meuron's design for the Kramlich residence, which is home to Pamela and Richard Kramlich as well as their prolific collection of video and media art, two curved glass panels intersect to form the galleries and living spaces. On the ground floor, galleries and living quarters contained entirely by glass allow for life and art to seamlessly intertwine, while a spiral glass staircase leads down to the cellar, where works are thoughtfully installed. The project, which took two decades to realize, took on a new shape over the years as the technology evolved and the collection grew. The collection includes important works by Marina Abramovic, Diane Arbus, Andy Warhol, Bruce Nauman, and more.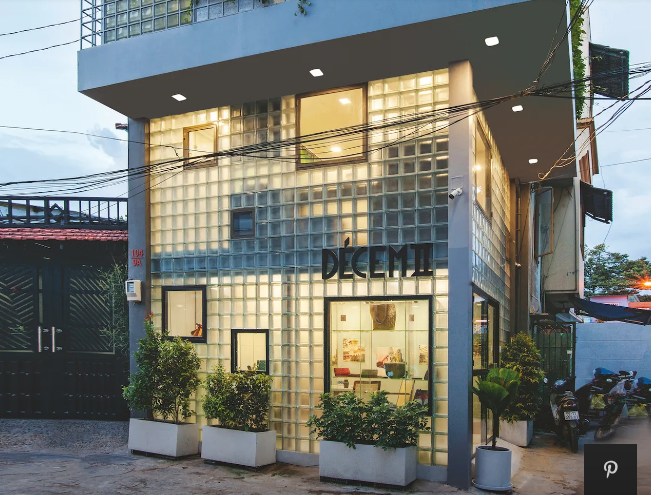 Glass-Block Micro House, Ho Chi Minh, Vietnam, by Room+ Design and Build
For a rather small 18-square-meter home in Ho Chi Minh, the existing brick façade wouldn't do. With a small footprint of just under 200-square-feet total, the Room+ Design and Build team turned to glass bricks for two of the exterior walls as an affordable and functional solution, allowing for a flood of light during the day and a glowing lantern-like effect from within when the sun goes down. On the ground floor, where a living room also doubles as a showroom for the homeowner's leather fashion business, two glass vitrines allow more visibility, while the glass bricks are more opaque to account for privacy.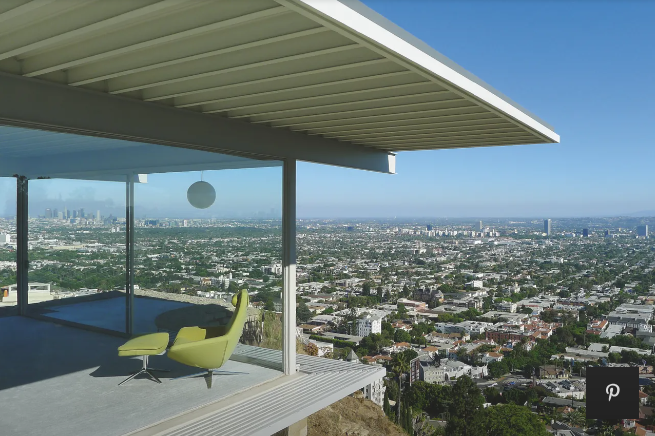 Stahl House, Los Angeles, California, by Pierre Koenig
Perhaps no home better exemplifies postwar modern living in Los Angeles than Pierre Koenig's 1960 Stahl House. Also known as the Case Study House #22, the residence was designed as part of the city's experimental architecture program to showcase affordable model homes following the war. The home is built entirely of glass and steel, with sweeping views of Los Angeles below. With three sides of the structure panelled in glass, Koenig's intent was for the modern design to neither hide nor fade into the landscape, but rather to be an emblem of modern Los Angeles architecture and the city.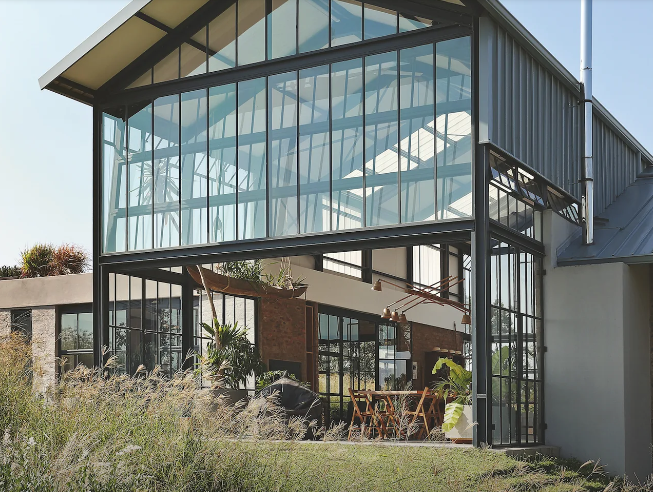 .
The Conservatory, Zwavelpoort, Pretoria, South Africa, by Nadine Engelbrecht
Outside of South Africa's administrative capital of Pretoria sits a spacious retreat that offers an escape from bustling city life. While the home uses various materials—like brick, timber, and concrete—it is the airy conservatory that serves as the focal point, with its double-height glass and steel windows. In the warmer months, partitions on either side open to expose the space to the outdoor elements, seamlessly fusing indoor and outdoor living.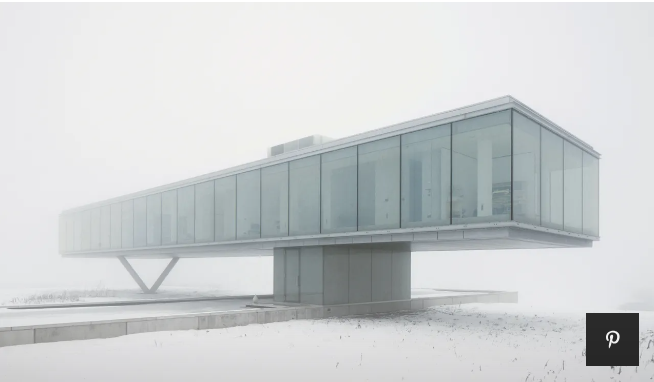 Villa Kogelhof, The Netherlands, by Paul de Rutter Architects
Not only is Villa Kogelhof a feat of futuristic beauty, appearing as though floating above the Earth's surface, but it also marks an important example of successful sustainable living. The energy-neutral home makes use and re-use of wind, sun, and rain to heat, cool, illuminate, and power the residence, which its able to do in large part thanks to the ribbon of both beautiful and functional glass that envelopes the façade. A pool of water that rests atop the lower level's translucent roof allows for easy light diffusion below. The home is cleverly split between the upper layer that's flooded in sunlight, as well as an excavated basement that houses the garage, office, and bathroom.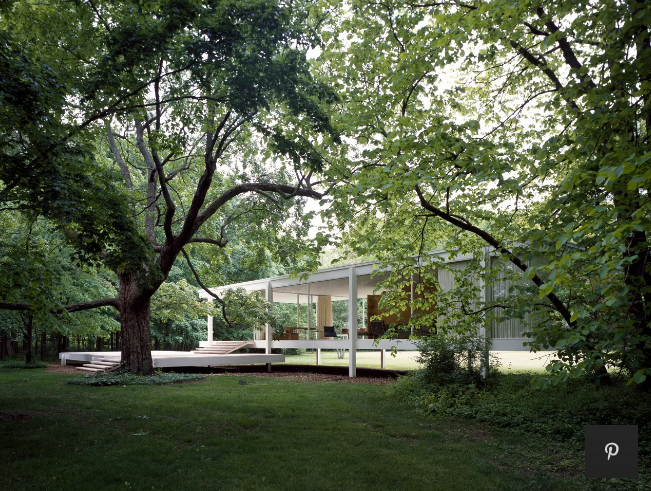 Farnsworth House, Plano, Illinois, by Mies van der Rohe
The Edith Farnsworth house in Plano, Illinois—outside Chicago—is an emblem of modern architecture and represents architect Ludwig Mies van der Rohe's greatest expression of harmony between architecture and nature. At the time of its construction between 1945 and 1951, the project challenged existing notions about privacy by exposing the interior through floor-to-ceiling glass windows and instead relying on the dense forest of trees surrounding the home to conceal the interior, rather than choosing opaque exterior walls.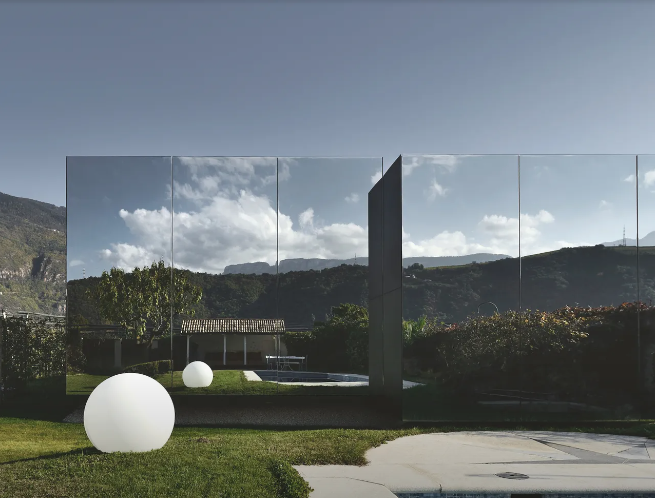 Mirror Houses, Bolzano Italy, by Peter Pichler Architecture
Surrounded by an abundance of apple orchards and the cascading mountains outside of Bolzano, Italy, this pair of holiday houses literally reflect their idyllic environment with their mirrored-glass façades. The two homes, slightly varied in height, are adjoined but entirely autonomous, allowing for guests to come and go as they please. They are perched on a platform that gives the appearance of hovering ever so slightly above the ground. The mirrored glass allows the structures to recede into their surroundings and creates a subtle visual impact—a special UV coating signals to approaching birds to avoid it—and a black aluminum frame provides definition and a contemporary appeal.
AD by Katherine McGrath (November 7, 2023)