Everything you need to know about the countertop materials that deliver both functionality and style.
Whether you're remodeling your entire kitchen or just looking to give a kitchen island a facelift, you're probably on the hunt for kitchen countertop ideas. Compared to the tedious decision-making process for kitchen cabinets, which can mostly be led by aesthetics, the process of choosing a countertop material needs to be led just as much by durability and a realistic understanding of upkeep as it does by appearance. That being said, for larger kitchens the countertops have the potential to define the space, so it's important to take the visual appeal part seriously too.
With all that in mind, here are some of the very best types of countertops to inspire your kitchen designs, from the most decadent of marbles to the most budget-friendly DIY concrete.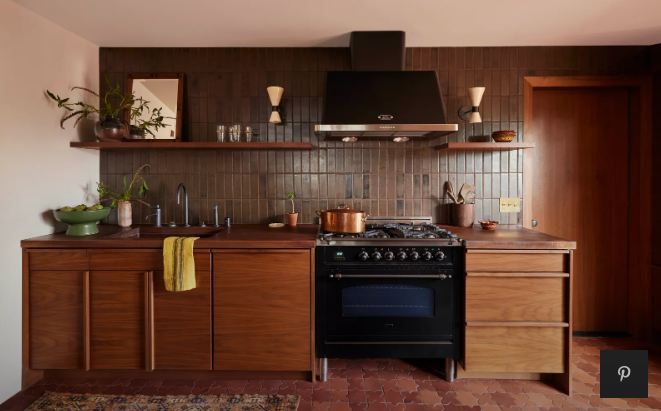 Wood
Depending on finishes and what specific wood you're using, wood countertops can be a major cost saver in a kitchen reno project. Darker woods, like in this Jamie Haller–designed Pasadena ranch house's custom walnut kitchen, hold a refined midcentury-modern air, look gorgeous with other natural tones, and can be used with wood cabinetry in the same stain for a monochrome look.
Tiled
A tiled countertop can give a Mediterranean flair to any kitchen, and John Mellencamp's Montecito property is no exception. Tiled countertops may take some more upkeep than their stone slab counterparts—grout can easily attract dirt and grime—but they're a wonderful option if you're looking for something stylish on the lower end of the budget barometer. They're also a great option if you're looking to create a unique space. (After all, you can go after whatever pattern or color combo you want with tiles on hand.)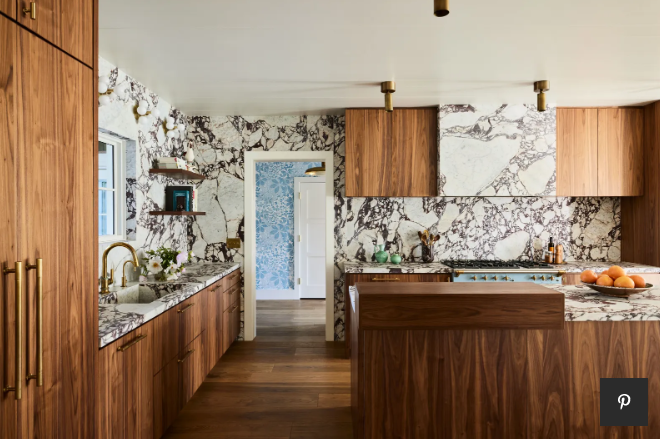 Calacatta Viola Marble
The world of marble is vast, so this will not be the first and last option we're highlighting, but it is probably one of the most popular kitchen countertop ideas in today's interior design world. Calacatta is a wonderful countertop material if you're looking for something that can totally define your space. While it's certainly high-end, its elegance is hard to match. We love when the material is used as a matching backsplash too, as in this Bunsa Studio kitchen.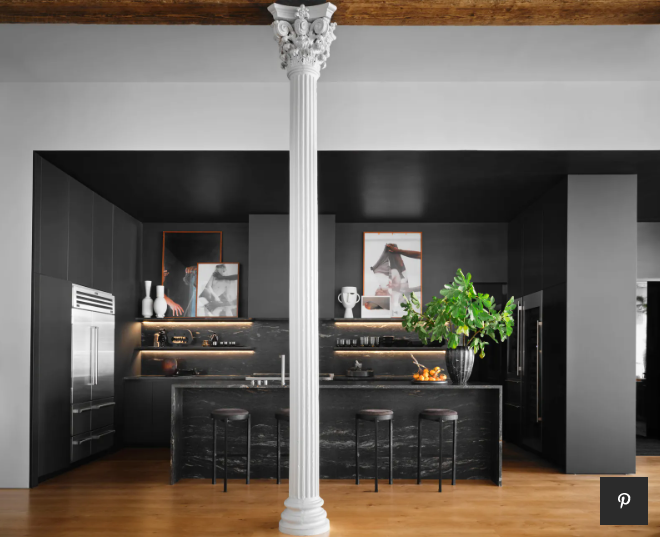 Black Marble
There's a wide range of black-marble options, but no matter which specific variety you go for, you can count on black marble to add a dramatic flair to your kitchen. If you're hoping for a moody, metropolitan vibe in your kitchen, like this SoHo loft designed by Studio MBM, black marble is definitely your best bet.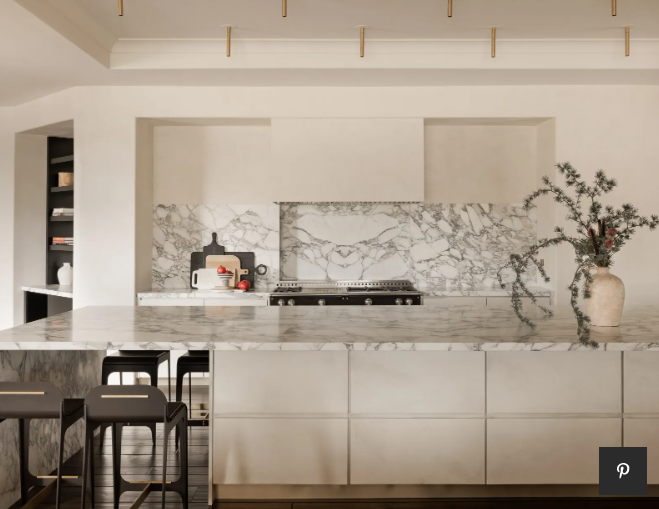 Arabestcato Vagli Marble
For a more neutral but no less stunning marble option, go for Arabestcato Vagli marble. As seen in this Southern California home designed by Huma Sulaiman, the gray veining adds the drama we'd expect from marble, but the colors lend themselves to a space that sticks to black and white tones.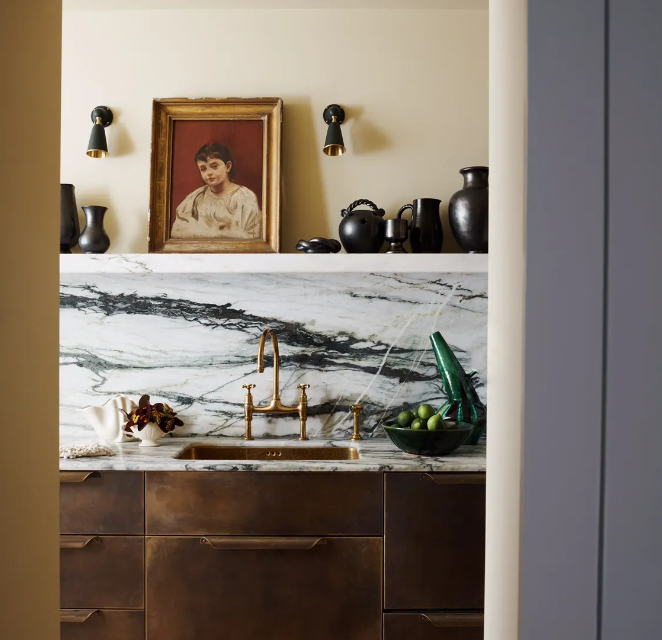 Calacatta Verde Marble
This marble has a green tinge but still feels defined by its white elements. Calcatta Verde marble tends to feature more horizontal veining compared to the cloudlike shapes that tend to define Calcatta Viola marble, making it a particularly good option for a galley kitchen, like in this Maddux Creative–designed London home, or for any space in which you're looking to accent length.
Carrara Marble
Marble may be a luxury material anyway you slice it, but if you're looking for a slightly more budget-friendly option, Carrara marble tends to be the least expensive among the marble countertops. Actor John Leguizamo and his wife, Justine Leguizamo, opted for the material in their antique-filled apartment—a wise decision from the homeowners, as it'll look even more on point once it develops a patina.
Quartz
While many people assume quartz countertops to be 100% natural stone, the material is actually man-made, though it is composed of 90–95% natural stone (with the remaining percentage accounted for mostly by resin). Quartz is a relatively low-maintenance countertop option, and we're particularly into Concreto Honed Pental Quartz, which is less reflective than some other varieties. Concreto Honed Pental Quartz was used in this New York apartment designed by BarlisWedlick and MK Workshop.
Quartzite
The name may lead you to believe quartzite is man-made just like quartz, but quartzite is an entirely natural material for kitchen counters. Quartzite is much more heat-resistant than quartz, and even though it has the potential to crack or break like all natural stones, it is fairly scratch-resistant. The natural veining in quartzite is quite striking, as in this home remodeled by Mork-Ulnes Architects.
Stainless Steel
There's a reason why chefs the world over gravitate towards stainless steel for both appliances and countertops. Not only is the material heat tolerant and resistant to stains, but it makes a statement in a room and instantly attracts attention to itself. While marble certainly has its own attractive attitude, stainless-steel countertops are a great choice for devoted home cooks who have a taste for industrial-leaning modernism. Need any more convincing? Just peep this all-stainless-steel kitchen in this historic John Lautner home that was refreshed by Clive Wilkinson.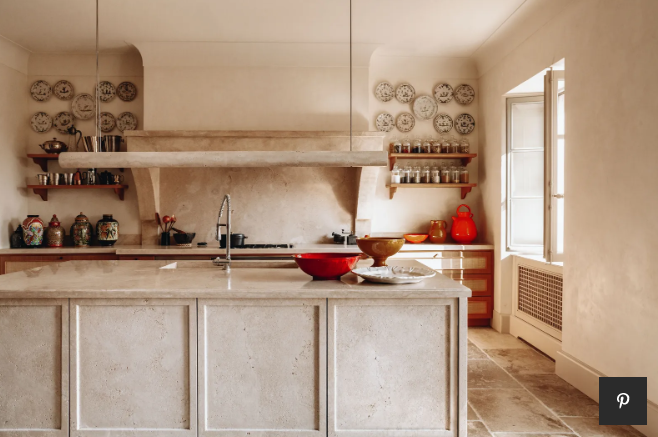 Travertine
As this Diego Delgado-Elias–designed property in the South of France proves, travertine is a fantastic pick if your decor skews toward the antique. Even in a brand-new build, the material can create a lived-in impression to a kitchen without depleting even an ounce of sophistication. Travertine tends to be slightly more affordable than other natural stone options, though it is relatively soft and more vulnerable to scratching.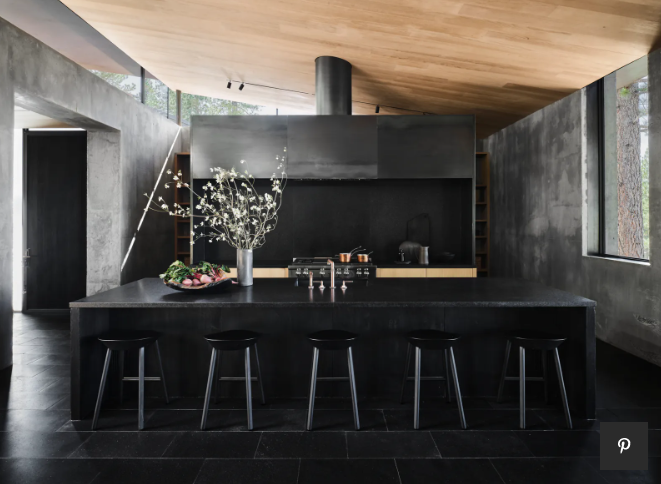 Granite
If you want something natural but don't want to break the bank, granite is a tried and true material for countertops. They're low-maintenance and still look plenty luxe, as demonstrated by this Nicole Hollis Lake Tahoe project, which flaunts granite countertops.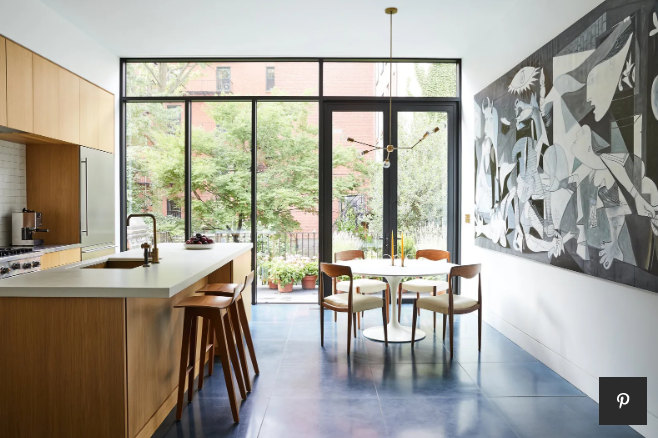 Matte Concrete
Concrete countertops are often chosen for their full customizability, as they can be stained with color during the mixing process or afterward. You can even DIY concrete countertops entirely—if you trust yourself with the task, that is. Concrete countertops require sealing at least once a year, and a matte finish can be applied for an even more low-key look, like in designer Courtney O'Sullivan's own Brooklyn town house.
Terrazzo
While terrazzo isn't stain-resistant in its composition, and you do have to be careful with acidic liquids on it, the very busy pattern will easily distract from any small stains that may crop up. We love the visual interest it adds to even more low-key kitchens, like in this immaculate kitchen by Bestor Architecture. If your kitchen doesn't have square footage to spare, an unexpected countertop like terrazzo can add personality without sacrificing any much-needed storage space.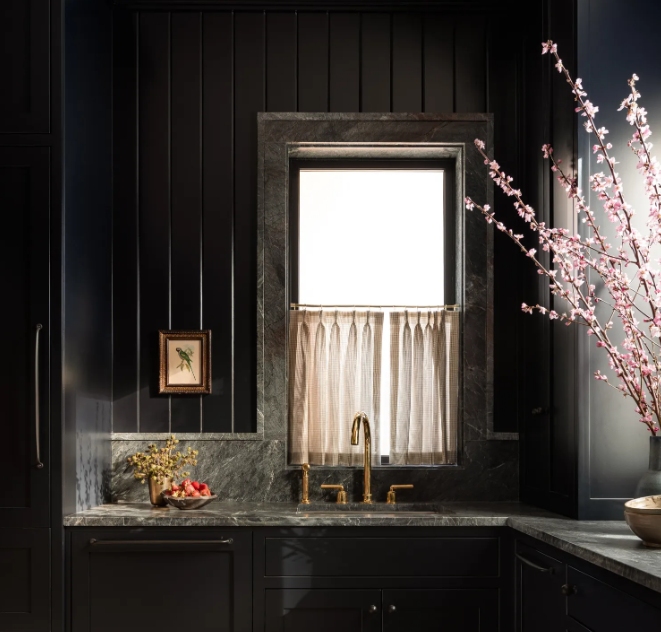 Soapstone
Soapstone countertops can be an expensive option when compared to other stones, but its heat resistance and nonporous nature makes it the first choice for many kitchen makeovers. Soapstone has a similar moodiness to black marble since it's naturally dark, as seen in this Washington-state home designed by Heidi Caillier. A considerable con, though, is the fact that soapstone can scratch easier than some other stone countertops.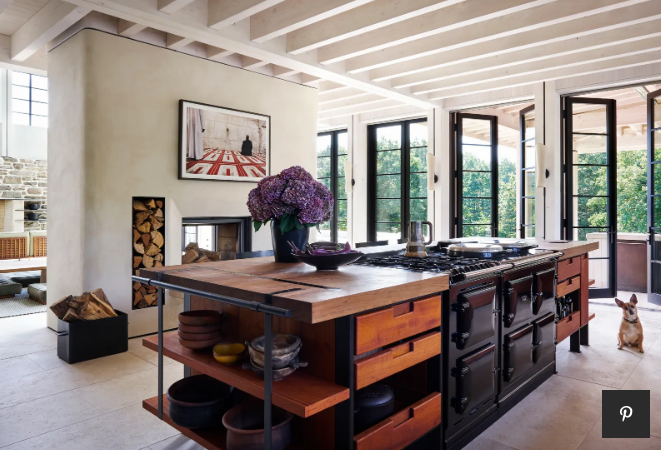 Butcher Block
Butcher-block countertops are a mainstay of modern farmhouse kitchens, as in this property by architect and designer Niels Schoenfelder, and for good reason. These countertops are a wonderful option if you're looking for a work-top with standalone functionality, but they do require additional upkeep.
Pyrolave
Perhaps the most unusual entry on this list, enamelled lava stone is a countertop material that's as expensive as it is durable. It checks all of the boxes: It's nonporous, isn't likely to scratch easily, and it can easily manage hot pots and pans directly on its surface. Since the color comes in the glazing process, rather than being naturally occurring (as in the case of colored marbles, for example), it's known for its vivid color. In fact, we're still thinking about the lilac Pyrolave countertops in this home by AD100 firm Reath Design.
Architectural Digest April 4, 2023 (Rachel Davies)