From modernist wonders to rustic retreats, these open-air baths go beyond the usual beach house chic
There's something so gloriously indulgent about bathing alfresco. While outdoor bathing might conjure surfboard-surrounded beach trips, the world of at-home outdoor shower ideas is as wide as the sea itself. Clad in patinated stone, an outdoor shower is a conduit to the natural world that surrounds you; when adjusted for indoor-outdoor use with doors or windows, it becomes a functional design statement that elevates an often-overlooked room—and protects bathers unfortunate enough to live outside of tropical climes during the colder months.
To help encourage you to give the feature a go in your own bathroom, here are 21 great examples of outdoor showers. From jewellike glass-and-steel versions to rustic stone-backed water features, these open-air retreats take the outdoor shower to a whole new level. (No shower curtain needed!)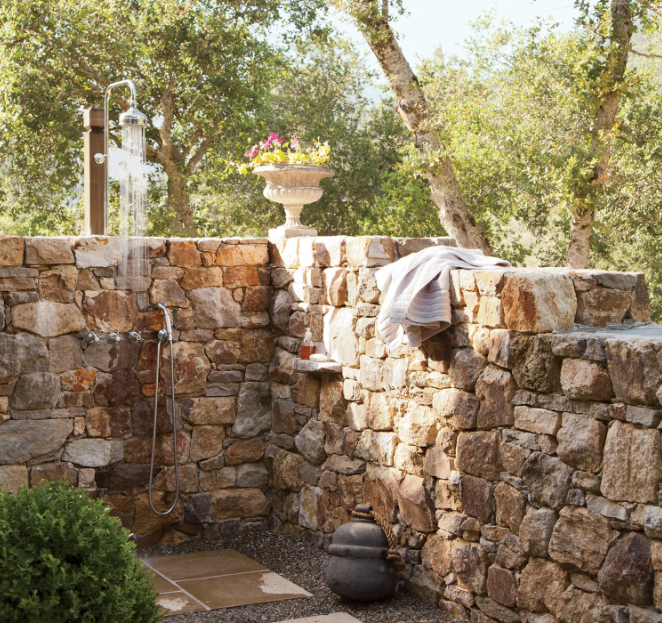 Create cohesion with your materials
Off a primary bedroom in Calistoga, California, a stone wall surrounds an outdoor shower by Rela Gleason, offering an almost Mediterranean-like vibe to the zone. Similar stone is used inside of the home and as an element of the fencing in front of the home, creating a pleasing sense of cohesion throughout the entire property.
Use a balcony
Designed by Richard Mishaan, this primary bath puts its balcony to use with an open-air shower. Adding to the sense of relief, the shower offers a view of Cartagena, Colombia's terra-cotta rooftops; the laser-cut vinyl floor mat is by Arzu Firuz.
Go full throttle on relaxation
"The most significant idea behind the house is that it is designed to work with the gorgeous natural site we started with," the architect Bill Bensley told us about this primary suite at Thailand's Four Seasons Koh Samui. This has got to be one of the best outdoor shower designs—after all, it's accompanied by an one-person-size hot tub (and maybe that tub could be used for a cold-water plunge?).
Put it in a courtyard
In a minimalist Los Angeles home designed by John Pawson, a Waterworks tub with Dornbracht fittings looks onto a courtyard featuring an outdoor shower, a hot tub, and a fire pit.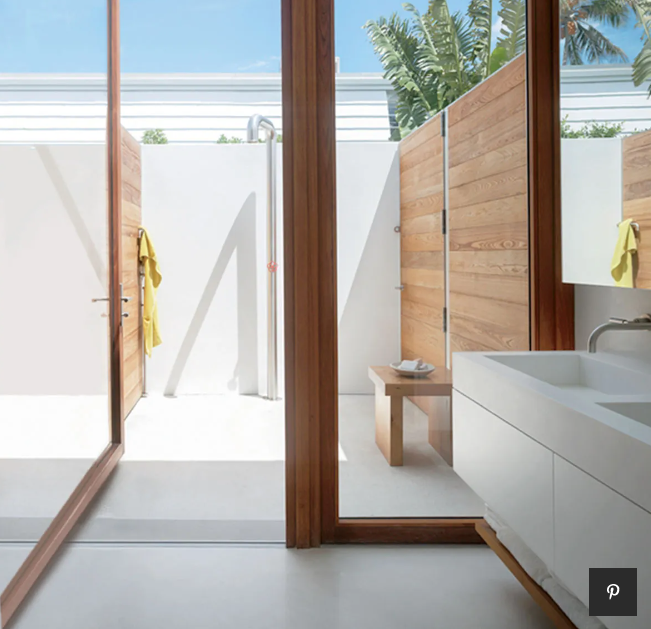 Add a wood wall
In the primary bath of Kelly Klein's home in Palm Beach, Florida, which was designed by David Piscuskas of the firm 1100 Architect, the double sink is of Corian; the teak-framed glass doors lead to an outdoor shower. Those wood walls create a sense of privacy and seclusion, drawing the eye up to that open sky.
Go for an all-white shower area
Views of a primary bath in Los Angeles, a collaboration between Lehrer Architects and Unique Custom Interiors: The indoor-outdoor shower, surfaced in honed limestone and marble, features Hansgrohe heads, Dornbracht controls, and Kohler WaterTile sprayers.
Add a wall of windows
A regular old indoor shower is transformed into a restorative haven with the addition of a wall of windows. In this Napa Valley home by architect Howard J. Backen and interior designer Nicole Hollis, the neutral limestone hues for the wall and the terra-cotta floor tiles in the primary bath's indoor-outdoor shower link the secluded space with the path just outside. This design choice gets bonus points for the fact that it can be used year-round regardless of the climate in which it is deployed.
Use contrasting materials
In Wolfgang Ludes's airy primary bath, the shower floor is travertine and the shower wall is lined with Balinese slate tile, leading the eye to the garden it opens to. Ludes designed the St. Barts residence with architect Johannes Zingerle.
Use a beam to hang the showerhead
The vibe is Los Angeles meets the Cotswolds in an outdoor shower by Madeline Stuart & Assoc. If you happen to have a structure or wall on each side of your outdoor shower, hang the showerhead from a beam for a centered setup.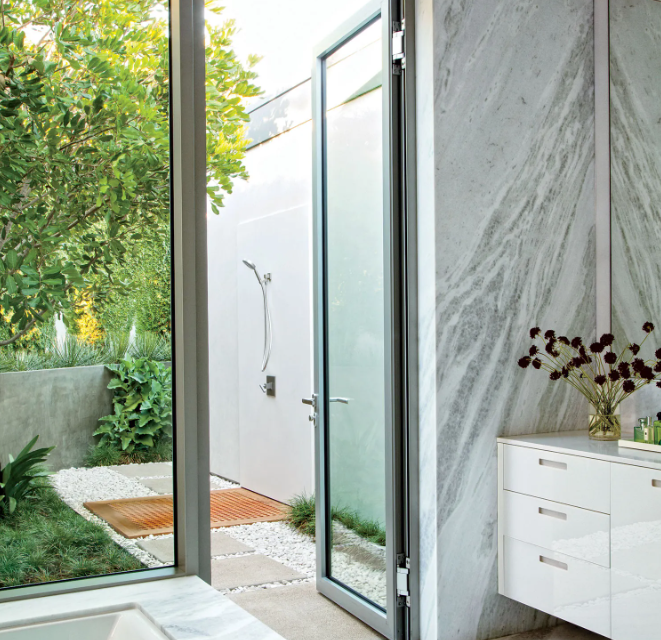 Use pavers
Designed by Steven Ehrlich and Takashi Yanai of Ehrlich Architects, this marble-clad primary bath, which includes a Poliform vanity with a Caesarstone top, adjoins an outdoor shower with Dornbracht fittings. Pavers and pebbles surround a teak shower mat that provides a comfortable surface for the shower.
Put it in the poolhouse
At the Malibu home of the Beastie Boys' Mike D, which the musician designed with architect Barbara Bestor, an outdoor shower is located in the poolhouse for handy post-beach wash-downs. The shower is clad in blue Granada tile that ties in with the blue accents inside of the home.
Keep it simple
The terrace at the Miami penthouse of fashion designer Naeem Khan is outfitted with Richard Schultz chaise longues by Knoll and an outdoor shower with Grohe fittings. Those fittings practically disappear into the wall they're mounted upon, allowing for as simple and relaxing a space as possible.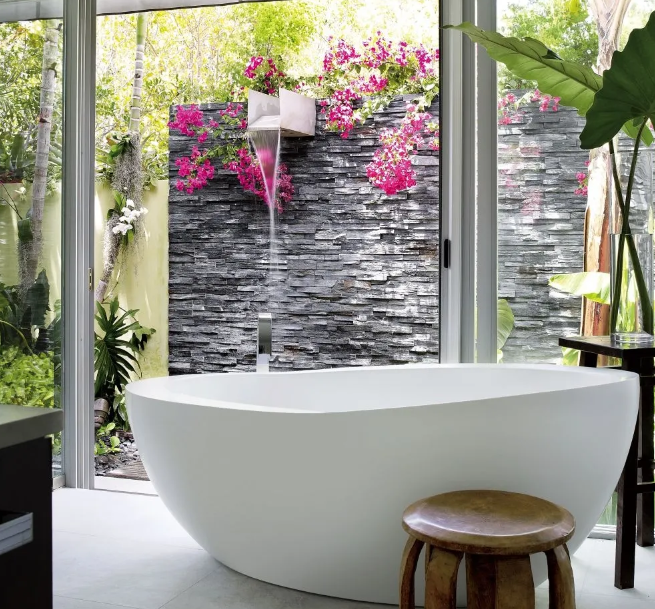 Add glass sliders
Glass sliders are another chic way of connecting your outdoor shower to its adjoining bathroom. A Waterworks tub in the primary bath of Judy Blume's Florida home faces a slate-walled waterfall shower created by landscape architect Raymond Jungles; the tub and shower fittings are by Dornbracht, and the Indonesian low stool is from Archeo Gallery.
Add greenery
The primary bath of this Hawaiian home is equipped with its own "shower garden," where architect Mark de Reus added signature curved teak supports. Architectural lighting of his own design, inspired by Indonesian carvings, is on the mirrors. Adding a trellis to your outdoor shower space is another way of bringing plants in.
Add wood slats
Inside Sara Story's Hill Country, Texas, home, the primary bath's floor-mounted outdoor shower is by Boffi. Wood slats line the exterior side of the shower, providing privacy without limiting much sunlight and fresh air from entering the shower.
Add skylights
To increase the flow between an outdoor shower and the attached indoor bathroom, add skylights to the indoor space. Travertine floors complement onyx surfaces in the primary bath of a Thierry Despont–designed East Hampton home, which features his-and-her dressing areas, multiple large skylights, and an opening onto an outdoor shower.
Add a bench or shower seat
There's no better way to fully lean into outdoor shower relaxation than by adding seating to your open air bathing set up. At photographer Douglas Friedman's Marfa, Texas home, a vintage bench in the shower offers a place to cool off from the desert heat. The concrete walls on either side of the shower tie into other concrete elements on the property.
Go for unusual shower fittings
Leave the stainless-steel-mounted shower faucets behind and try something fresh, like this freestanding fixture at a Mexico property designed by AD100 designer Luis Laplace. If you're looking for extremely DIY outdoor shower ideas, you could even rig a garden hose to easily set up an outdoor shower.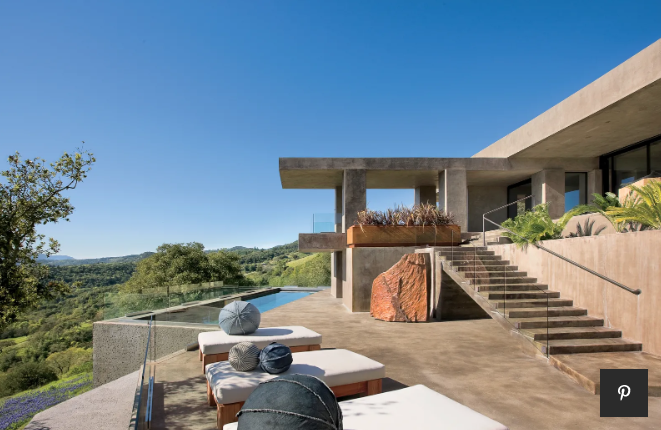 Use natural elements to define the space
For a creative outdoor shower enclosure, you could take cues from this Ron Mann–designed Sonoma property, which employs a large rock to separate the shower from the rest of the outdoor space. For a similar effect in your own backyard, you could use wood or marble to define the space. This is an especially apt design idea for a beach house.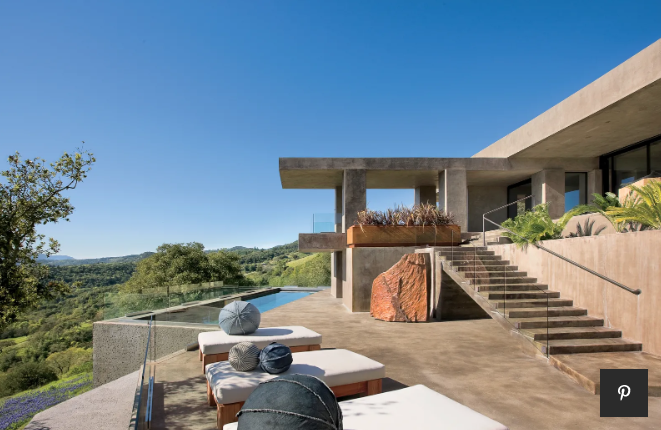 Add a pergola
A pergola is the perfect solution if you're looking to create a sense of intimacy in your outdoor shower without blocking much of that sought-after sunlight. This ipe outdoor shower blends seamlessly with the ipe wood decking at this renovated East Hampton property by S. Russell Groves.
Use etched glass
We love that this outdoor shower is literally elevated, but if there's one specific element we're running with, it's that the shower is etched glass. The perfect modernist twist, this outdoor shower at a David Jameson project is lit from within, illuminating the front entrance at night and making for an especially unique shower experience.
Architectural Digest April 3, 2023 (Jennifer Fernandez and Rachel Davies)