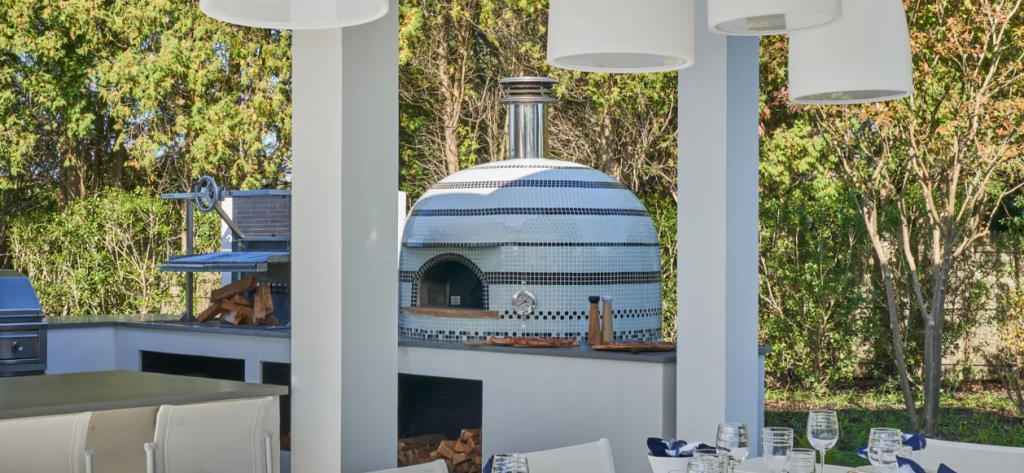 Summer is in the air
Are you currently in search of outdoor kitchen ideas? There's nothing quite like embracing outdoor living, whether it's firing up the grilling station or hosting a party under a pergola in your backyard. Maybe you crave a sleek pizza oven or marble countertops, or just want to host a casual backyard barbecue surrounded by family and friends. No matter your style, an outdoor kitchen and cooking area is an opportunity to see outdoor space in a new light. "An outdoor kitchen is not only a natural extension of indoor living, but it also allows for hosting a larger gathering," says Rhode Island–based interior designer Lindy Lowney. However, setting one up can also be an overwhelming project, filled with questions you need to answer about everything from materials to price points.
A modern outdoor kitchen can serve as a place to host and connect with family and friends while also enjoying the beauty of the outdoors. It's a treasured option that many families are seeking out. "Many homeowners are opting to create outdoor living environments conducive to easier entertaining and simple cleanup," says Lowney.
With that ethos in mind, here are a number of designers who have created unique outdoor dining areas for inspiration. Maybe you're just looking for design ideas for an outdoor kitchen, or you want something new to complement your backyard landscaping. Perhaps you're considering hiring a design professional to set it up for you or you want to do it yourself. Below are plenty of outdoor kitchen designs to spark your imagination…and your appetite. But first, make sure you know what you need to know about outdoor kitchen spaces.
What are the best materials to use for an outdoor kitchen?
"Stainless steel is very durable and easy to clean," says Lowney. "It withstands moisture and heat and holds up well to the outdoor elements." When it comes to the countertops, Lowney suggests granite because of its strength and durability with minimal maintenance. "With a strong commercial sealer, it will resist staining and moisture. Porcelain is also becoming popular due its ease of maintenance and attractive price point," she adds.
How much does it cost to build an outdoor kitchen?
Certainly, building a full-size outdoor kitchen with a prep area, stainless-steel appliances, and a kegerator is a pricey option. Lowney says that it's "really difficult to put a number on" outdoor kitchens, since "cost can vary greatly depending on the design, size, labor required, and materials you use." However, many people choose to DIY their own outdoor kitchen, working to plan and build the space with a strict budget. Remember, even a humble mini fridge next to a wisely designed counter space can be the foundation of your outdoor kitchen design. When you're dining al fresco, having your own outdoor kitchen can be enjoyable with just a pair of comfortable bar stools at a high-top table.
What do I do about my outdoor patio kitchen during the winter?
There are so many variables that go into designing an outdoor entertainment space, with one of the most important ones being the environment you live in. Folks who live in dry areas with little precipitation don't have to worry as much about the threat of snow or hurricanes. By building a covered patio kitchen, you aren't as limited to when you can use the space. Lowney, who based in New England, recommends building a covered kitchen area to ensure it lasts longer. "It extends the longevity of the investment," she notes.
Below, browse a range of backyard kitchen ideas to get you started on your outdoor kitchen journey.
1. Backsplash beauty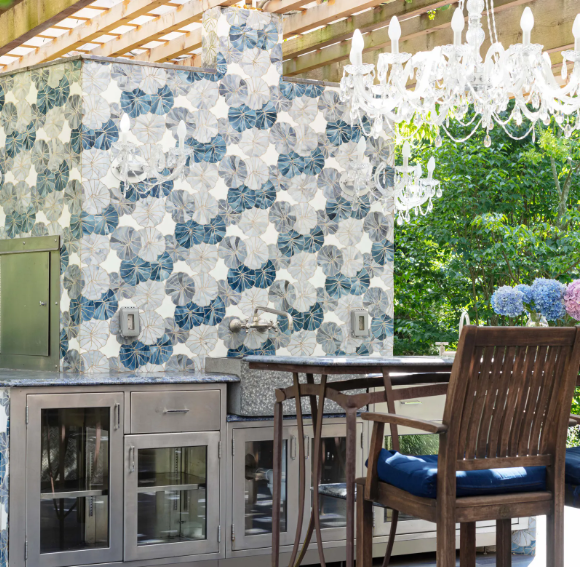 A uniquely-patterned backsplash is a stunning focal point and a great place to start when searching for patio kitchen ideas. Nancy Epstein, founder and chairman of the board at Artistic Tile, chose walls of a custom glass mosaic in a languid lily pad pattern for her home. Under limestone columns wrapped with Star of Jasmin plants, the space is delightfully fragrant. "My own yard feels as lush and indulgent as the finest outdoor spaces I have experienced anywhere in the world, and I use it almost every day from spring to fall," says Epstein.
2. Continuous countertops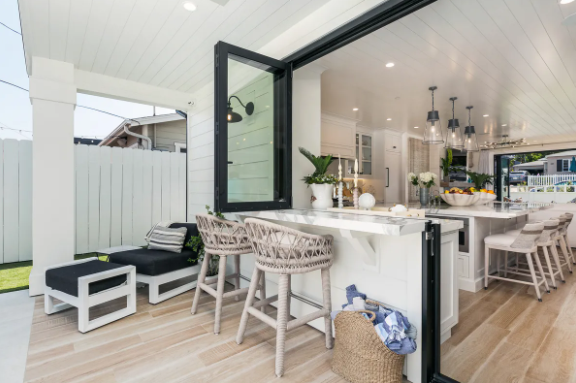 A very popular outdoor kitchen trend is the extension of the kitchen island outside to create bar seating, like in this home by Kern & Co. Through a large kitchen window, the countertops connect the indoor space to the outdoor entertaining area.
3. Serenity and style
Comfortable lounge furniture, sleek appliances, and clever storage space is always a win. Houston-based Mary Patton of Mary Patton Design says clients have been asking for kitchen spaces that evoke a balance of serenity and sophistication with a touch of fun. "Amenities like a fireplace or a television create the perfect environment for entertaining," Patton adds.
4. Year-round use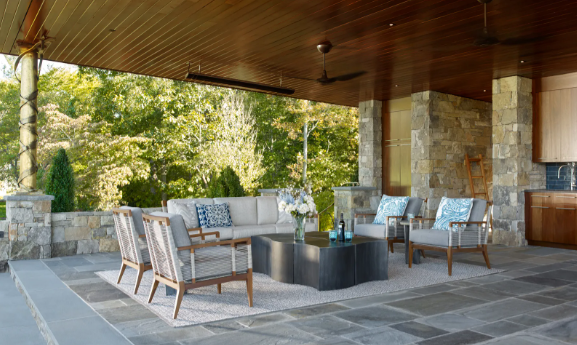 Making use of an outdoor kitchen year-round can be difficult in all climates. Cathy Purple Cherry, founder and principal of Purple Cherry Architects, found a way to make the most of all seasons at this Virginia pool house. Its outdoor kitchen can be used nearly all year long thanks to a translucent roll-down screen hidden in the wood-planked ceiling that can be lowered and tied off. There are also infrared ceiling-mounted heaters.
5. Poolside pizza oven
Tucked in the vineyards in Napa Valley, this Stanly Ranch home, designed by Bob White, has a pizza oven next to the grilling station, with plenty of space for food prep. "When a home is designed right, they are about celebrating, creating, and honoring a sense of place, capturing moments and memories in people's lives—all with a spectacular view," says White.
6. Wood cabinetry
Soft and welcoming, this wood cabinetry from Marie Flanigan Interiors creates a rustic enclave with plenty of storage space inside the kitchen cabinets.
7. White brick and steel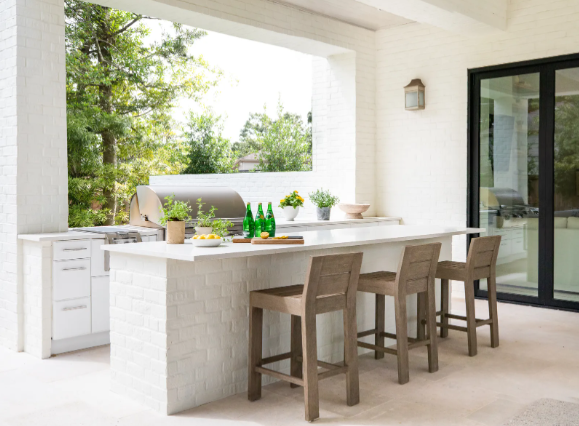 Adding contrast to the steel doors that open up to the sitting room, this white brick stands out. "The bar just in front of the grill adds a place to sit, relax, enjoy a drink, and linger a little longer," says Marie Flanigan of Marie Flanigan Interiors. "This kitchen is the best of outdoor living."
8. Custom millwork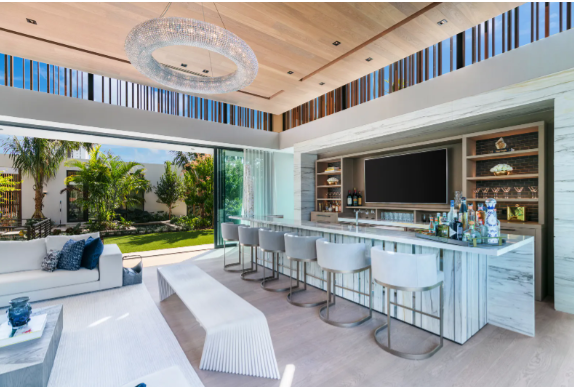 This Bali-inspired home by Miami-based designer Brittany Farinas of House of One features a kitchenette that blurs the line between indoors and outdoors. "We incorporate millwork into our projects, so the space was perfect to create a custom-built feature, and the stone was carefully sourced by Opustone," says Farinas.
9. Covered patio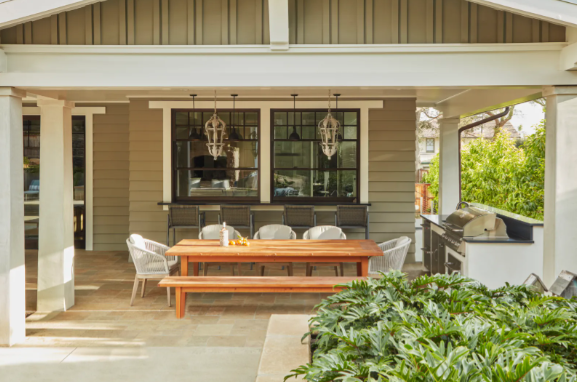 Weather is unpredictable, but a covered patio can be enjoyed in almost any environment. This Jennifer Risko Smith design creates a shelter from the storm while connecting the indoor kitchen with the pool area, main kitchen, and dining in between. "You can easily pass things to the outdoor kitchen and service the counter and table seating from inside," says Smith.
10. Seamless flow
At Brisa del Mar at Chileno Bay Resort & Residences, the six-bedroom villa's indoor-outdoor kitchen has a clean, contemporary aesthetic with an open floor plan and spacious outdoor area.
11. Marble and wood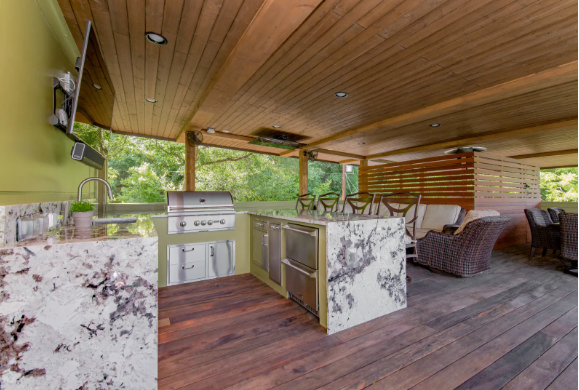 A strong contrast of marble and wood creates an elegant yet welcoming space in this outdoor kitchen by Meredith Owen Interiors, which is adjacent to the indoor kitchen for ease. "Meals are easily prepped inside and brought out to be grilled. This kitchen overlooks the pool and outdoor dining and living areas, which means the entertaining doesn't stop, even if you're grilling burgers," says Owen.
12. Backyard beauty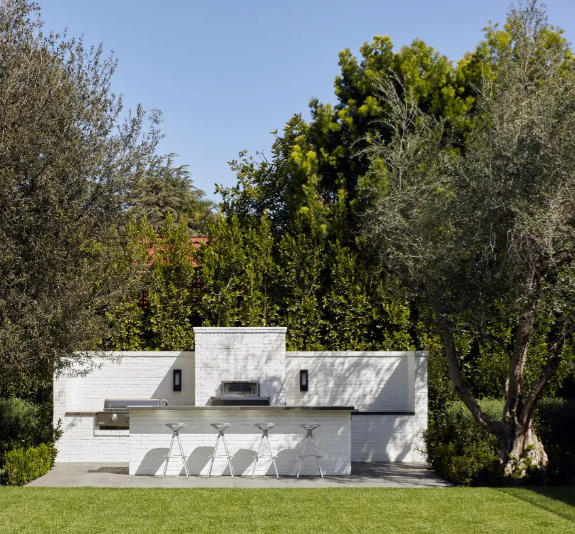 This Studio William Hefner kitchen embraces the natural landscape surrounding it. Tucked away in the backyard, the greenery serves as an ideal backdrop.
13. Dining area drama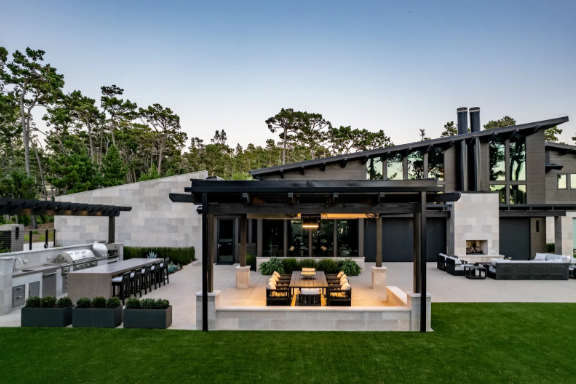 While the kitchen is important for prep, you may want to put the focus on your outdoor dining area, like in this well-lit outdoor space created by Sterling Huddleson Architecture.
14. Fireside comfort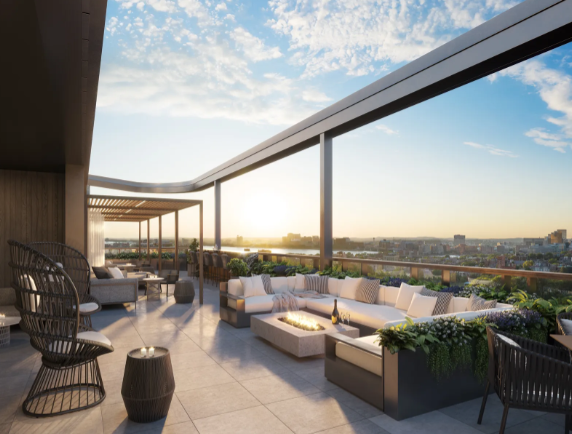 Cozy up by the outdoor fireplace and enjoy the views around you. At The Parker, a new building in Boston, Linda Zarifi of Linda Zarifi Design created an elegant firepit area that's ideal for outdoor entertaining.
15. Indoor-outdoor integration
This outdoor space was built to mirror the adjacent indoor space, explains Amanda Barnes of Amanda Barnes Interiors. "You can read the barbecue thermometer from the kitchen window so you can prep inside and keep an eye on everything outside," says Barnes.
16. Waterfront grilling station
Fire up the gas grill with the natural beauty of the water flowing behind you. Bridgette Caporaso of Sketch Design Studio chose organic materials like wood and concrete for this waterfront home since "salt, water, and sun exposure is very abrasive on many finishes."
 17. Textured backsplash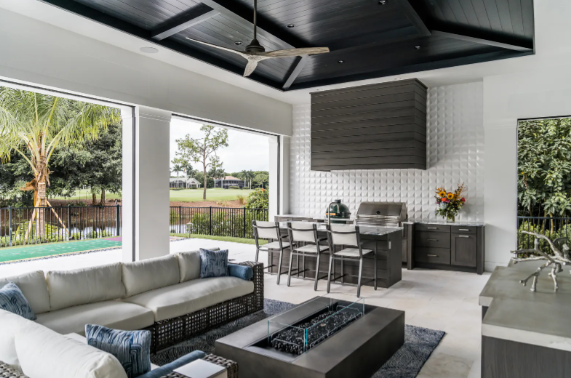 Add a punch to your backsplash with texture, like in this property by Design West that features quartz and tiles. "Our design teams chose to use a textured backsplash in these spaces to add depth, interest, and visual appeal to the areas," says Morgan Bratcher, lead designer, and Caitlin Godwin, interior designer.
18. Rooftop kitchen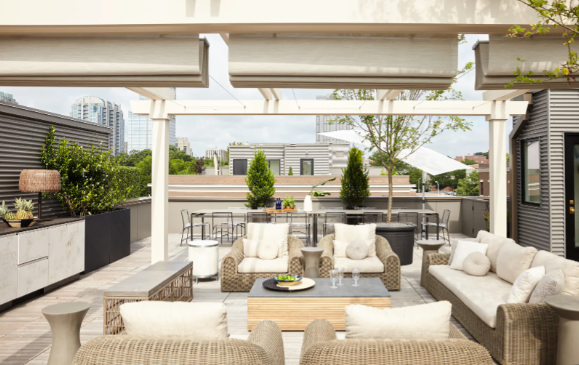 Whether you're having a chat around the firepit or lounging with a good book, this rooftop embraces distinct rooms, says Judy Pickett of Design Lines Signature. "Versatility is key when designing spaces—nowadays you can do so many activities outdoors, and having a space that is designed specifically for all of these potential activities is important."
19. Fireplace lounge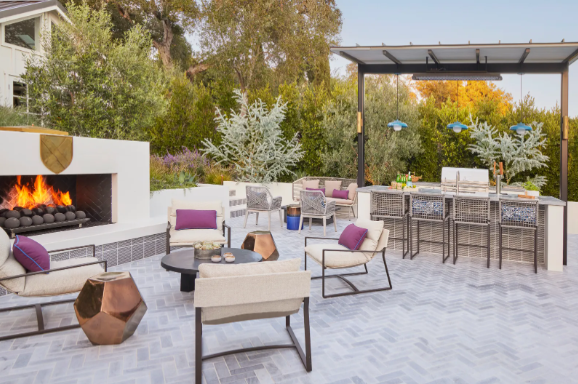 An outdoor living room is ideal for entertaining, especially in this Jennifer Risko Smith–designed property. "This outdoor kitchen features modern details and pops of color," says Smith. "It is one hundred percent focused on providing every comfort of the interior outside—beer on tap, barbecue, counter seating, and an adjacent fireplace lounge area and full dining area with heaters, interesting lighting, and views." Grab a seat by the fireplace and soak up the greenery that surrounds it.
20. Bluestone, brick, and shiplap
Asked to combine a decorative backdrop with architectural lighting at this East Coast home, the Kate Anne Designs team combined a rustic creamy brick veneer with bluestone, contrasting it with white shiplap.
21. Walk-up bar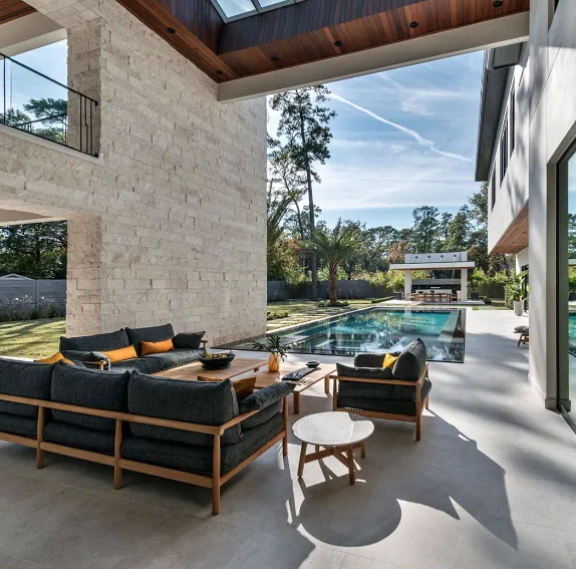 With a resort-style vibe in mind, Benjamin Johnston Design created this outdoor kitchen with a walk-up bar at the far end of the pool under a pavilion. "A covered outdoor dining space is essential in the summer, and the walk-up bar and full outdoor kitchen are great for larger events, while still perfect for a weekend barbecue with family as well," says Johnston.
22. Poolside placement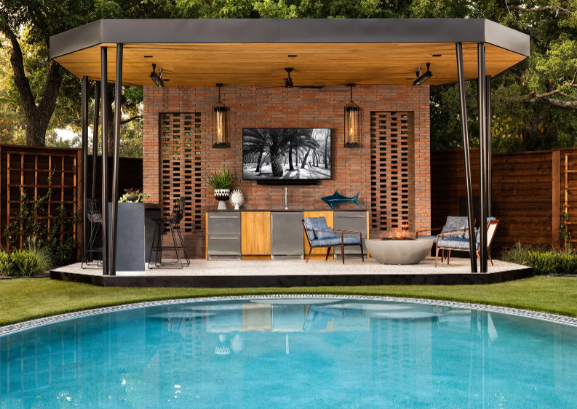 It's all about location. Eddie Maestri of Maestri Studio wanted to create a functional structure that complemented this home's architecture. "The placement of the structure allows adults to prepare food or drinks while maintaining an eye on children in the pool," says Maestri. The firepit and overhead heaters are a desirable touch.
23.  Built-in seating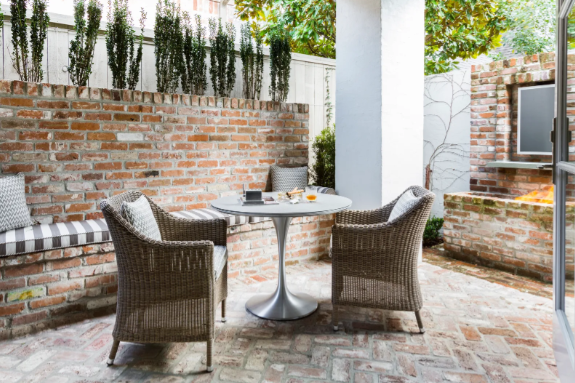 Even a small outdoor kitchen can have a comfortable dining area. "Consider a banquette built into the patio wall. Providing both a soft seating area and reducing the footprint of a dining table and chairs, banquettes are a delightful small-space solution," says Courtnay Tartt Elias of Creative Tonic Design.
AD April 2023 by Megan Johnson