Beautiful patio cover ideas to bask in your outdoor living room in all weather
A patio can add additional living space to your home by creating an exterior living area. If you add patio covers as part of your design scheme, that outdoor space becomes even more functional. By providing a cover to the alfresco area, you have a leg up on the elements. A patio cover allows you to take advantage of the outdoor living room more often. Plus, depending on the homeowner's climate, you'll be able to enjoy the patio most—if not all—of the year. This allows you to bask in the beauty of your backyard, whether you want to spend some quiet time alone or entertain family and friends with outdoor dining or a tête-à-tête in a shady seating area. When done right, a patio cover can help to create a seamless transition between your interior and exterior spaces. Whether you're looking to spruce up backyard ideas or add some pizzazz to concrete patio ideas, AD has you covered.
What can I use to cover up my patio?
There are various types of materials that you can use to cover your patio. These range from outdoor fabrics, shade sails, wood pergolas, as well as aluminum and steel structures. You can also use awnings, canopies, retractable covers, and even create cabanas. "Retractable awnings, big market umbrellas, built-in pergolas, wrought iron patio covers, and any variety of shade structures are available and they are improving year over year," says Los Angeles–based landscape designer Andrea Scharff. "Also, patio covers provide structure for fragrant vines that add a layer of beauty that pleases all of the senses. I love any fragrant vine like wisteria, roses, jasmine, and stephanotis."
Here are 23 patio cover ideas from landscaping and design industry experts that'll help you get the most out of your outdoor space.
1. Add a pergola with interesting lighting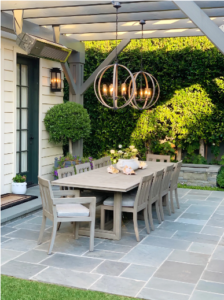 "What's wonderful about patio covers is that they allow for shade during the day and provide structure for gas or electric heaters to be affixed to in order to keep cool evenings toasty," says Scharff. As demonstrated by this space she designed, pergolas also create the opportunity to hang pendant lighting. Annapolis, Maryland, architect Cathy Purple Cherry approaches lighting on a covered patio by asking: Do you need to have the ability to read at night? She employs two approaches to outdoor lighting. One strategy is for decor and ambiance—think chandeliers and wall sconces. The second is for true task lighting, like recessed cans in a built-in patio cover. Whichever option you choose, it should be switched separately and dimmable, Purple Cherry advises. "I would select a decorative fixture because of the ways it casts shadows and refracts light on space, creating interest," she adds.
2. Use outdoor fabric
Depending on your yard, the idea of a pergola over your patio might feel structurally heavy, but Christopher Grubb, an interior designer and founder of Beverly Hills–based Arch-Interiors Design Group, says it can still work. "Outdoor fabric over the top softens it, tie-back drapery with an extra detail-like edge banding gives it an extra element of interest," he explains. "And rather than looking up at a solid fabric covering, consider sheer-pleated exterior fabric."
3. Cover up with umbrellas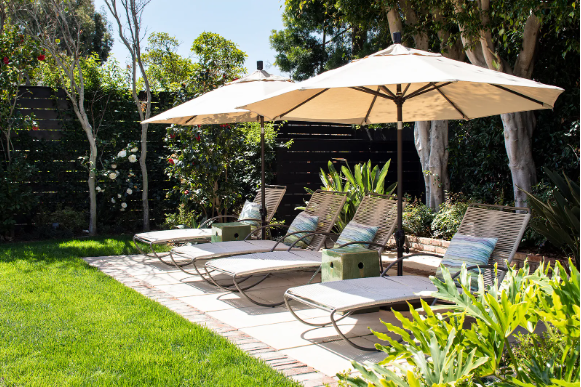 "When choosing ideas for a covered patio, really think about the location, how the sun hits the patio and at what time, and the optimum use times," advises David Charette, cofounder of Britto Charette in Miami. Charette says the covered patio doesn't necessarily have to be fixed or stationary. "Maybe the right solution for you is to have a collapsible structure or a structure that's nomadic and can be moved around with the sun," he says. "This can add flexibility to your design and provide shade from sun and protection from rain." Los Angeles-based Stacey Copeland, principal of Blythe Home, used large canvas umbrellas to create the feeling of an outdoor room for a client's midcentury house. "Because the house is small, we took every opportunity to extend the living into the garden, creating shady pockets for lounging and entertaining," she says.
4. Add a trellis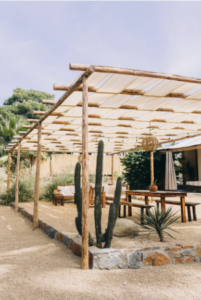 "A trellis is introduced onto a patio as a way to help filter direct, natural sunlight," Purple Cherry explains. "It provides some layer of shading, although minimal. A trellis is really more of an ornamental structure than a functional structure. If you like a trellis for its ornamental nature, consider installing a beautiful retractable awning above it to provide more substantial shading, if needed."
5. Create a sunken living room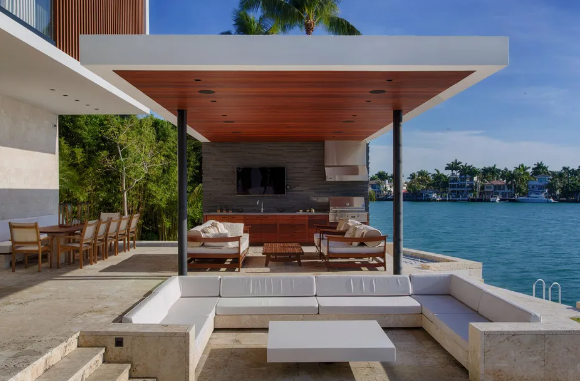 A sunken living room is a way to add a midcentury modern twist to an outdoor space. Ralph Choeff, founding principal of Choeff Levy Fischman Architecture + Design in Miami, praises the approach for its ability to "create a resort-like living environment," which is enhanced with a patio cover with durable Brazilian Ipe wood and cantilevered roofs that provide shade from the sun.
6. Build a multi-level patio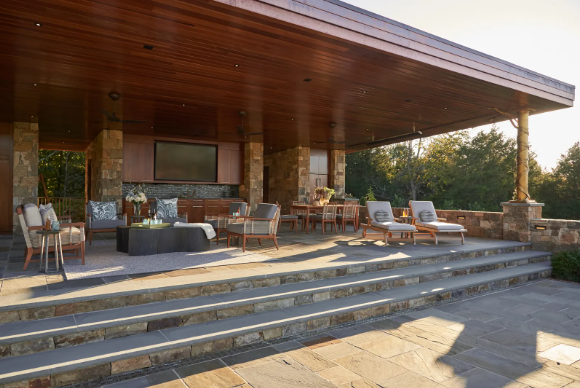 "The fantastic thing about elevating a patio is that the steps themselves become furniture," Purple Cherry says. In addition, putting a patio on a pedestal (quite literally) allows the view to be elevated as guest take in the adjacent pool [not shown]. Just make sure that the patio is deep enough to support all the furnishings for optimal effect.
7. Think timber frame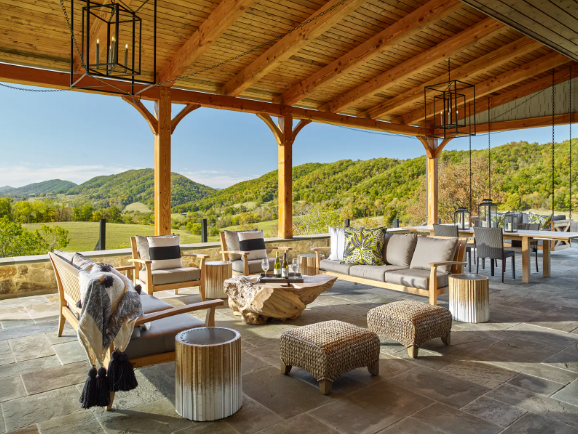 "This is a timber-frame-covered patio utilizing Douglas fir tongue and groove ceiling as well as exposed fir rafters," Purple Cherry explains, though she does have a word of caution for those hoping to add hanging lights outside, as the owner of this space did. When placing decorative chandeliers or ceiling lights in a porch, consider if there is a high wind factor, as you wouldn't want your lights to swing out of control. Chains and tiebacks can keep light fixtures at bay, however.
8. Play up the pool house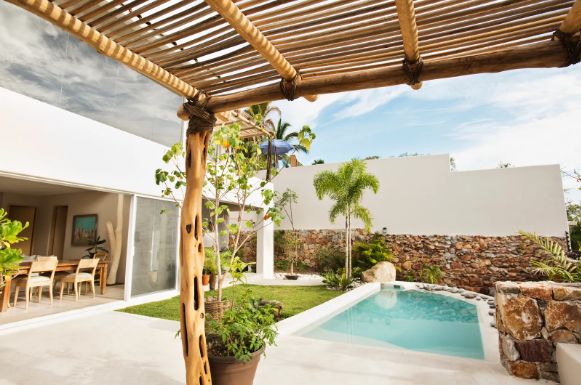 "This is a timber-frame-covered patio utilizing Douglas fir tongue and groove ceiling as well as exposed fir rafters," Purple Cherry explains, though she does have a word of caution for those hoping to add hanging lights outside, as the owner of this space did. When placing decorative chandeliers or ceiling lights in a porch, consider if there is a high wind factor, as you wouldn't want your lights to swing out of control. Chains and tiebacks can keep light fixtures at bay, however.
9. Bring nature in with lattices
You can enhance traditional exterior surfaces and adorn the patio as you would any other room in the home, says Paige Foss, architecture designer at Drees Homes in Fort Mitchell, Kentucky. For a simple DIY project, add lattice with greenery to further blur the line between interior and exterior.
10. Combine natural elements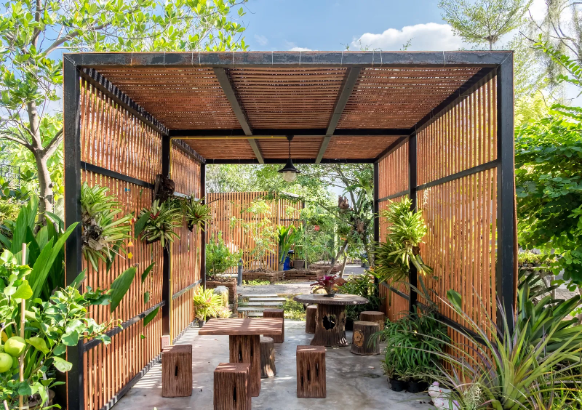 "The beauty is in the details," says Rob McKay, chief operating officer at InStone, a wholesale stone distributor of thin veneer masonry products headquartered in Navarre, Ohio. Juxtapose structured architecture with natural outdoor elements to create a luxurious environment.
11. Create a focal point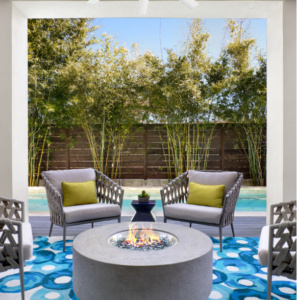 "It's a good idea to create a focal point in covered patio spaces," McKay recommends. "Often a firepit for a casual space, or a fireplace for a more formal space, will do the trick nicely." To give the patio space even more purpose, tie in interior design elements like a vibrant rug that echoes the focal point, as seen in this project by Stephanie Lindsey, principal interior designer for Etch Design Group in Austin.
12. Make it an alfresco dining spot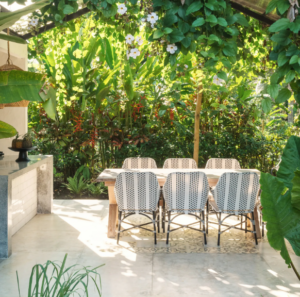 "A pergola is a tried and true solution for outdoor dining area," says Mark Cutler, cofounder of CutlersShulze in Los Angeles. Take advantage of the structure for light fixtures, or even some string lights, to further enhance the seating area.
13. Go for a domed ceiling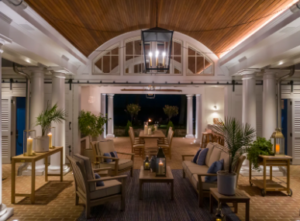 When designing a covered patio, don't forget to design the ceiling. "It's a great way to introduce texture and warmth to an otherwise simple design," Cutler says. Opt for wood or even brick to play with patterns.
14. Transform an existing space into a covered patio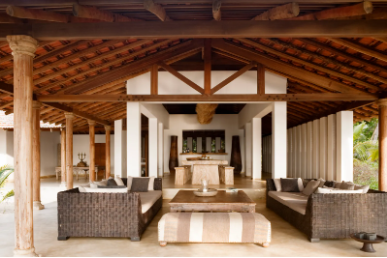 A patio doesn't have to be just in front of a house. "The past years of quarantine inspired many to ask more from their yards," explains Kevin Lenhart, design director at Yardzen, a custom landscape design service. "Suddenly, side yards, front yards, and even driveways became fair game for gathering spaces," he says of gazebo-like structures and outdoor dining areas. Take advantage of design elements like an exposed-beam ceiling, especially if you're interested in adding ambient string lights.
15. Consider a prefab cover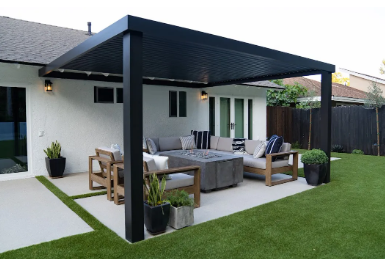 "Prefab options abound to suit any design, ramping up embellishing details for traditional styles and eschewing them altogether for modern ones," Lenhart says. Beyond their obvious function– creating breezy, shade-dappled outdoor spaces–pergolas are pieces of infrastructure. "Use them to mount heaters, ceiling fans, shade sails, wind screens, lights, or even televisions," he suggests. With a solid roof provided by a freestanding prefab cover, you can quickly create an outdoor space that can be enjoyed rain or shine—no remodel needed.
16. Invite nature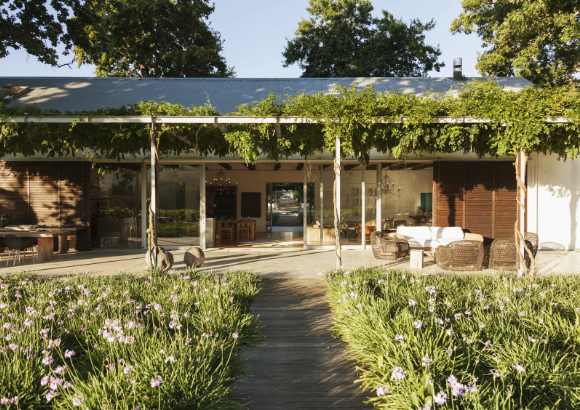 Lenhart says you should let vines grow up the posts and slats of patio covers. "Let them imply a distinct space while preserving wide open edges and free-flowing circulation," he says. You can easily tie in your garden design with your modern patio to make a smooth transition between an outdoor living space and nature.
17. Think Scandinavian
Scandinavian 'hytte' or cabins often incorporate square patios at their corners, open on two sides but covered for dining alfresco, protected from rain and wind, says Nina Edwards Anker, founder of Nea studio in Brooklyn, New York. "Usually the floors are wooden and raised above ground level," she says.
18. Use the covered patio as a cabana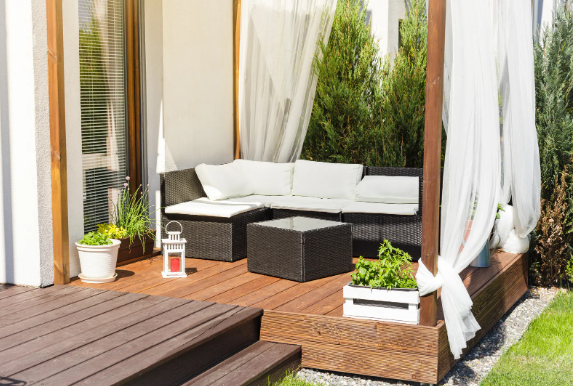 Expand the existing outdoor patio space by adding a wooden pergola coupled with a daybed or a sectional that can work as a cabana suited for lounging. Adding breezy curtains around gives it a Mediterranean feel that is accentuated if you add greenery to the space.
19. Bring in classical elements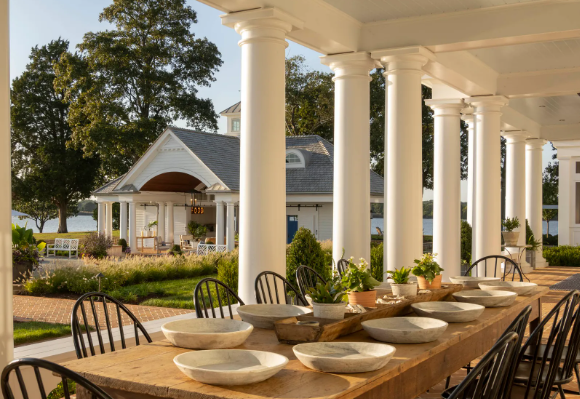 Play up the home's architecture when decorating an outdoor patio. If the house already has traditional elements like columns, use the design element as a backdrop. Adding a long table not only creates a dining area that's available rain or shine, it gives a nod to a Mediterranean lifestyle.
20. Add stone to the patio ceiling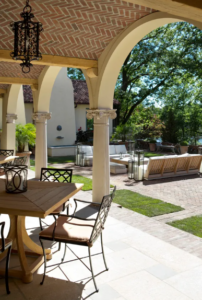 A vaulted patio ceiling complements classic-styled pendant light fixtures and gives the outdoor space a sophisticated set up.
21. Weave in woven shades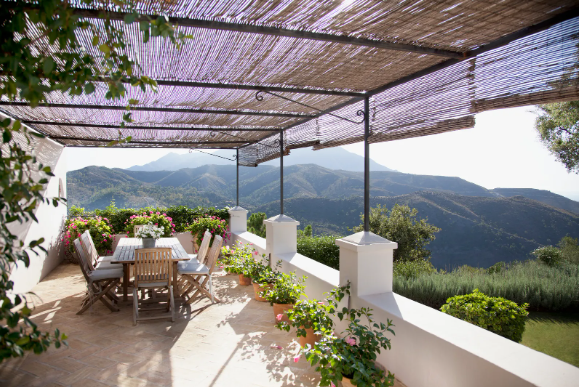 If you're looking for a shady solution that will still allow for a breeze and a tad bit of sunlight, woven wood shades will allow for just that. They're also a good option if you like the idea of a fabric cover but want to maintain a natural look in your outdoor space.
22. Canopy with wisteria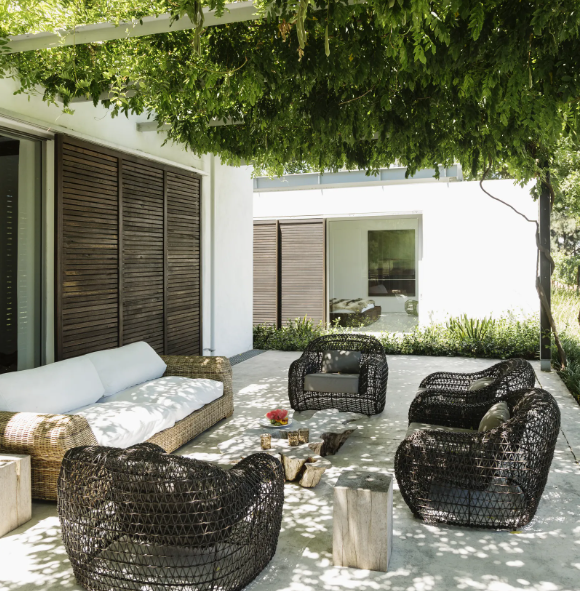 Take advantage of greenery as a patio cover, especially if it's something as beloved as wisteria. The flora contacts nicely against stained louvered patio doors and a black-and-white color scheme.
23. Stylish slats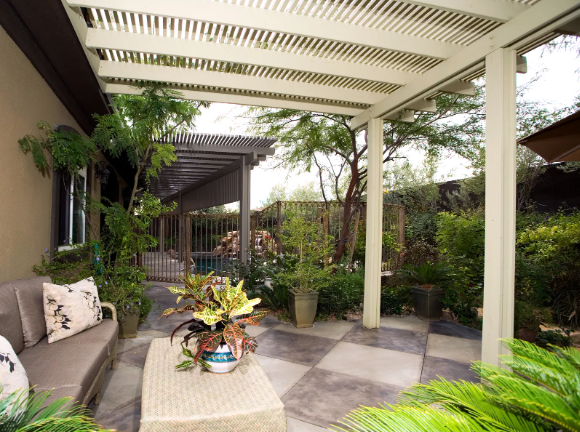 Embrace adjacent spaces for a covered patio in a side yard. A checkered concrete patio paired with a slats on a trellis adds an unexpected design twist and plenty of cooling shade.
AD July 22, 2022 (Rachel Davies and Terri William)