Four designers have very different ideas for creating the perfect aircraft interior.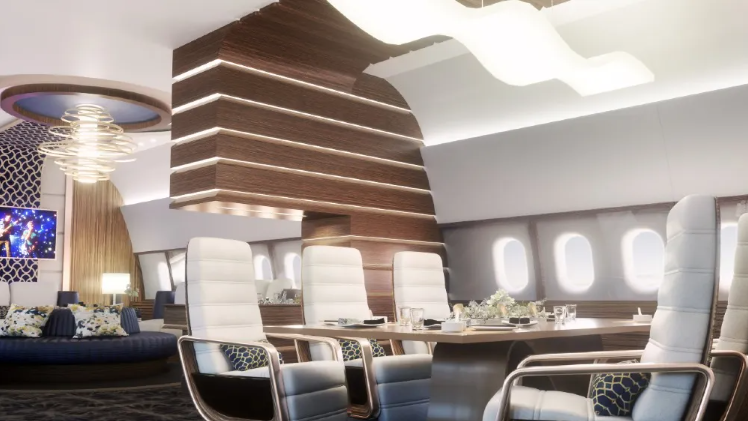 The wonderful thing about concepts is that they showcase fresh ideas, even if they never end up in a real business jet. Bespoke cabin designs allow the designers to display real imagination, without constraints, combining artistic and technical prowess into a new interior style.
Designs tend to be as wide-ranging as the designers themselves, but being bespoke, they must suit specific clients. On board an Airbus A320-Neo, Paris-based Alberto Pinto Design created a sleek interior combining luxurious woods and handmade carpeting with the occasional ornate feature that delivers a visual punch without overwhelming the entire cabin. The Pinto concept began as an idea, like many bespoke interiors, that was first conceptualized and then presented to the client. After making modifications, the client then chose to move ahead with the project and it became a paradigm-shifting charter aircraft. On the other hand, the bright, expansive 777 wide-body interior in the opening shot above by Austin, Texas-based MBG Design remains a work in progress, searching for the right owner.
At the end of the day, these concepts all attempt to push boundaries, not always aesthetically since some are safe designs created for corporate clients. But each designer is forced to present new ideas—sometimes wild and ostentatious, other times not so much—all within a defined interior space that serves as a blank canvas.
Here are four favorites.
Airborne Design BBJ Max-7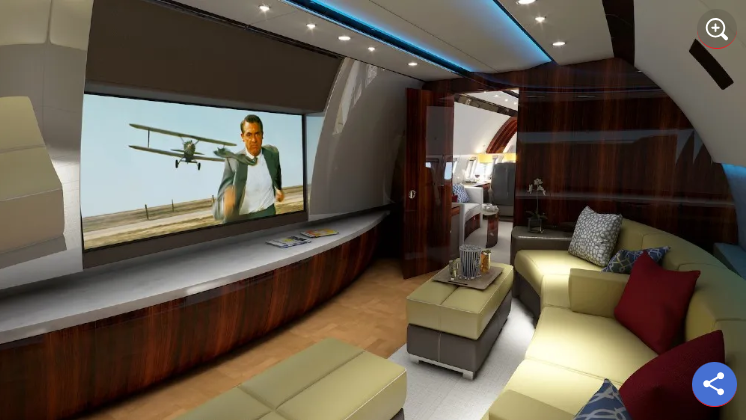 Richard Roseman's concept of this BBJ Max-7 was created for Citadel Completions. It's not supposed to be client-specific, but rather a general design for customers with families. The floorplan features two small bedrooms for children, along with a third for the owners. The media room is multi-functional, a space where the whole family can spend time together or a playroom for the kids. Ample seating, a bar up front, and a neutral-hued color scheme are some of the other big draws of this design. The Max-7 also has Boeing Vista windows, which merge three normal windows into one large one. The design also incorporates "vertebrae" lamps into the cabin that Airborne Design created to differentiate it.
MBG Boeing 777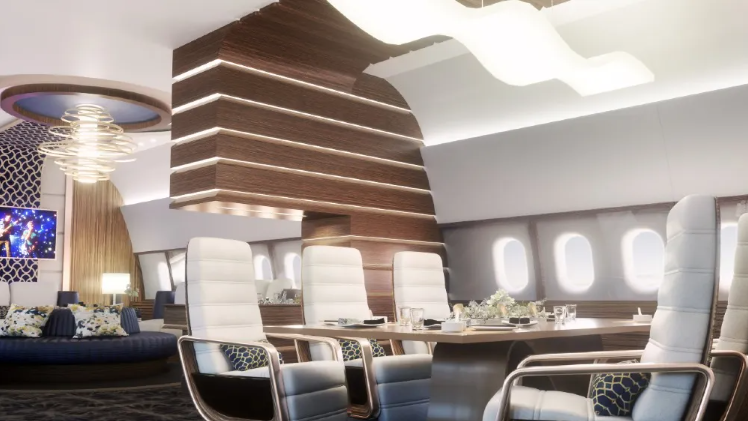 This Boeing 777 was created by Texas-based MBG as a conceptual idea for a business traveler who also wanted to use the jet for family travel. The long-range aircraft combines a navy-and-gold color scheme with modern architectural features. Ambient lighting is subtle, and the warm warm in the aircraft's centerpiece softens the space. The 777 concept has an owner's suite with a bathroom, a large social lounge, dining room, second bedroom, and first-class seating pods for guests, along with notable features like a chandelier.
Pinto Design Airbus ACJ320neo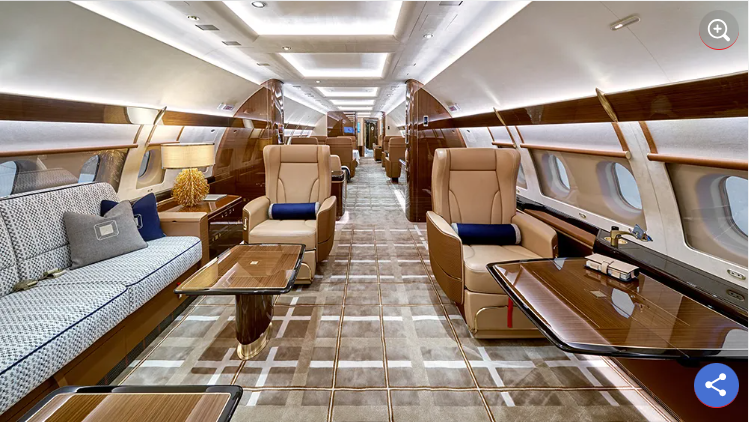 This Pinto concept became the first bespoke interior of an ACJ320neo, commissioned by U.K.-based Acropolis Aviation for the top end of the air-charter market. The breakthrough design also garnered a Robb Report "Best of the Best" award for its innovative use of space. It features an abundance of seating, with the ability to transport up to 19 passengers. The private bedroom with ensuite and full-sized shower provides comfort across multiple time zones, while the eight-person dining table adds a culinary edge to onboard eating. This design raised long-haul air charter to a higher level.
Design Q Boeing 737 BBJ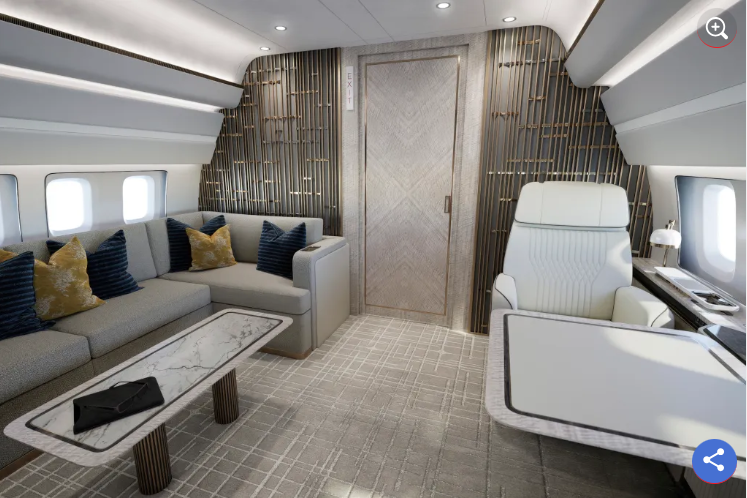 The interior of this 737 BBJ has subtle-but-unique features like a metal trellis on the main bulkhead and side ledges on the seats that were specifically designed for this client. The concept will soon become reality since the interior is now being fitted out by Citadel Completions Limited.
Robb Report by Rachel Dube (September 2023)