Let a burnt hot dog be the only worry when it comes to your alfresco dining space.
The pandemic fomented various shifts in the way we socialize. While some trends, like Zoom hangouts, have thankfully receded, others, like backyard outdoor hangs, are still going strong. And as kitchens tend to be the heart of any home, it's no wonder that outdoor kitchens are among the top design trends this year. In a 2022 report by the National Kitchen & Bath Association (NKBA), 61% of respondents said that outdoor kitchens will be a prominent design feature in the next three years, especially among millennials.
While an outdoor kitchen may sound more laid-back than its indoor counterpart, thoughtful planning is no less important. As the NKBA reports, design elements of an outdoor kitchen— cooking, refrigeration, plumbing, counterspace, and storage—shouldn't intervene with how you use the rest of the patio or deck.
If you're considering moving or extending your cooking space to the great outdoors, here are some factors that experts say you might be overlooking—but definitely shouldn't be.
1. Decide how the kitchen space will be used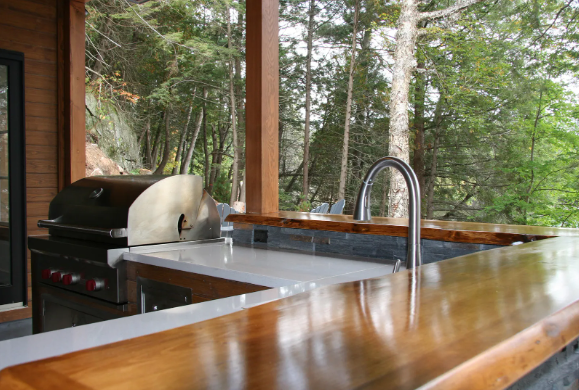 Your intentions for your outdoor kitchen will shape the entire design process. "Will you be preparing meals for your household or for frequent large gatherings? Knowing how you will use the outdoor kitchen will help you adequately space plan and choose appliances and storage options that are an appropriate size," says Catherine Staples, principal designer at Aspen and Ivy, an interior design studio, based in Barrie, Ontario, who recently completed a stunning, nature-inspired kitchen in Loretto, Ontario. The big question to ask is: How will the space be used?
2. Mirror your home's existing materials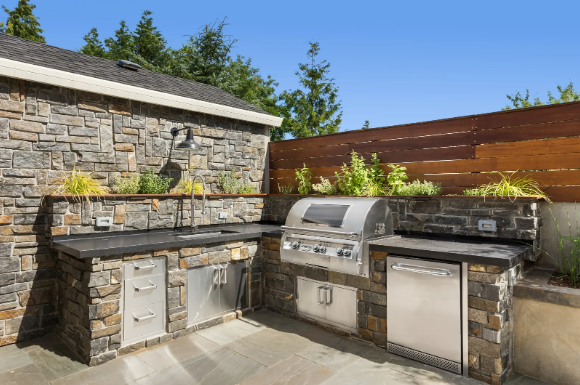 The sheer number of decisions involved in planning an outdoor kitchen may feel overwhelming. Thankfully, Staples shared a rule of thumb that will improve your design and narrow your options: "Design with your home's existing materials, both indoor and outdoor, in mind so that your new structure will fit in seamlessly." Repeating materials, be it brick, stucco, stone, or siding, can create a correspondence between the new space and its surroundings.
3. Weatherproof your outdoor kitchen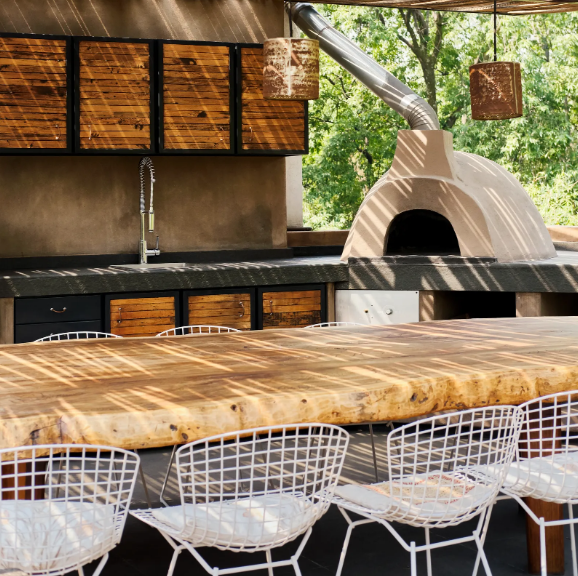 While some materials, like brick and stone, are naturally suited to the outdoor, others, like wood, might require an extra step of preparation. Weatherproofing not only extends your outdoor kitchen's lifespan, it also expands your design possibilities and enables you to think outside the box when it comes to materials.
When Nottinghamshire-based TikTok creator Annabelle Rogers set out to build an outdoor kitchen, she decided to repurpose wood from previous projects, both minimizing waste and slashing the budget to a mere $75. Rogers explained, "We used treated timber, which makes it weatherproof. We also painted the units using outdoor Ronseal garden paint, which also helps make it last."
4. Use lighting with intention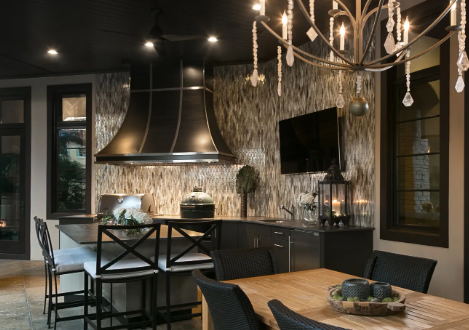 Lisa Gilmore, an interior designer based in Saint Petersburg, Florida, knows that a well-lit kitchen is not only crucial for creating a functional cooking and entertaining space—it's also an opportunity to infuse the space with your style. "People often think they have to do a boring outdoor light—broaden your horizons," Gilmore says. "I promise it's a great conversation starter."
Gilmore's pro tip? Always look for chandeliers and pendants that are damp-rated. This means they can withstand a little moisture. Even then, make sure the lights have a bit of coverage and are not fully exposed to the elements. Gilmore adds that consulting with a licensed electrician is always recommended when it comes to lights in an outdoor kitchen.
Likewise, Staples echoed the importance of thoughtful lighting, "Meal prep and cooking zones should be well lit with overhead and task lighting. For dining and lounging areas, strategically placed accent lighting creates an inviting atmosphere and helps transition your backyard from day to night." Staples also recommends thinking of your outdoor kitchen as you would if it were an indoor one, and place lighting around the perimeter and at different levels.
5. Plan storage for furniture and decor
A little planning can go a long way toward building a resilient outdoor kitchen, not to mention creating a functional space for hosting friends and family. Storage is a principal concern for any kitchen, but for outdoor kitchens, storage of furniture and decor items is an additional consideration. "While construction is already underway, consider adding storage options for any furnishings or decor that will need to be put away when not in use," Staples says. "Even the most durable outdoor furnishings and accessories can't handle constant exposure [especially in a harsh climate] and will last longer if stored properly." Plus, no one wants to deal with extra pillows while munching on a hot dog.
Architectural Digest July 8, 2022 (Caitlyn Raux Gunther)