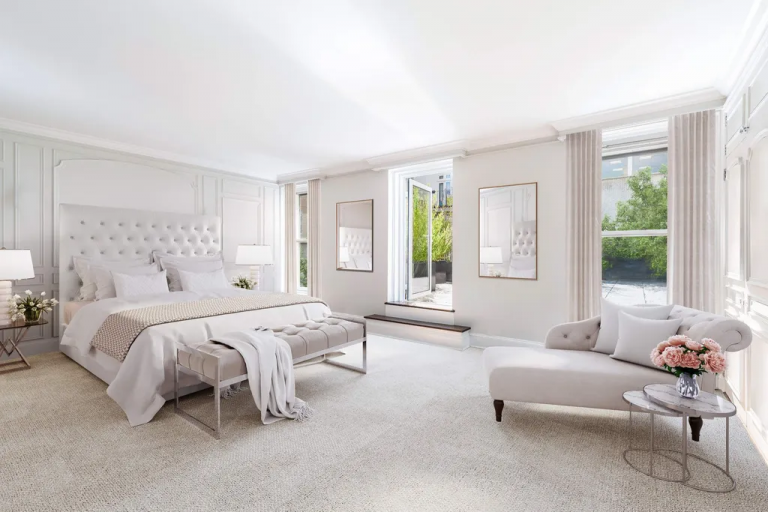 After a long day of travel, there's nothing quite like arriving at a luxury hotel and settling into a beautiful room that sets the tone for a vacation. While travel is temporarily restricted and the possibility of staying at high-end hotels has been paused, hotel-level luxury can still be achieved in your own home. Take your cues from these six relaxation-ready retreats to give your bedroom the hotel treatment.
Jewel Tones in Dubai, United Arab Emirates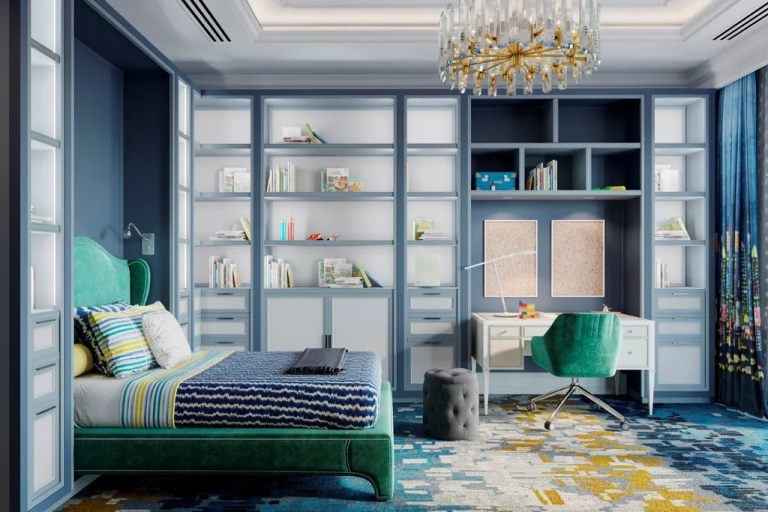 This vibrant bedroom, located in a beachfront mansion in the XXII Carat luxury development in Dubai, draws inspiration from the region's color-saturated landscapes. Deep blues, emerald greens, and splashes of gold turn this bedroom into a multi-hued escape. Luxurious details like the sparkling chandelier overhead and the soft inset lighting fixtures bring attention to the room's cohesive, elevated design scheme—an approach that wouldn't be out of place in your favorite world-class hotel.
Plush Fabrics in New York, New York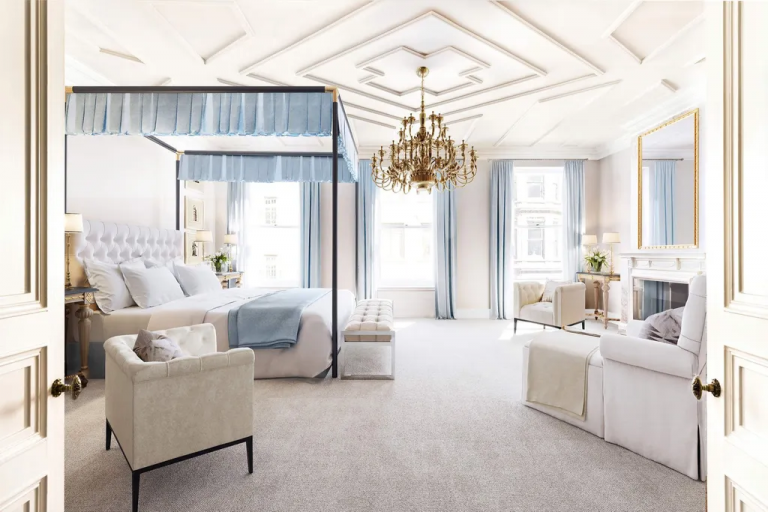 Set against a palette of soft grays, pale blue, and cream, the bedroom in this Central Park-adjacent New York City townhouse is a restful departure from the city's hustle and bustle. Designed by the renowned architect C.P.H Gilbert in 1878, this one-of-a-kind townhouse is old New York at its finest, but its interiors were inspired by 18th-century Europe. Transport yourself to the charming hotels of Paris with details like crown molding, tufted velvet furnishings, and the room's baroque gold chandelier and framed mirror.
Tranquil Views in Dorado Beach, Puerto Rico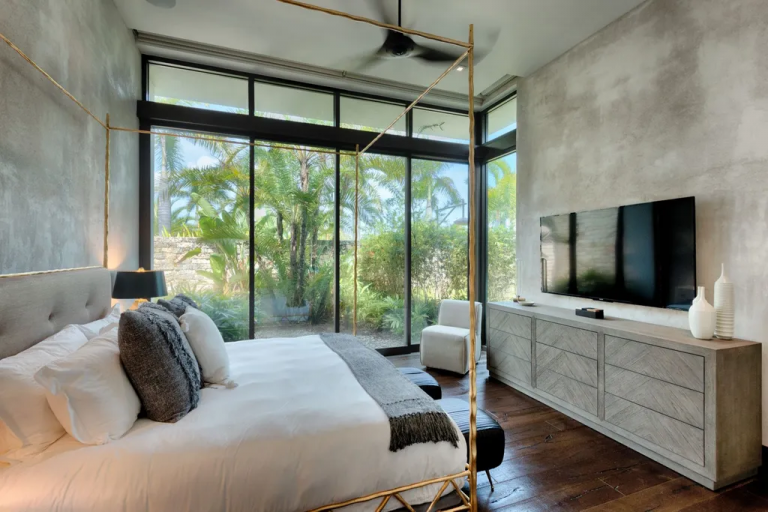 Part of the appeal of a hotel room is knowing what wonders lay just outside. The bedroom in this Puerto Rico beach mansion capitalizes on what's outside by welcoming in the view with a wall of windows. By keeping the rest of the room's design elements simple and pared back with splashes of crisp white and sandblasted gray, the emphasis remains on the tranquil tropical views outside. Subtle but impactful details like a gold canopy bed frame and chevron-patterned gray wood sideboard bring the room to elegant, preferred-hotel levels of sophistication.
Cool Color Schemes in Riverside, Connecticut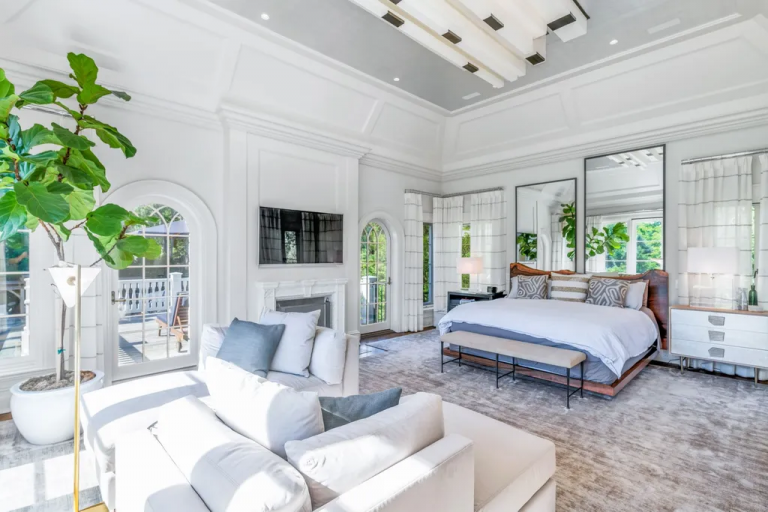 Colors have a definite effect on the mood, which is why the world's top hotels tailor their room designs to the type of atmosphere they're trying to evoke: darker shades are sultry and romantic, while lighter hues promote calm and serenity. The bedroom in this Riverside, Connecticut home is firmly in the light with its plush white sectionals, billowy curtains, and soothing white walls. With high ceilings, arched windows, and its very own fireplace, this bedroom is what hotels aspire to provide their guests: a space that serves as a luxurious respite from daily life.
Soft Lighting in Monaco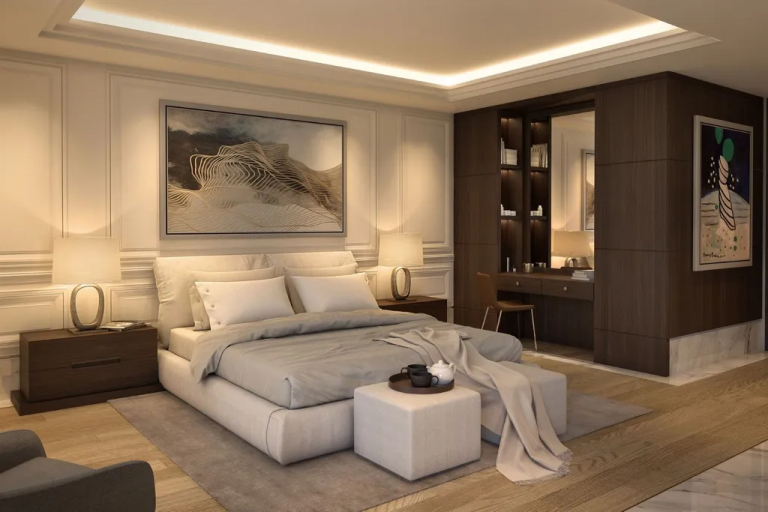 This Monaco apartment is located in a building named The Paradise, and for good reason. While the unit is under renovation, the plans for the master bedroom feature an en-suite bathroom and walk-in closet, and sets the stage for relaxation with soft recessed lighting and earthy furnishings. Sumptuous fabrics encourage all-day lounging, while the hanging artwork serves both to inspire and to tie the disparate elements into a cohesive whole.
Organic Detailing in Aspen, Colorado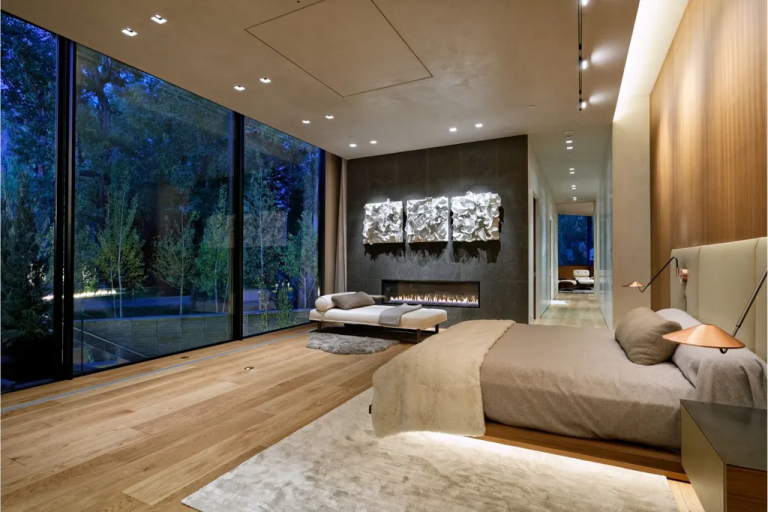 In a setting like Aspen, nothing short of grand gestures will do. In this Bauhaus-inspired home in the municipality's West End, the master bedroom has been arranged to make the most of the green vistas of its mountain setting. Shades of sand and slate echo the region's peaks, while high ceilings, wood-paneled walls, and a contemporary stone hearth gives the space presence without eclipsing the environment that inspired it.
Even though the five-star hotel experience is currently on hold, it doesn't mean we can't bring that same eye for detail to our own homes. These six bedrooms serve as restful spaces where dreaming, lounging, and indulging are encouraged—embodiments of the hotel spirit that keep us yearning for travel.