As travelers know, the anticipation of a vacation is part of the experience. Whether exploring a new country or returning to a beloved spot, planning and researching a trip gives the imagination the opportunity to roam free. While travel may be paused for the time being, there's no limit on daydreaming. As your mind wanders across borders, let these six beautiful homes for rent around the world pique your interest.
An Elevated Ski Chalet in Méribel, France
Meribel, Rhone-Alpes, France | Olivier Roche, Méribel 3 Vallées Sotheby's International Realty
If a snowy wonderland sets the scene for your perfect vacation, plan to head for the hills—the French Alps to be exact—to enjoy all the comforts of this seven-bedroom chalet. Having played host to the 1992 Albertville Olympics, Méribel is a picturesque ski resort with no shortage of challenging slopes. After spending your day in the fresh mountain air, come home to the cozy yet luxurious chalet and take your ease in the 22-seat cinema or the wellness center with pool, sauna, steam bath, hot tub, and massage and relaxation lounges.
A Villa With Sea Views, Ibiza, Spain
Ibiza, Spain | Barbara Caprara, Ibiza Sotheby's International Realty
While Ibiza may be known for its nightlife, it also offers the best of Mediterranean living. Renting this sleek and modern villa guarantees your access to endless ocean views while lounging poolside amongst the property's manicured grounds. Nearby is Ibiza Town, where visitors can experience the historical charm of the Old Town, and indulge in high-end shopping, traditional tapas, and fine dining in the New Town.
A Historical Residence, London, England
London, England | James Somers, United Kingdom Sotheby's International Realty
There are myriad reasons to visit London: the history, architecture, and culture are just a few. With so much to experience, consider renting this contemporary Tower Hill residence for prime access to all the sights the city has to offer. The building blends the past and present as the former headquarters of the Port of London Authority, though completely updated with bespoke furniture and finishings. For a more historical perspective, the residence is situated next to the Tower of London fortress and palace, built almost 1,000 years ago.
An Architectural Delight, Santiago, Chile
Santiago, Chile | Rosario Ale, Chile Sotheby's International Realty
Find this tranquil penthouse rental nestled in the hills just outside of Santiago, where guests can wake to views of the Andes Mountains. There are plenty of reasons to visit Chile's capital city, from the thriving local cuisine to the surrounding natural wonders to the dynamic modern art and design scene. Guests can see elements of this contemporary design carried throughout the property, and appreciate the incorporation of beautiful natural materials firsthand.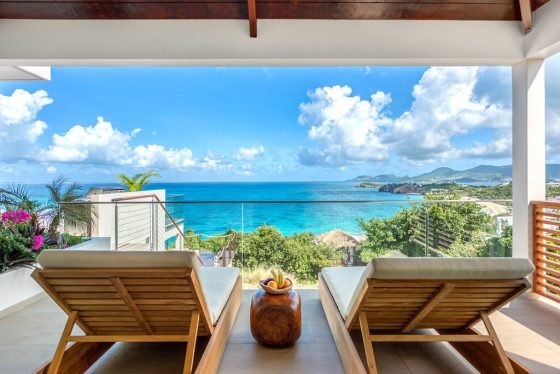 Terres Basses, St. Martin | Harrison Reed, St. Martin Sotheby's International Realty
Imagining a holiday at Amandara, a seaside villa on the island of St. Martin is easy work. The Caribbean property for rent has incredible panoramic ocean views whether you're relaxing inside the bright and airy villa, lounging on the extensive glass-enclosed patio, floating in the infinity pool, or bathing in one of the inviting outdoor tubs. When you're not stretched out on the sands of the adjacent beach, head to the nearby capital of Marigot to peruse the vibrant markets and boutique shops, or head to Grand Case to taste renowned French cuisine.
A Luxury Lodge in Queenstown, New Zealand
 Queenstown, New Zealand | New Zealand Sotheby's International Realty
For serenity and style amidst natural beauty, this award-winning Aspen Grove lodge sets a high standard. Known for its incredible scenery, Queenstown draws adventure seekers for exhilarating activities including bungee jumping, skydiving, and whitewater rafting. If remaining firmly grounded is more your style, relax in the lodge's lap pool, spa, and sauna, and gather around the outdoor fireplace while soaking in the soothing mountain and lake views.
Regardless of the type of holiday, you're dreaming about—a ski retreat, beach vacation, cosmopolitan excursion, or mountain escape—these six properties for rent provide all the comfort and conveniences to ensure an unforgettable stay. Keep these destinations top of mind, and when it's time to travel again, you'll have just the spot.