From the Slovenian Kamnik Alps to Calamuchita Valley in Argentina, these homes come with incredible views—if you don't mind the heights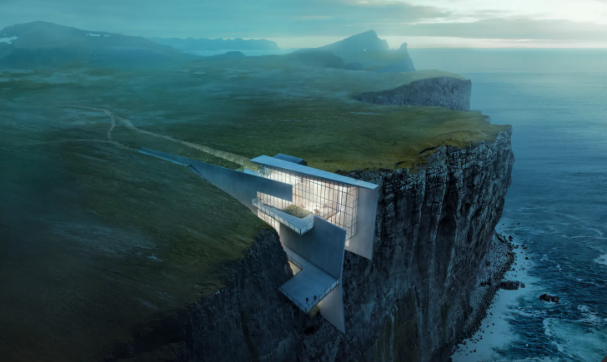 If there's one thing those with acrophobia know to be true, it's that houses on cliffs weren't designed for them. Luckily, a new book from Lannoo Publishers makes it possible for anyone to get a good look at some of these properties without having to set foot inside. Written by Agata Toromanoff, In Living on the Edge: Houses on Cliffs looks at more than 40 properties built in what most would call "unbuildable" locations. "In my books, I always focus on aspects that make architecture special," says Toromanoff. "Living on the edge means constructing places in the most challenging locations, and, in many cases, in the middle of unspoiled nature." With both the physical challenge and being tasked with finding a dialogue with nature that doesn't harm the environment, bringing these homes into existence is only that much more impressive. "It is fascinating to study the latest examples and see how various architects around the globe come up with ingenious ideas and observe the way the discipline evolves," Toromanoff says. Below, find nine houses on cliffs where living is not for the faint of heart.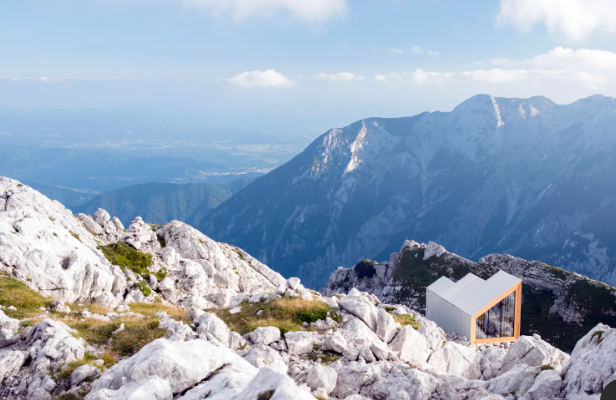 Alpine Shelter Skuta by OFIS Architects
"The 12-square-meter Alpine Shelter Skuta looks incredible, immersed into the rocky peaks of the Slovenian Kamnik Alps," Toromanoff writes of this property in Zgorne Jezersko, Slovenia. Prefabricated, then placed on the mountain with a helicopter, the structure was designed by OFIS Architects with students in a Harvard Graduate School studio with the goal to build usable shelter at very high altitudes.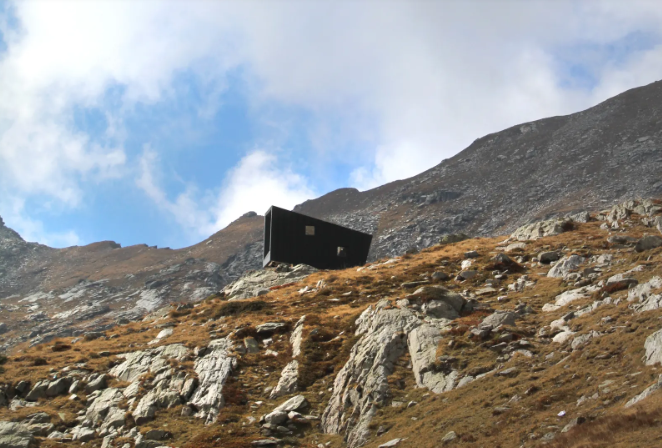 Bivacco Brédy by BCW Collective
Cantilevered over a rock slab in the Vertosan Valley in Italy, this home designed by BCW Collective is, according to Toromanoff, the perfect property for anyone who loves the mountains and needs a break from daily life. The hut was designed to be both functional, flexible, and nonintrusive to the natural environment.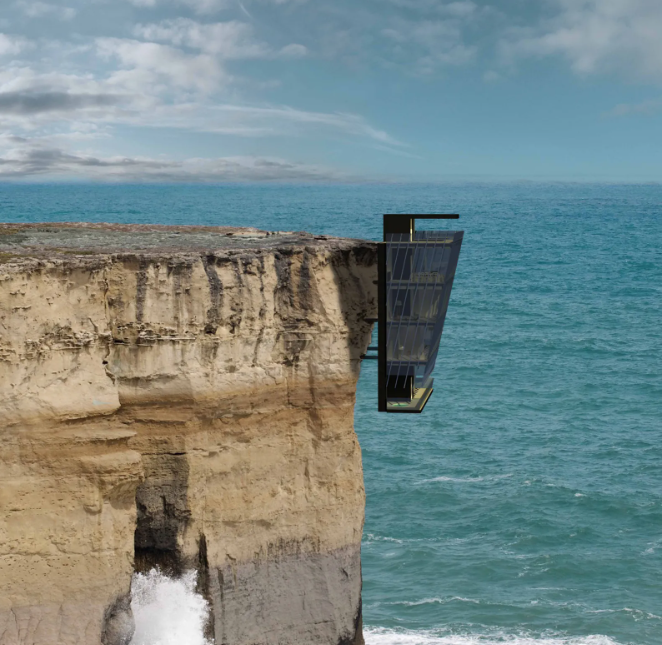 Cliff House by Modscape
The second half of In Living on the Edge focuses on innovative proposals and unrealized homes on cliffs. Cliff House by Modscape "is their theoretical response to clients who have approached them in search of a project dedicated to extremely challenging coastal plots," Toromanoff writes. If constructed, the home would span five floors and feature incredible ocean views.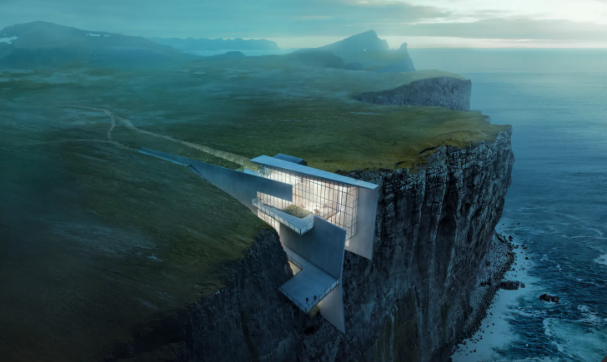 Cliff Retreat by Alex Hogrefe 
Though not realized yet, Alex Hogrefe of Visualizing Architecture designed this home to examine "the insertion of architecture into a sensitive landscape," he told Toromanoff. Cliff Retreat, envisioned to grip the edge of a cliff in Iceland, becomes an extension of the natural environment.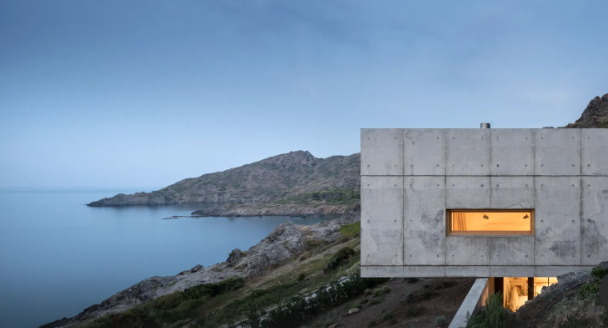 Concrete House by Marià Castelló and José Antonio Molin
Built in 2021, this brutalist home clinging to the mountains in Port de la Selva, Spain, was designed by Marià Castelló and José Antonio Molin. "Pure concrete was selected to match the geological features as well as to make the structure robust and minimize the maintenance," Toromanoff writes in the book.
Casa MF by Alarciaferrer Arquitectos
A linear home made from two volumes, "This concrete house taking on strict geometric forms cannot be more different from its wild site," Toromanoff writes of Casa MF by Alarciaferrer Arquitectos. The property looks out over the Calamuchita Valley in Argentina and a makes use of two levels: the upper of which is cantilevered over the mountains, is mainly devoted to communal spaces, and the lower one has bedrooms and a pool.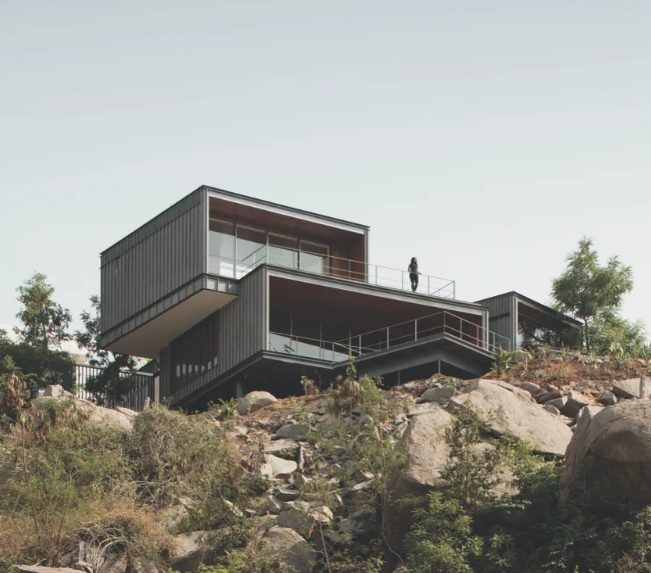 Lakehouse by Collective Project
Stacked volumes define this home balanced above the Durgam Cheruvu Lake in Hyderabad, India. A steel structure clad with local granite juxtaposes floor-to-ceiling windows, creating a home that feels both extremely heavy and like it's floating at the same time.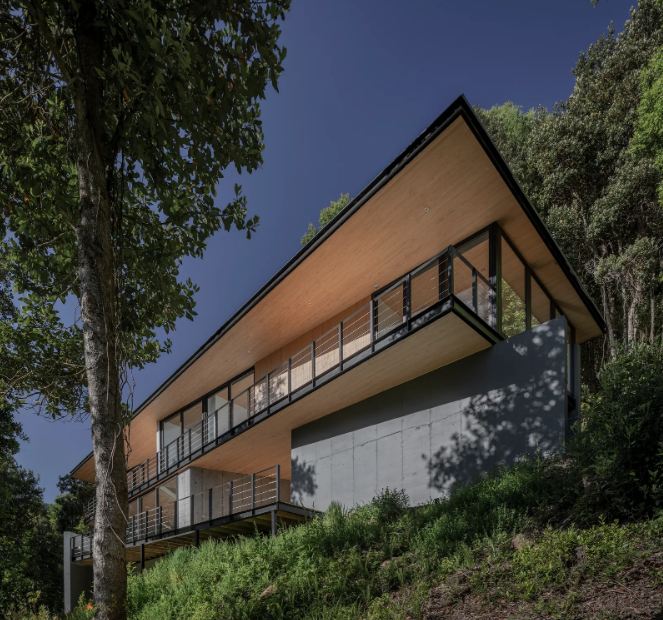 PR House by Triangular Arquitectos
Concrete retaining walls were used to help shape the terrain in Cunco, Chile, where this home by Triangular Arquitectos stands. With a finished design full of geometric forms, framing the view was the primary goal of the architects.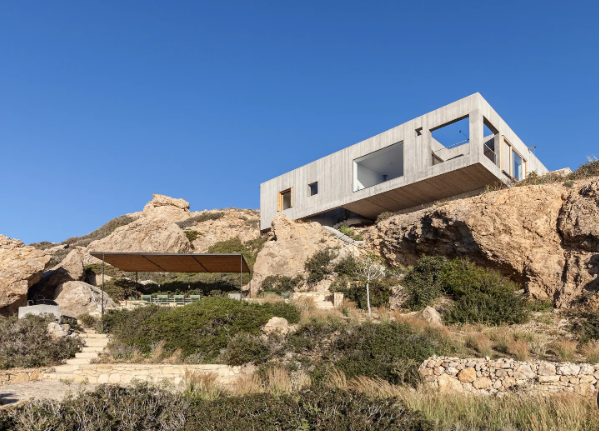 Patio House by OOAK 
Located in Karpathos, Greece, this home, dubbed the Patio House, was designed by Johan Annerhed, Maria Papafigou, and Marie Kojzar of OOAK Architects as a summer home for a family with kids. A 22-hour boat ride from Athens, the home is dramatically perched on textured cliffs that overlook the Aegean Sea. The property isn't supposed to blend in with the surrounding environment, but rather was conceived to appear as an object balanced delicately in the natural world.
AD October 4, 2022 (Katherine McLaughlin)