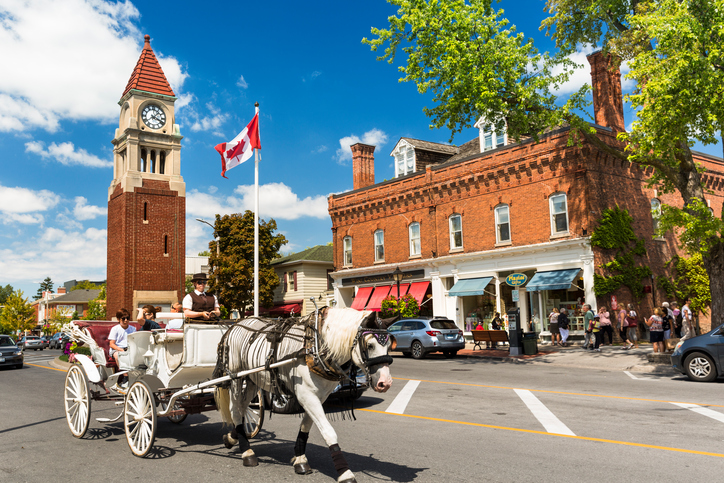 For those looking to escape Toronto for quick getaway, here are some superb day trips worth checking out:
Niagara-on-the-Lake
Niagara-on-the-Lake is a Historic Site of Canada because of its beautiful structures built in the 18th century. Brimming with history and culture, this charming yet sophisticated town has plenty to offer visitors. Aside from the beautiful views of the Niagara Fall on Niagara Parkway, check out the following:
Harbour House Hotel

85 Melville Street

A luxurious boutique hotel, the Harbour House Hotel is designed to pamper its visitors with an elegant yet comfortable ambience. Guests can relax in front of the fire in the longue and enjoy the free wine-and-cheese hour every evening. The hotel was recently been named one of the world's best hotels by the website TripAdvisor.

Treadwell Farm to Table Cuisine

114 Queen Street

Niagara's most critically acclaimed restaurant offers a variety of dining opportunities. Treadwell Farm to Table Cuisine's combination of seasonal menus and award-winning wines makes this restaurant a must-try destination.

Peller Estates Winery & Restaurant

290 John Street
There's enough to do in Peller Estates Winery & Restaurant to fill an entire day. Sample wines, dine at their fantastic restaurant, take a tour of the winery, experience the ice wine, and take painting lessons in the vineyards.
Prince Edward County
Prince Edward County is about picturesque county roads, vineyards, antique shops, and art studios. This island community is perfect for artists, nature lovers, and those longing for a relaxing weekend escape. Interested? Here are some of the county's must-see places.
Drake Devonshire

24 Wharf Street

Mixing rustic décor with modern art and mid-century furniture, this hotel boasts a unique brand of culture, community, and hospitality. Eleven fashionably designed guest rooms and two expansive suits await those looking for the perfect relaxing retreat.

Oeno Gallery

2274 Country Road

The Oeno Gallery features Canadian artists working on a variety of media, from photography to sculpture. The gallery offers more than just exhibition space; it has a four-acre outdoor sculpture garden which hosts events like jazz concerts.

The County Wine Tours

81 Cleminson Street

Hop on a bike and visit some of the region's best wineries for tastings and tours. The guided County Wine Tours covers as many as four wineries where guests can get to sample more than 12 different wines.
Buffalo, New York
For a quick out-of-the-country escapade, Buffalo, New York is less than 100 miles away. Enjoy a city known for its good food and amazing arts and culture scene. Unlike New York City, Buffalo is laidback –an ideal destination for those who like their getaways relaxed but fun-filled. Here are a few great places to check out in Buffalo, NY:
Albright-Knox Art Gallery

1285 Elmwood Avenue

Featuring modern and contemporary art, the Albright-Knox Art Gallery is popular with locals and visitors alike. With a focus on 18th century pieces, the gallery has Claude Monet, Vincent van Gogh, Pablo Picasso, Frida Kahlo, and Andy Warhol in its collection.

Anchor Bar

1047 Main Street

The birthplace of Buffalo wings, Anchor Bar is as down-to-earth as any dive bar, with a laidback vibe perfect for those who just want to hang out, down a few drinks, and enjoy some good food.

Buffalo and Erie County Botanical Gardens

Marvel at the amazing diversity showcased in this 12-acre historical site. It's a great place to spend the day appreciating nature. Stroll through 10 interconnected indoor greenhouses each showcasing a different collection of plants. These collections include cacti and succulents, carnivorous plants and a medicinal garden, and many more. Go on a self-guided tour or opt for a free audio tour.
Toronto is a city brimming with diversity and culture and close to many wonderful weekend retreats. Let Linda McEwan and Cheryl Thompson help find the best available Toronto luxury homes. Call at 416.960.9995 or send an email to lmmcewan(at)sothebysrealty(dotted)ca.