These activities will help get your blood pumping in the colder months.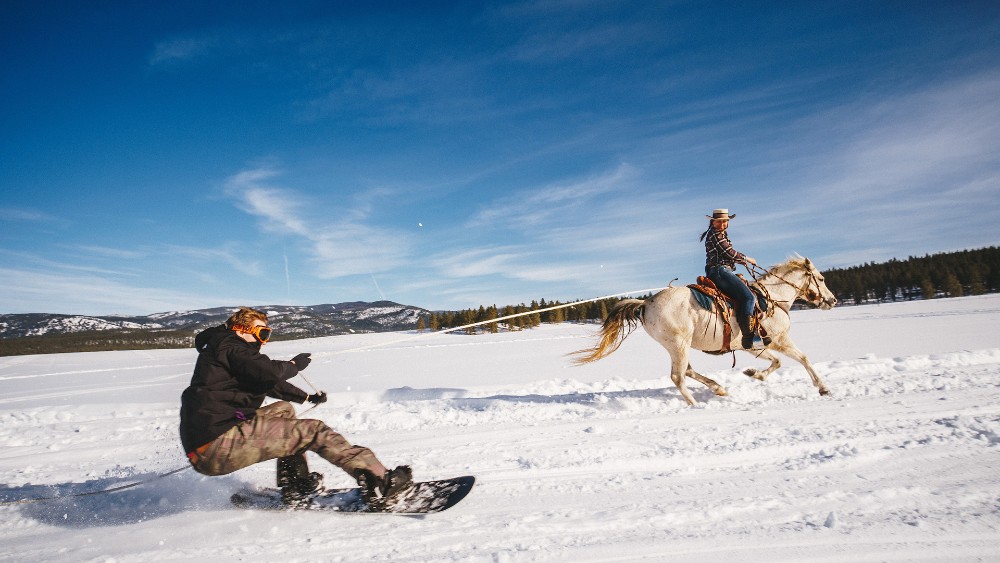 For some, winter activities mean sipping from a steaming mug of hot chocolate while an open fire crackles in the background. For others, it's jumping from a helicopter onto fresh powder for an epic mountain run—or maybe zip lining over the frozen tundra of Antarctica.
While there's plenty on offer in winter for all types of travelers, several luxury resorts and beloved winter destinations are this year offering activities designed to appeal to adrenaline junkies and travelers seeking one-of-a-kind experiences. From horse-led skiing at a sprawling Montana retreat to floating on an iceberg in Finland, here are nine exciting wintertime activities sure to get the blood pumping.
Ice Floating in Finland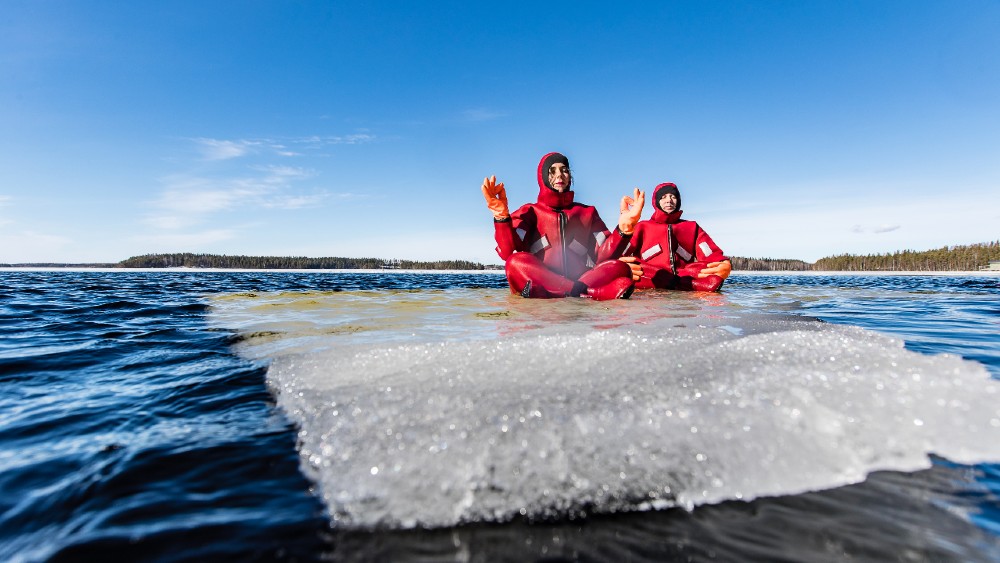 Catching a view of the Northern Lights is a bucket list activity in itself—now imagine doing it from the icy water of Finnish Lapland. At Arctic Treehouse in northern Finland, you can view the lights from the floor-to-ceiling windows of your treehouse, then, if you're feeling adventurous, head to the coast to kick things up a notch. You'll board the Arctic Icebreaker Sampo, which will smash through sheets of ice in the Gulf of Bothnia as you gear up in a neoprene suit—then jump into the icy waters. The suit will keep you warm and floating as you bob amongst the small icebergs. Rates for the Arctic Treehouse start at $680; ice floating costs $100.
Zip Lining with White Desert, Antarctica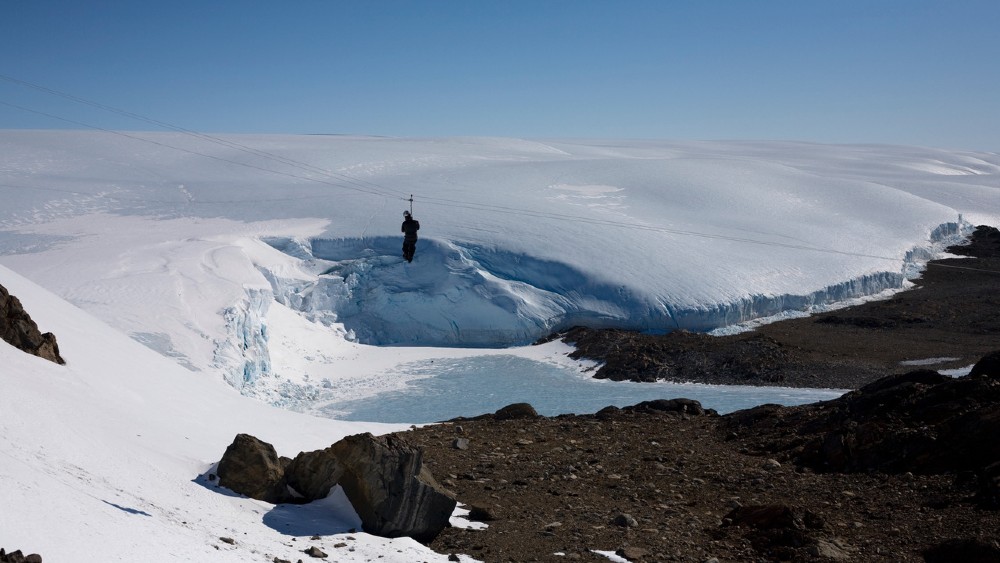 With White Desert, you can explore Antarctica by taking a private jet to Whichaway, the luxury travel outfit's upscale camp in the snow. Once there, you might be surprised by how many activities "the Frozen Continent" offers so many thousands of miles from civilization, from abseiling to fat biking. One of the most thrilling, though, is undoubtedly the camp's zip line, which is fastened between two rocky outcroppings. Take a deep breath and jump as the cool chill of the world's freshest air hits your face. You'll soar for nearly 500 feet while taking in views of the camp, an icy lake and Antarctica's spectacular landscapes. Starting rates for a White Desert private jet itinerary is $60,000 per person; zip lining is included.
Skijoring at the Green O, Montana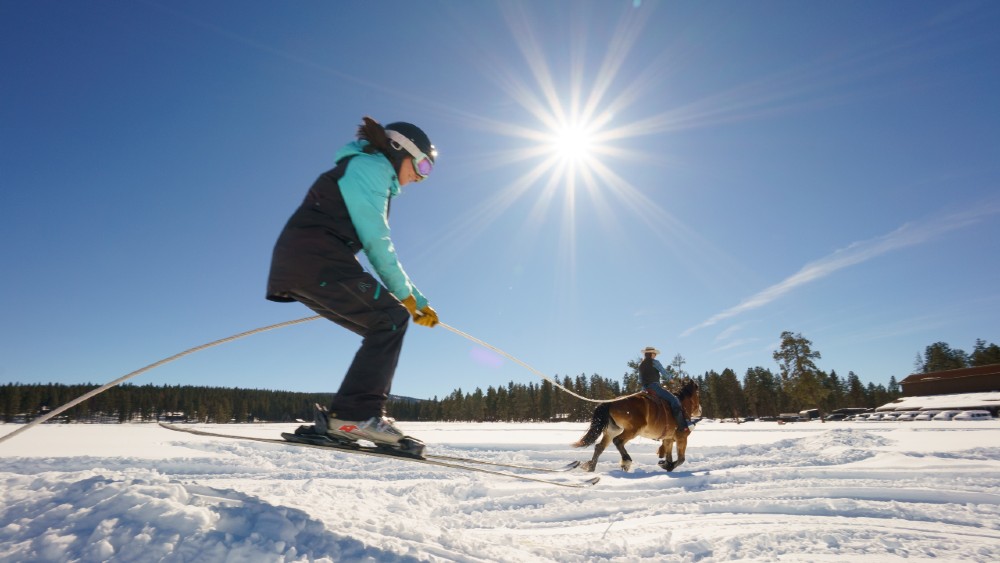 Montana is a nature lover's playground, and no one showcases it better than the new adults-only the green o, the design-centric addition to the 37,000-acre Paws Up resort. This winter, the property is asking, "Why ski down a humdrum mountain when you can surf the snow using horsepower?" Yes, actual horsepower—as in, skijoring. A Montana pastime, skijoring (Norwegian for "ski driving") sees guests pulled on their skis or snowboards by horses through one of two trails. Start off at the training course then, if you can master the speed, head to the other areas designed for competitive skijoring. You may even become good enough to enter the yearly skijoring tournament in nearby Whitefish. Resort rates start at $2,040 per night for double occupancy, including all meals and drinks and round-trip airport transfers. Skijoring costs $225 per person.
Ice Cave Heli Adventure with Shangri-La Hotel, Vancouver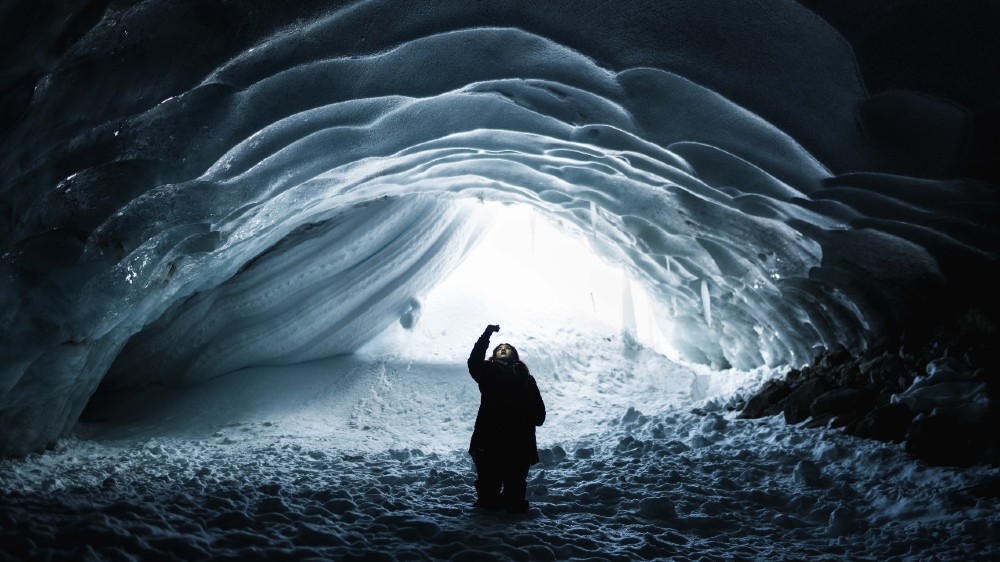 Shangri-La properties around the world are known for their one-of-a-kind offerings, but the new Ice Cave Heli Adventure package at the Vancouver hotel soars above the rest. Along with three nights in a suite, you'll enjoy a seven-hour day trip starting with a private helicopter ride to Whistler's magnificent ice caps, accompanied by a personal photographer. Once there, you'll get to take in the terrain on snowmobiles and buggies, then play some "glacier golf" using biodegradable balls. Next, embark on an informative guided tour through the chambers, ending up in a spot where lunch is on ice—literally. You'll feast on a five-course, chef-prepared menu in an ice cave; later, you'll touch down at a second location for Champagne and dessert. Once back at the hotel, continue the fun with a mixology class using ancient glacier ice plucked from the caves, dining credits, an ice-inspired afternoon tea and spa treatments at CHI, The Spa. The three-night Ice Cave Heli Adventure package is approximately $47,920 for two guests.
Ice Climbing in Maple Canyon, Utah
Ice climbing has been popular in Utah since people first started scaling permafrost at Malans Falls in the '70s. More recently, nearby Maple Canyon has become a hugely popular destination for winter climbers, thanks to its challenging formations and frozen waterfalls. Red River Adventures in Moab takes beginners and experts out to this area for half- or full-day ice climbs. Afterwards, surrender your ice pick and make the hour and a half drive to the luxury Sundance Mountain Resort, where there are nearly 20 spacious mountain homes to choose from; the most high-end option, Canyon View, starts at $1,600 per night. Ice climbing starts at $175 for a group of two and $225 for a solo guided adventure.
Caldera Snorkeling in Iceland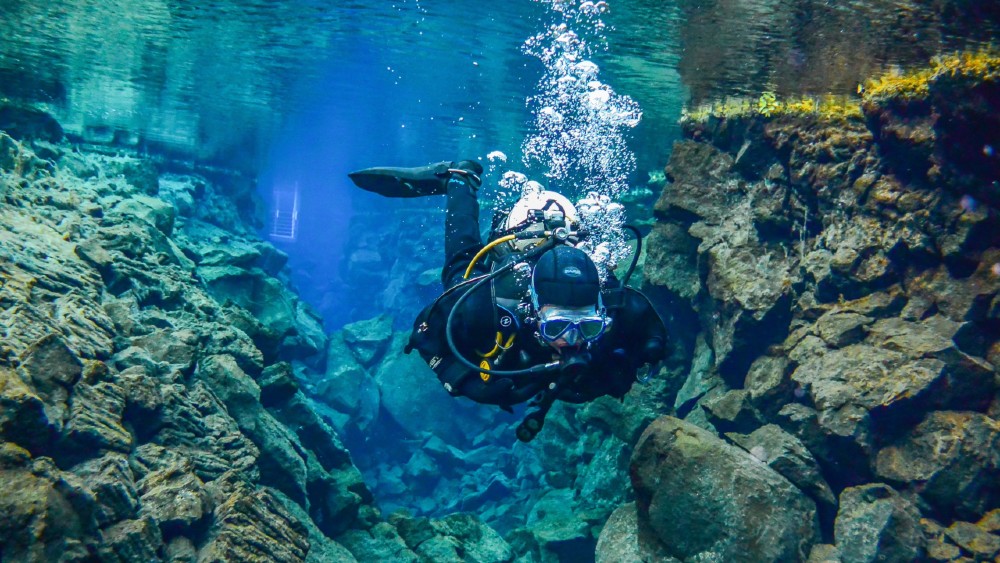 Set next to the world-famous Blue Lagoon, the five-star the Retreat offers private access to your own silica-filled geothermal pool. Spend the morning floating on your back in the warm, pale blue water—then the afternoon floating on your stomach in a crystal clear caldera. The Retreat can arrange for a local outfitter to take you on an excursion to go snorkeling in a freshly found subaquatic hot spring at Kleifarvatn Lake which, unlike other hot springs, is the right temperature for underwater exploration. First, guests walk along the lakefront to a sheltered place to put on a dry suit. Then, they wade and paddle amongst the bubbles of the geothermal area and swim through the springs, all the while taking in the incredible rock formations and striking aquatic colors. Rates at the Retreat start at $1,400 per night; caldera snorkeling starts at $144 per person.
Snow Cavern Spelunking with Sheldon Chalet, Alaska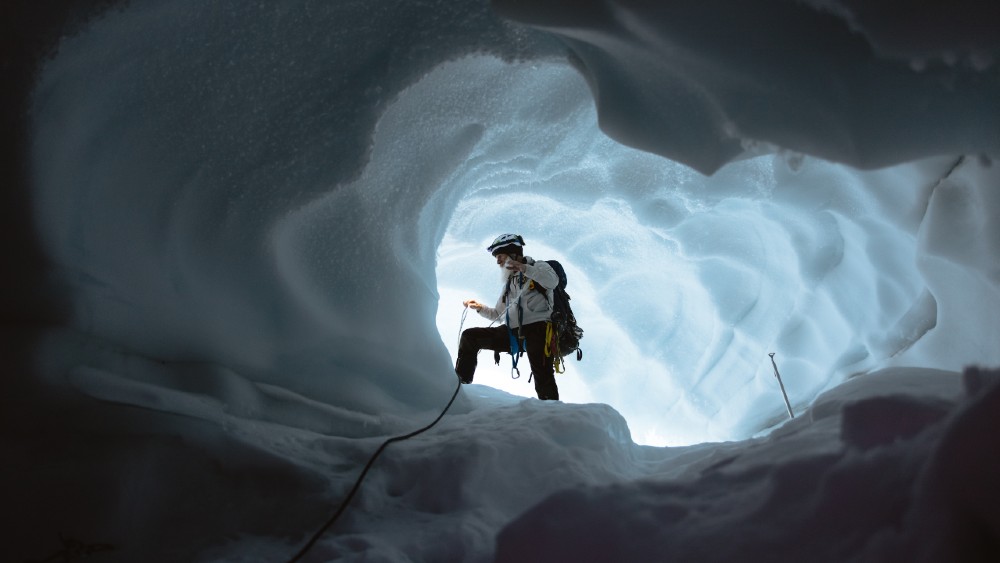 An eco-friendly hub perched in Denali's rugged landscape, Sheldon Chalet is tailored to your every need, with meals of Alaskan game crafted by your private chef and exploration guides available to lead you to the edge of the Alaskan wilderness. One of the hideaway's newest activities is exploring the area's snow caverns and ice crevasses by venturing over 100 feet into the tunnels. The chalet's experienced guides select each ice crevasse before guests are lowered into an icy world below the surface. "We knew that guests must experience these caverns, but we took time to carefully design an optimal and authentic immersion unmatched anywhere in the world. Due to our weather and glacier conditions, each year unveils new caverns for our guests to explore, making every visit unique and special," owner Robert Sheldon said in a statement about the chilling—in a good way—experience. An all-inclusive, three-night minimum stay at Sheldon Chalet starts at $47,000 per couple.
Olympic Trial Skiing at Copper Mountain, Colorado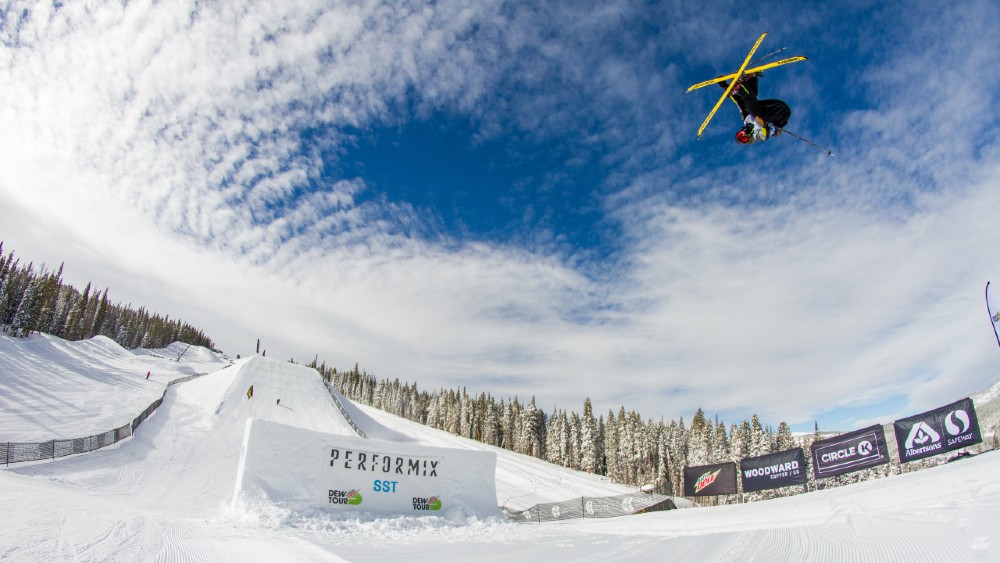 Have you got eyes for Olympic Gold? While international travelers will be unable to attend the winter games in Beijing in person, you can watch America's best skiers and snowboarders in action at the Olympic trials at Colorado's Copper Mountain, 75 miles west of Denver. The qualifying competitions take place on the mountain December 8-11 and 16-19, and are open to the public. Afterward, you can try your hand at these same Olympic-level runs by racing down the US Ski Team Speed Center downhill trail or carving up the 22-foot Superpipe. When it's time for après, head to the mountain's newest hotel, Element 29. Suites start at $309 per night; a pass to the mountain costs $99 per day.
Ski Archery at Miraval Berkshires, Massachusetts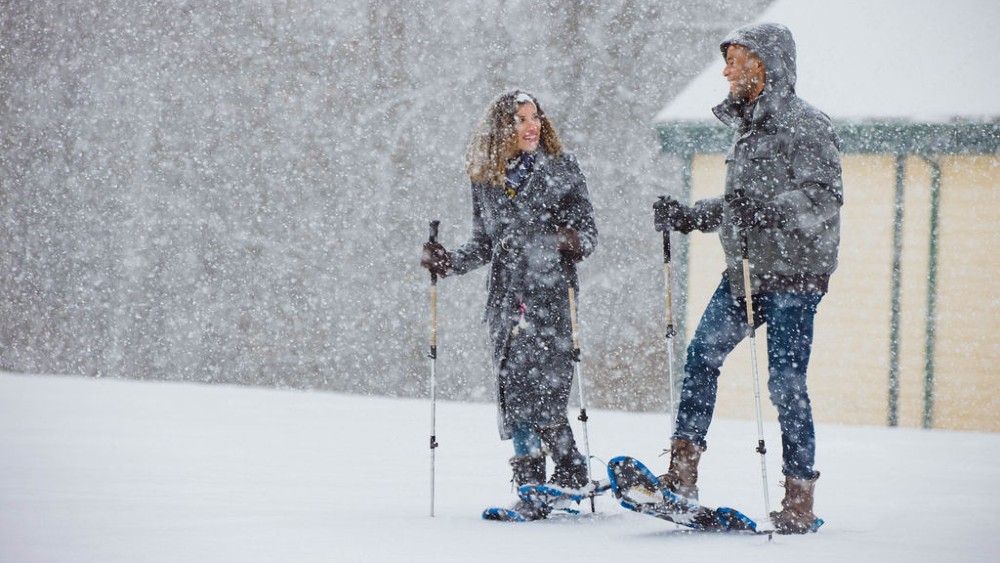 Robb Report November 30, 2021