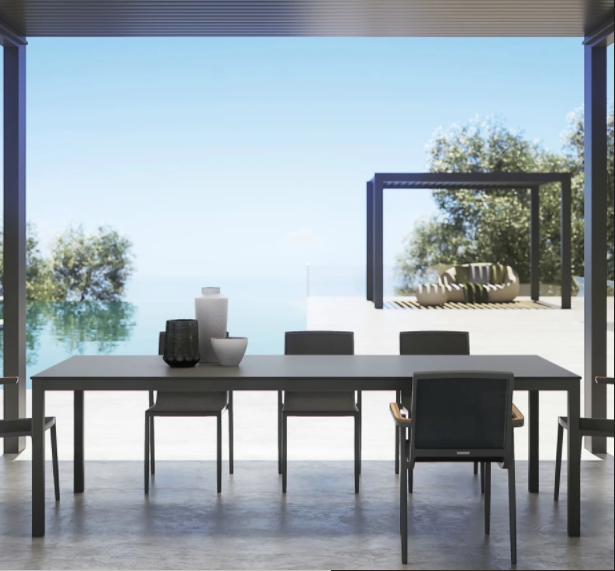 I don't know about you, but I plan to make summer 2021 last as long as possible. Infrequent showers aside, being al fresco with those in our much smaller social bubble is undoubtedly one of this year's highlights.
And dining outside, in particular, is just the joy we need right now. The food seems to taste better, the atmosphere mellower and mealtimes last longer too. So pep up your patio and delve into these eight garden dining ideas for outdoor dining.
INVEST IN HIGH-QUALITY GARDEN FURNITURE
At number one on the outdoor dining ideas list is ensuring your al fresco luxury garden furniture is playing its part in setting the scene—hosting you and your guests in comfort and style. It should be easy on the eye as much as it is easy in terms of comfort.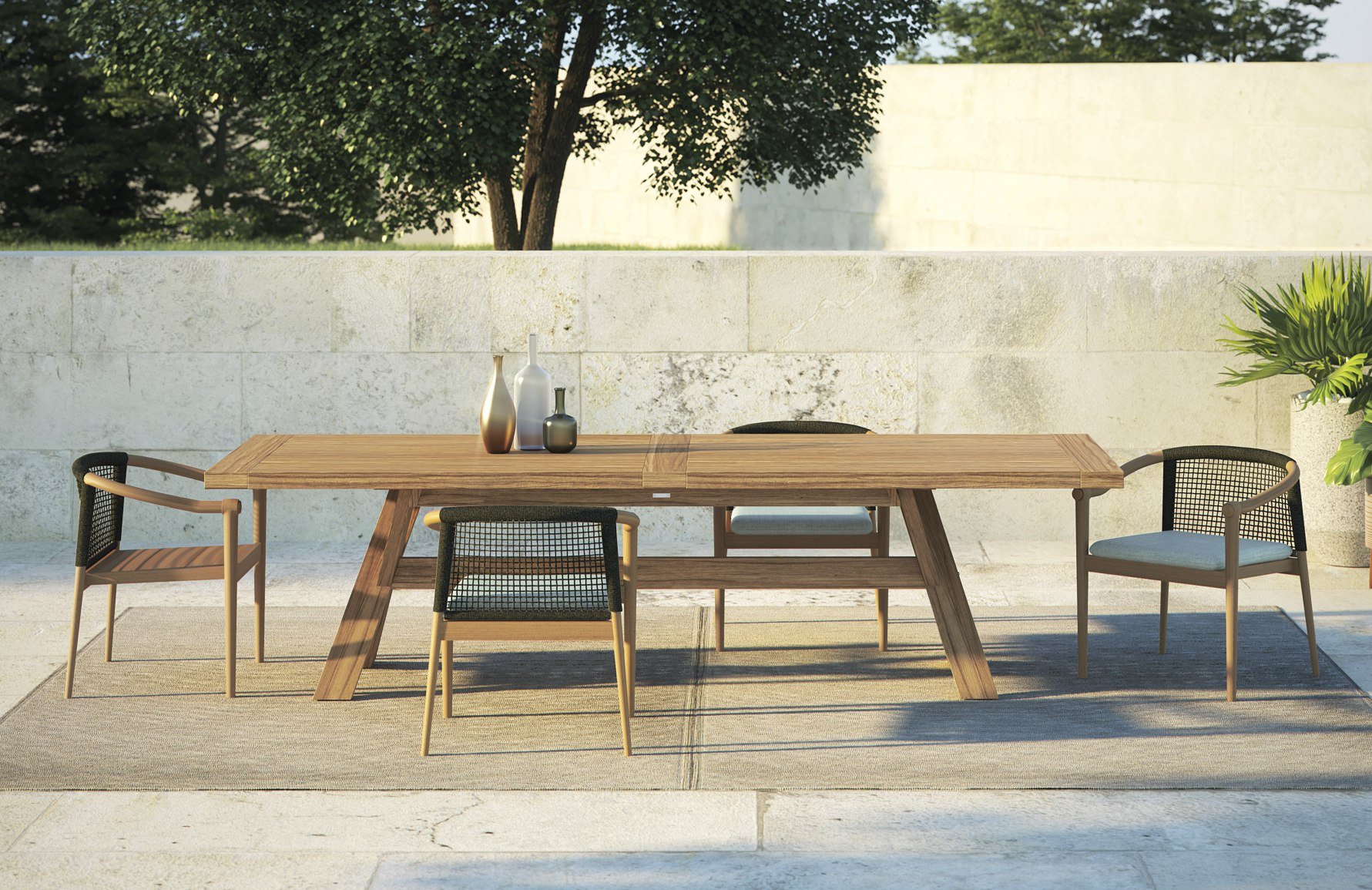 The pleasure of eating in the garden begins with walking up to a beautiful table and chairs. So create a spectacle that everybody will be excited to sit down and eat at. Go for sleek black metal with white padded chairs to channel French Riviera chic or white-washed rattan if elegant country is more to your taste.
Good looks managed, don't underestimate the comfort factor. Nobody wants to enjoy an outdoor garden party in a seat that's bad for posture. When you're trying out garden furniture, pay attention to things like back support, cushioning, whether you prefer armrests or not, and if the seat's deep enough. This way, any soirées will be more likely to go on into the ever-brightening evenings with everybody completely content and at ease in their surroundings.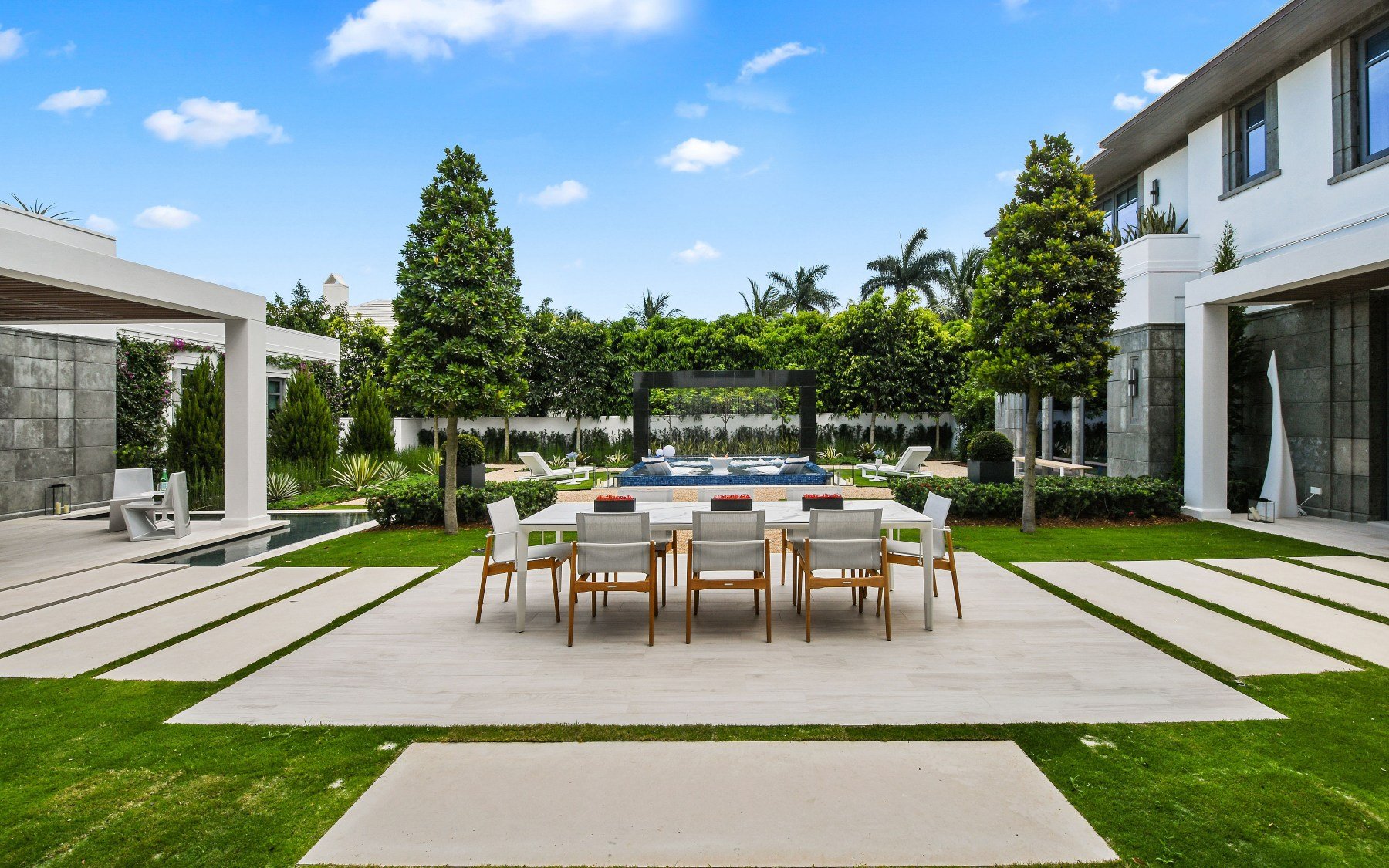 MAKE YOUR OUTDOOR DINING TABLE A FEATURE
One way to make sure your garden is the go-to part of the house in spring and summer is to put the dining table centre stage so that the surroundings are more of a backdrop to the main event.
By paring back the rest of the garden with minimal furniture elsewhere (or at least tucking it away so that it's not competing for attention), the table will stand proud.
Adapt the patio design so that it becomes larger and place only the table and chairs in that zone; that too will boost its status as your garden's key feature, as seen in this contemporary garden.
UPDATE YOUR FORMAL OUTDOOR TABLEWARE
Garden dining ideas should always cover the tabletop too. If formal occasions are your thing, take stock of what sophisticated serve ware you have that will suit a garden setting.
Choose outdoor dining accessories that match the colour of the seat cushions, as shown in this Laura Hammett terrace. The designer has paired neutral loose linen covers with coordinating white crockery and a bowl centrepiece full of delicate flowers; this well-matched look is composed and elegant so results in the setting feeling on the formal side.
Are there any napkin rings that pick up on the colour of flowers and foliage which you could designate as part of your garden's tableware too? While it's nice to borrow items that you'd use to entertain in your dining room, reserving some just for the garden is a way to achieve more precise styling.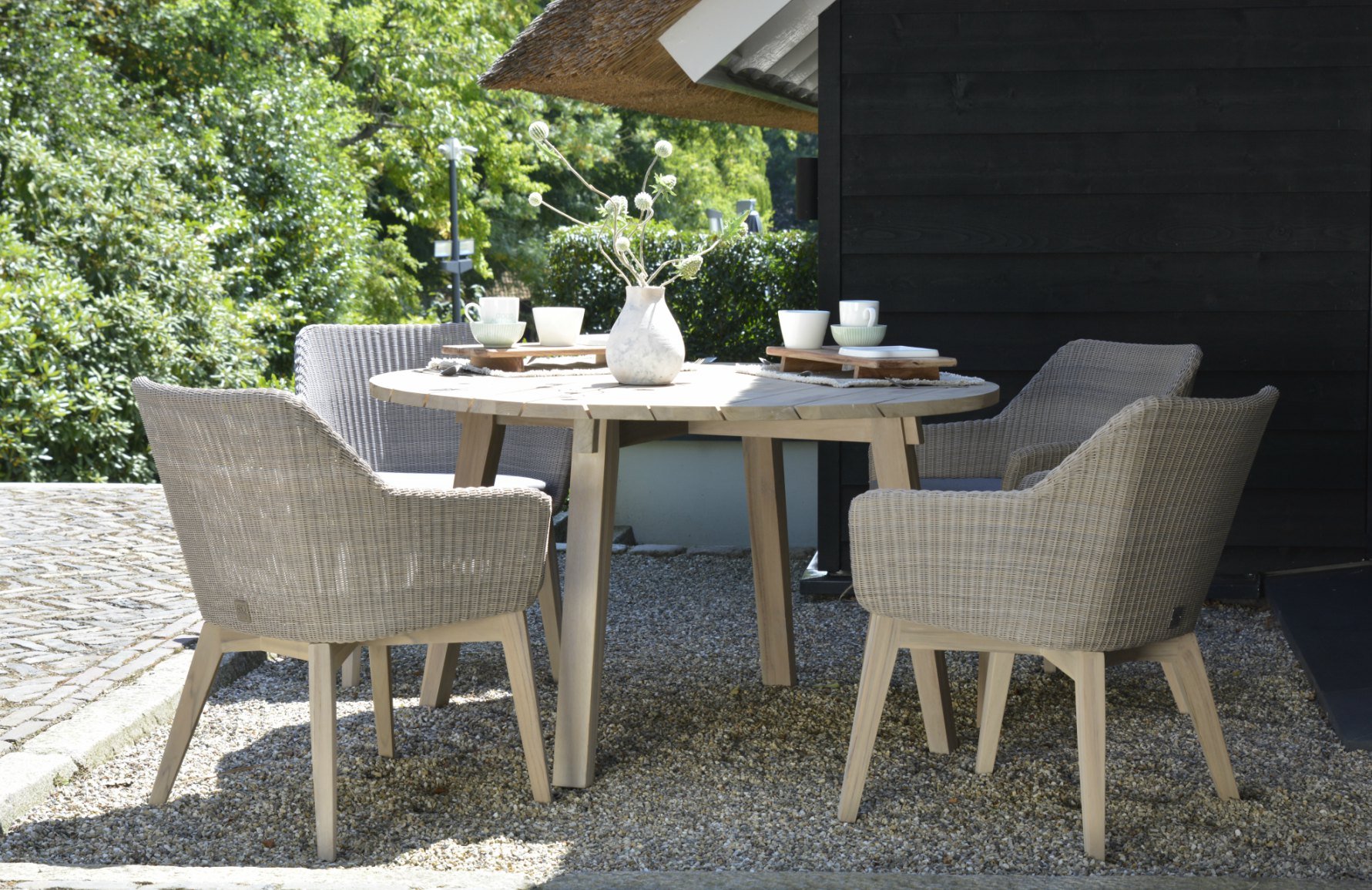 BUT DON'T FORGET THE CASUAL GARDEN TABLEWARE
At the other end of the scale are the garden accessory ideas that will keep the mood low-key and casual. There are different ways to do this for an outdoor table setting.
Present food in vessels that aren't strictly considered as serving dishes. A central basket with the herb that best suits the dish is a novel option because it means people can help themselves to extra or simply enjoy how it scents the table.
Otherwise, consider mismatching bowls, trays and even a box filled with cutlery in the middle so that you're encouraged to lean in and help yourself—the key to laidback al fresco living.
ILLUMINATE YOUR GARDEN SPACE FOR EVENING SOIRÉES
A successful garden patio design is wise to include ambient outdoor lighting. Without it, the atmosphere will be seriously lacking. Imagine leaving lighting out of your interior and the effect that would have on the feel of every room; the rules are no different in the garden.
Most dining set-ups are on a terraced section of the garden, so concentrate most of the lighting here, with a combination of lanterns, candles and even pendant lights over the garden table if you can.
But lighting a patio area alone won't suffice since it can leave the rest of the garden feeling a bit unloved and disconnected. So, spread the lighting throughout your outdoors with garden wall lights by any entryways and low-level lights along walkways or areas of dense planting so your entire outdoors is illuminated.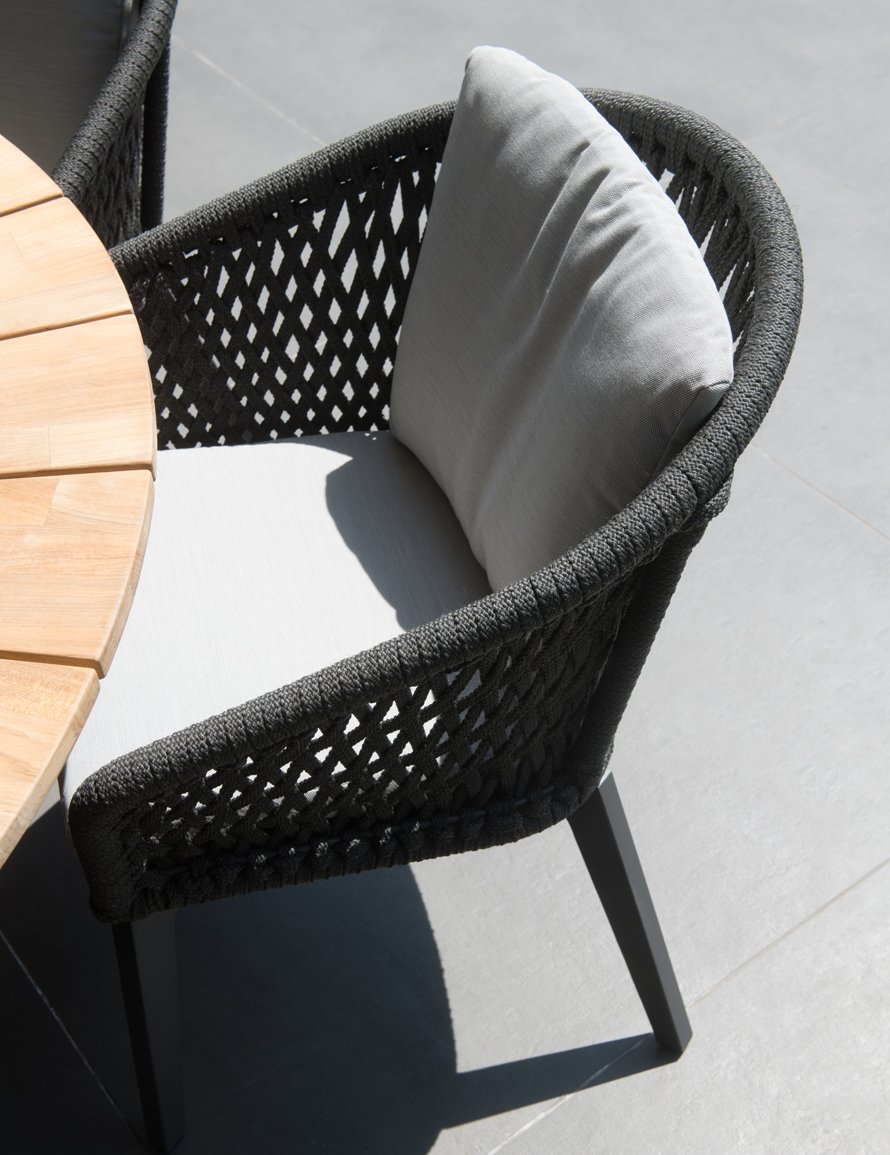 SCATTER SOME OUTDOOR CUSHIONS
Adding outdoor cushions to the chairs of your dining set helps to soften the structure (especially for metal garden furniture) and helps the space feel more welcoming and indoor-like. These cushions have been carefully developed to withstand UV rays and are usually water and mold resistant so you can feel confident that they won't wear quickly.
When contemplating garden dining, it's easy to assume all eyes should be on the area where you'll be eating, but not so—your outdoor dining chairs are just one area in your garden setting to add a dose of comfort to.
Create another section in the garden to where you can retire post-meal that's all about soft, relaxed outdoor seating and garden cushions aplenty. Mark this out as the part of the garden where after-dinner cocktails commence.
ADD SOME COMFORT UNDERFOOT
Another idea for your garden, on the subject of comfort, is to add an outdoor rug to the mix. There are varieties that are specifically for outdoor environments with UV-resistant properties and waterproof coatings added to the fibres, or choose an indoor-outdoor design.
The latter need a bit more TLC or an acceptance that, though durable, they will fade and show signs of wear and tear after long spells in the sun and showers.
Whichever sort you choose, they're a garden patio idea that will add colour and texture as well as giving you something warm to walk on and rest your feet on during dinner rather than slabs of stone.
KEEP COOL WITH A COVERED OUTDOOR DINING AREA
And the final piece of patio inspiration comes down to adding shelter over your garden dining table. That could take the form of a fully structured roof if you aren't afraid of some building work, or a wooden slatted pergola that provides partial cover; entice climbing vines like wisteria to grow up and around it and the vegetation will create a canopy.
Or easier still, a garden parasol. It's a case of there being the option of cover on occasions where the evening sun is too strong or there's a downpour. Because with a covered dining area, you'll never need to take the party indoors.
LuxDeco by Linda Holmes