Three vibe moments to inspire your lifestyle with alfresco ambitions
What do we love most about being inside? That sense of familiarity, uplifting interior design, and a sense of space that channels your sense of style. Your indoor space is your cozy sanctuary where you make the design decisions—beautifully.
 And what do we love most about being outside? Alfresco dining, fresh air, and the grounding sense of nature's embrace, with unpredictable breezes, birdsongs, and wildlife reminding you of life's simplest joys.
The best part: You don't have to choose between the two. You can create your own stylish sanctuary outdoors and live the best of both worlds through Vancouver based Article's well-priced outdoor collection, which transforms your patio, deck, poolside area, or other outside space into a second living room worthy of the most memorable and meaningful moments. Here are three such "vibe moments" that we all aspire to live, in order to identify your own alfresco approach to a stylish lifestyle. Each connects you to the natural world around you. Each lends a sense of modernism and elegance that we all hope to channel into our days.
Fresh-air living, morning, noon, or night: It's all about being connected to the universe in your own backyard, with a modern vibe that fills you with promise, optimism, and a natural sense of being.
Vibe Moment: The Modern Morning Coffee
Sunrise dreaming in your outdoor living room that invites inspiration
With these functional and cool pieces ushering you into the day, this is the "now" moment that sets the tone for hours to come. It's a moment full of opportunity and the potential of what lies ahead. Relax on your outdoor sofa with your coffee and notebook on the side table, and dream of all you want to accomplish.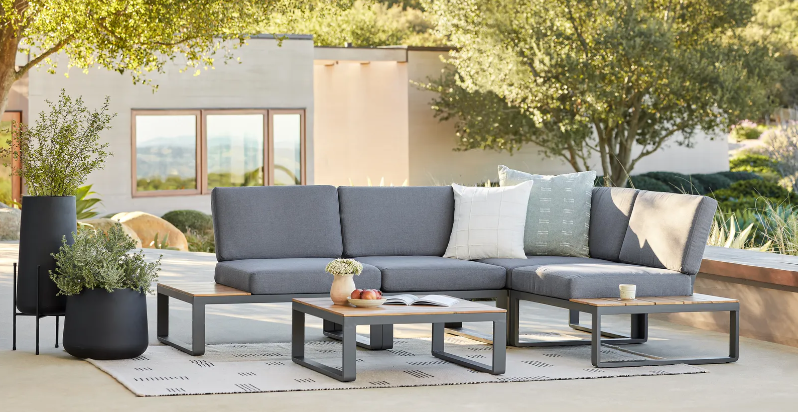 Article's thoughtful catalog includes a range of pieces that demonstrate how clean lines, natural textures, and a neutral palette say a lot—but with a sense of simplicity. The Kezia Modular Sectional marries cushioned lounging with a functional tabletop for a punctuated statement of few but powerful words. The Norma Lounge Chair and Norma Ottoman feature clean lines that flirt with wooden textures redolent of old-growth forests. Whether it's poolside or on the back deck, these pieces invite a modern aesthetic into every morning.
Inspiration? That too. Another latté, please!
Vibe Moment: The Naturalist's Afternoon in the Sun
Relishing the daytime rays and shade in your outdoor lounge
You owe it to yourself to celebrate the middle of the day with a moment to soak up some vitamin D: For you and every guest, there's the potential to take in the rays or relish the shade. This is a considered aesthetic in neutral colorways that offer a clean palette for you and those around you to be yourselves in the light of day.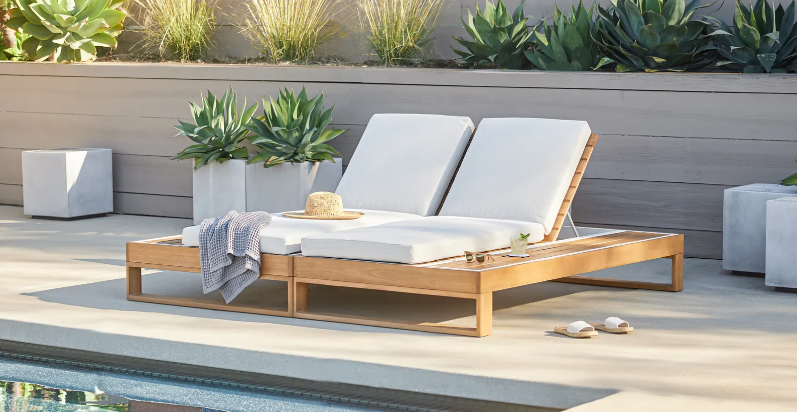 Starting with the Amarillo and Toro Chaise Lounges, under the protection (and elegance) of all-important sunny-day umbrellas from the maritime Maria and modern Paras lines. The final touch: a pop of texture with pillows and rugs that beg you to linger longer into the afternoon, in comfort and style.
This transforms any outdoor space into an instant staycation—without the layover. Pass the lemonade please!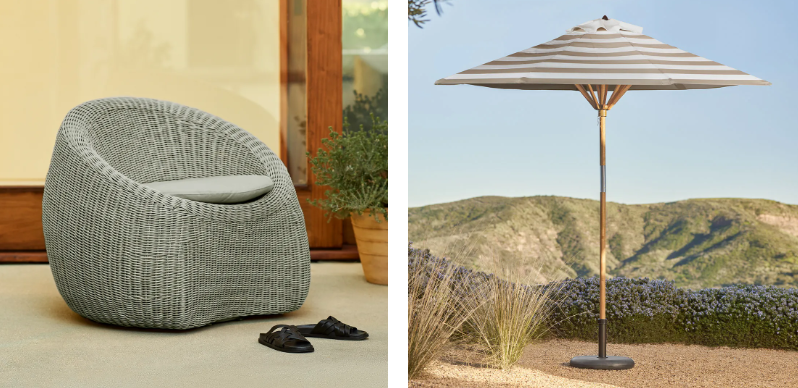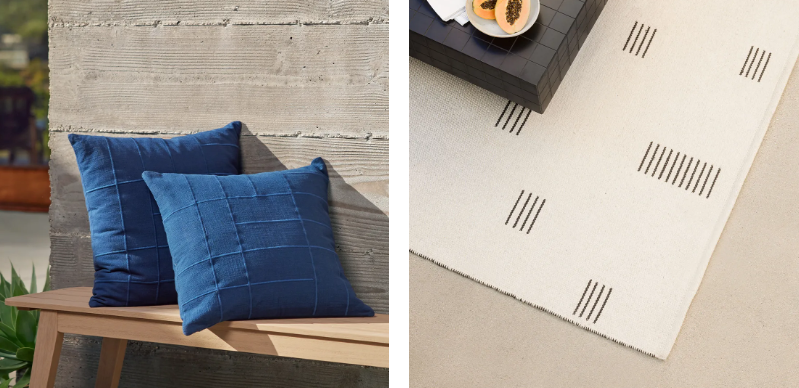 Vibe Moment: The Sunset Dinner Party
The ultimate dinner guests: a dramatic sunset and the stars that follow
What better backyard experience than an expansive, inviting dining table and comfy chairs to set the scene for end-of-day conversations and musings. From the photogenic golden hour to the second that stars emerge, you're playing host to a dinner, a series of memories, and an opportunity for everyone to wind down together: over a meal, and under the galaxy's canopy.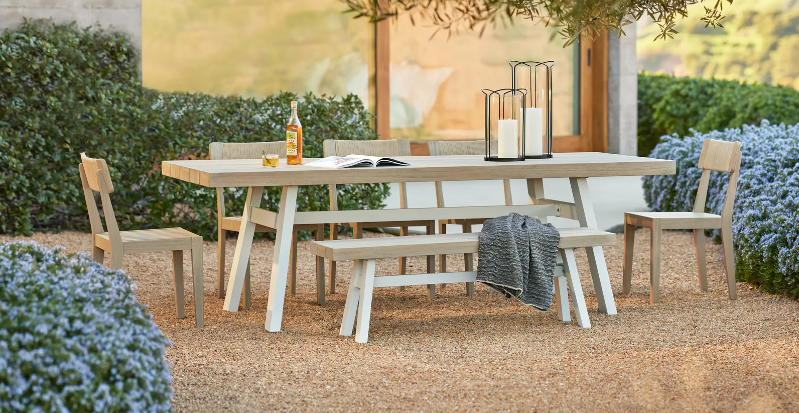 Coastal-inspired and modern pieces from Article's outdoor dining range includes the Sardis and Ballo lines, and the Dot Dining Chairs lend a sense of playfulness that takes every dinner party to the next level. The Sardis Dining Table and Bench are redolent of a picnic, but in the most glamping-inspired way—lending a chic nod to casual alfresco dining. Finally, the Ballo Bar Table plays host to those meaningful cocktail conversations between two or three before or après the main course.
This is where good decisions are made.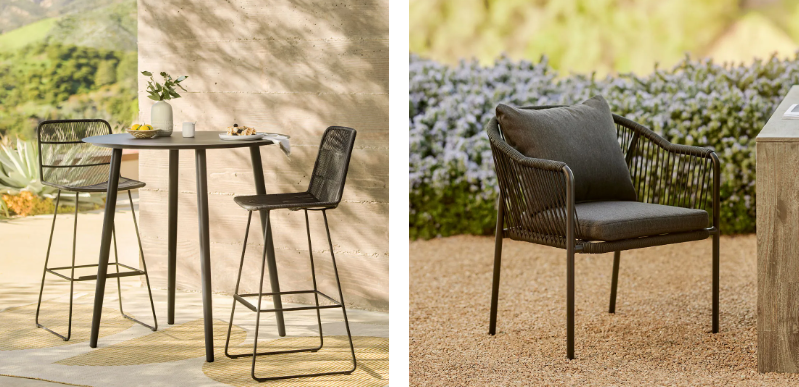 With Article's outdoor collection your modern interior design sense spills outside with high-quality outdoor sofas, lounges, tables, and accessories that elevate your favorite alfresco space into a laid-back oasis of relaxation and inspiration. Whether you're in the sun or under the stars, outside is where the magic happens, and where the party wants to linger longer. Article gets it with this cozy approach to interior design…but created specifically for outside.
A focus on customer convenience put this Vancouver retailer in the perfect spot to meet surging pandemic demand.  Read more here.
Shop Article's outdoor collection at article.com.