Sold over two days at Sotheby's, her 111 works – including Picasso's 'Femme à la montre' – land among the most valuable single-owner collections ever offered.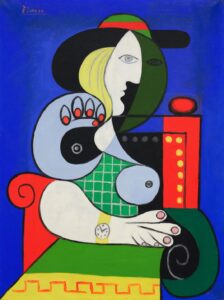 The sale of The Emily Fisher Landau Collection was historic in more ways than one. On its first evening, it became the most valuable collection devoted to a woman collector when all 31 lots of the evening auction sold for a combined $406.4 million. The following afternoon, an additional 80 lots sold for $18.3 million during the day auction, bringing the collection's total to $424.7 million.
The works on offer at Sotheby's comprised only a part of Landau's full collection, hundreds of works from which now reside in The Whitney Museum of American Art, where she served as a trustee for decades. Laudau's legacy ranks among that of Gertrude Vanderbilt Whitney, Peggy Guggenheim, Gertrude Stein and other great women collectors of the 20th century. A testament to the depths of her collection and her prowess as a patron, the auctions were led by Pablo Picasso's Femme à la montre, a portrait of Marie-Thérèse Walter from his magisterial year of 1932, which, at $139.4 million, became the second highest price ever achieved for the artist at auction and the most valuable work of art sold at auction this year.
Bidding battle for Picasso's Femme à la montre
Numerous records were set thereafter, including with the collection's next-highest lot, Jasper Johns' Flags from 1986, which established a new high for a painting from his landmark series at $41 million. Rounding out the collection's top three lots was Securing the Last Letter (Boss) by Ed Ruscha, an artist with whom Landau had a deep and lasting friendship. The painting sold for $39.4 million, the artist's second-highest price at auction. All top five lots tipped the scales over $20 million, with nine works all selling for more than $10 million; the average lot value was an impressive $13 million, one of the highest ever established at auction.
Throughout the night, additional benchmarks were set for Agnes Martin, whose Grey Stone II (1961) realized $18.7 million after eight bidders brought it to more than double its high estimate, and Mark Tansey, whose Triumph Over Mastery II (1987) achieved $11.8 million after a four-way bidding battle – both auction records for their artists. Additionally, when Robert Rauschenberg's Vitamin (1960-68) sold for $3.5 million, it established a new record for the artist's works on paper.
Works by Cy Twombly ($26.8 million), Mark Rothko ($22.2 million), Robert Indiana ($825,500), Andy Warhol and Georiga O'Keeffe sold to collectors in Asia during the evening sale, which also saw high institutional activity.
"Emily Fisher Landau's prescient and unerring eye allowed us to shine a spotlight tonight onto the great artists who now form the bedrock of 20th century art history," said Brooke Lampley, Sotheby's Chairman and Head of Global Fine Art, after the evening auction. "As every single lot found a new home, we saw the enduring appeal of these masters affirmed once again."
Further works of art and design objects from Landau's collection will be offered at Sotheby's next year.