At first blush, this singular home and its verdant surroundings could easily be mistaken for a remote retreat, a consummate contemporary escape with nary a neighbor or thoroughfare in sight. This serene space of seclusion, however, is tucked into swaths of mature trees and other flora on a Malibu bluff, not far from seemingly countless boutiques, restaurants, entertainment venues, and other attractions—not to mention sandy beaches and the cool blue depths of the Pacific.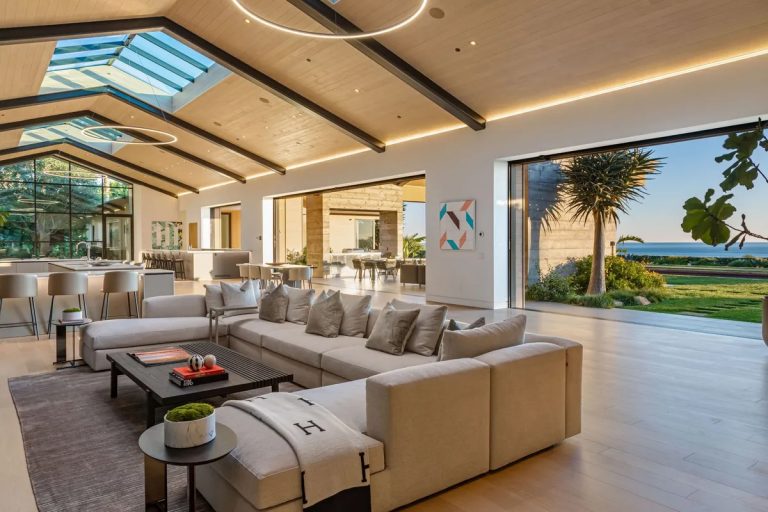 Malibu, California | Jacob Dadon, Sotheby's International Realty – Beverly Hills Brokerage
The 14,429-square-foot residence at the heart of 2.48 acres gazes out at the mesmerizing ocean and horizon. Pervasive are an undeniable sense of loftiness and light and blurred boundaries between indoors and out—a quintessential quality of the Southern California lifestyle. The property is thoroughly integrated with its environment, perfectly positioned as it is amid hundreds of native coastal oaks, Monterey cypress, and pine trees as well as hives for bees that pollinate the organic fruit orchards and a Tuscan-inspired vegetable and herb gardens. It also encourages outdoor enjoyment with its alfresco kitchen and dining pavilion, saltwater swimming pool and spa, bocce court, putting green, driving range, and sports court.
But the dedication to nature here is more profound than mere appreciation of views and diversion amid fresh sea breezes. Known as Zero One, the estate is one of only a few unique residences that comprise the cutting-edge 80-acre MariSol Malibu community, where homes are fully ecologically responsible, eliminating emissions and generating renewable energy. This premier property was designed by award-winning architect Doug Burdge and constructed with intention from sustainable timber and recycled concrete and steel. With the help of Tesla batteries, solar panels, water vapor fireplaces, and electric vehicle charging capabilities, the home creates zero carbon emissions. The first of its kind, it earned a Zero Carbon Certification from the illustrious International Living Future Institute.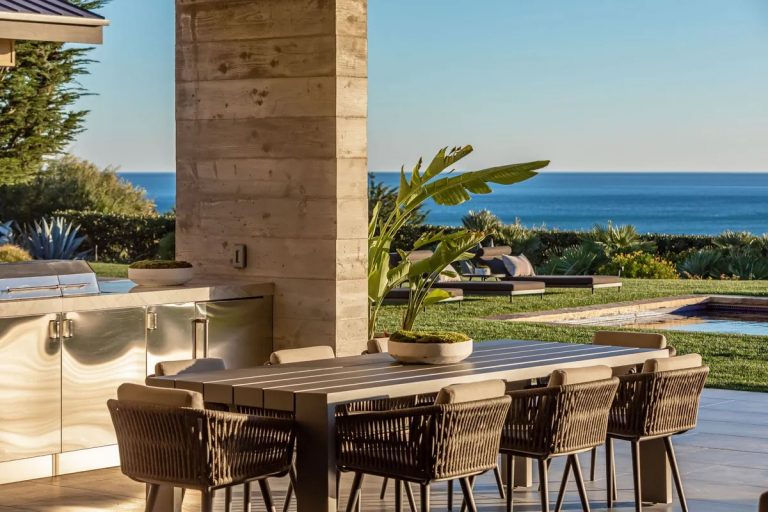 None of this should suggest that creature comforts are not fully attended to. The core of the residence is an expansive 4,250-square-foot great hall with two striking climate-controlled glass-walled wine rooms, soaring 20-foot Accoya acetylated wood ceilings, Forest Stewardship Council–certified American white oak floors, dramatic oversized skylights, disappearing walls of glass, a bar, and an impressive kitchen with Miele appliances and Caesarstone countertops. Beyond are six tranquil bedrooms, nine baths, a theater, and a well-equipped gym. A gated drive, a security system, a Josh voice-controlled home-automation system, and water and air filtration systems provide peace of mind that accompanies an assurance of superior quality and attention to the Earth and its future.