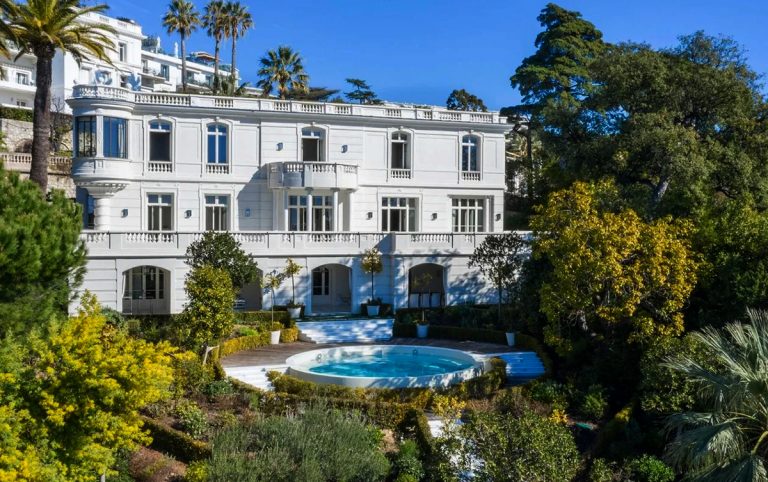 It seems fitting that many of the most familiar landmarks of the Côte d'Azur were constructed during the Belle Époque (the "beautiful epoch"). Opulent buildings colored white and cream stand as mementoes of a Golden Age of European art and science.
You can find spectacular examples of this in Cannes—like the Hôtel de Ville, completed between 1876 and 1877, as well as this gorgeous manor built just a few years later, in 1880. It's set just a short distance away, among the terraced gardens and millionaires' villas in the Quartier de la Californie.
Living in Cannes feels like a never-ending celebration of arts, culture, and the best life has to offer. A day spent in this Belle Époque masterpiece illustrates why.
Morning: Fresh Air Meets Fresh Food at the Local Market
Dawn breaks pleasant and mild; there's a cool breeze in the morning, but you know the day will warm quickly—this is the French Riviera, after all. You open the curtains and take in the view of the Mediterranean—a horizon of crystal blue, with the still-oblique sun shining to your left and refracting off the waves.
From your suite in the main mansion—there are three individual buildings on your property, all of them yours—you head downstairs for breakfast. You never get tired of admiring how the marble floors and glazed ceilings of the chic, modern interiors suit the fine detailing of the original architecture. You open your French doors and have your morning meal on the terrace. And then, it's time to wander.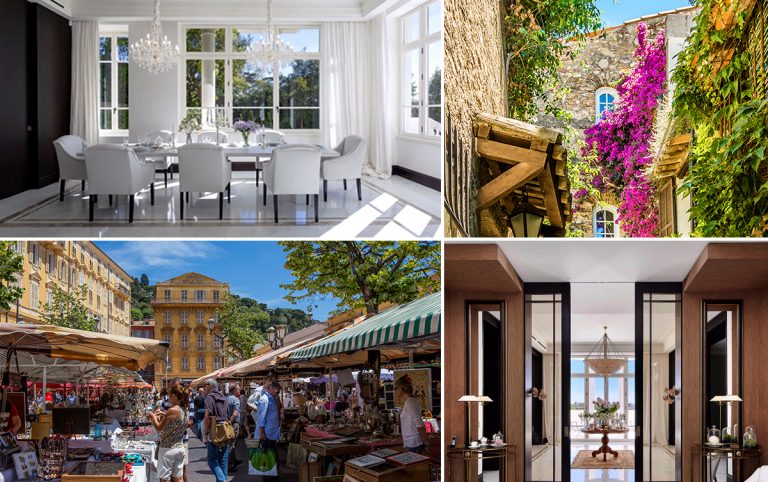 Côte d'Azur Sotheby's International Realty
The Quartier de La Californie—literally, the Californian Quarter—surpasses its namesake. Yes, there are palm trees and fabulous houses, but the pace is easier. The air is fragrant with blooming bougainvillea and the gardens of local landmarks like the Villa Fiorentina and Pavillon de Flore. As you stroll, you stop by Villa Domergue to visit its galleries—your first of many art experiences today.
But your main destination this morning is the magnificent 3,000 square foot Marché Forville behind the Hôtel de Ville, at the juncture where luxurious La Californie meets ancient La Suquet. There are so many selections of local produce, seafood, meats, and cheese that just browsing the stalls is a culinary experience, and it's no small feat choosing what to buy for lunch. Once you've gotten your groceries, you meander along Allées de la Liberté Charles de Gaulle, where flower markets—and on the weekend, eclectic flea markets—enliven the street.
Noon: A Full Circuit of World-Famous Fashion, Art, and Film
Although your home has nearly an acre of landscaped gardens, as well as a fully equipped outdoor kitchen where you could enjoy your lunch, you take it to your rooftop deck. You eat your meal looking out over the Cannes waterfront, with Le Vieux Port—the old port—to your right, lined with luxurious yachts. The soothing sound of your fountain reaches you from below.
If you have company staying at one of your other two properties—the guesthouse or the caretaker's house—now's the time to go get them, because you're about to walk out your front door and, within minutes, be on the westernmost starting point of the Promenade de la Croisette.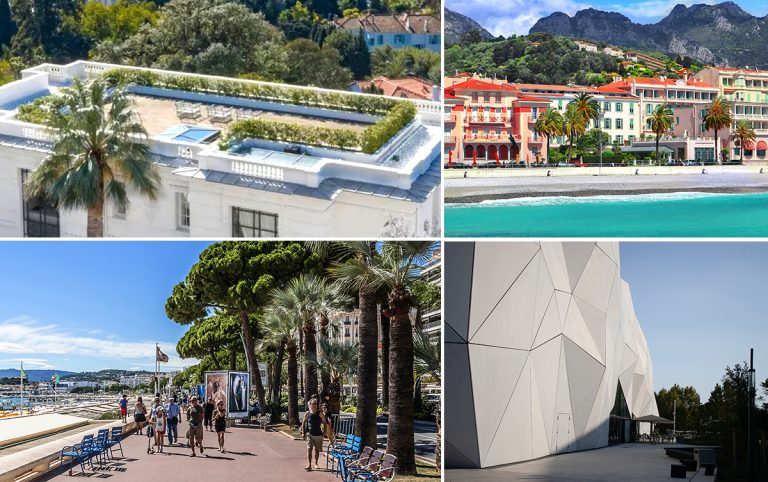 Côte d'Azur Sotheby's International Realty
This is one of the French Riviera's most iconic boulevards. As you set off along the tree-shaded strip, the sandy beaches stretch out on your right, while on your left are some of the best—and most lavish—places to dine and shop on this side of the Alps. There are also high-end hotels with their own private expanses of beach. In fact, an annex that once belonged to a historic Cannes hotel has now become Centre d'Art La Malmaison, and you detour inside to take in one of its acclaimed exhibitions of modern art.
Afterwards, you continue your sojourn down La Croisette, and when it's time to turn around, you wander a few blocks north and follow Rue d'Antibes, where almost every posh, historic building seems to be home to elegant boutiques and original Pellegrini statues.
At last, you rejoin La Croisette at its west end, not far from your house. Of course, this is also the location of the Palais des Festivals et des Congrès—home of the Cannes Film Festival, the most celebrated event of its kind. In May, it's thronging with glitterati, though the famed venue hosts exceptional arts and culture programming year-round.
Evening: Awe-Inspiring Scenery
When you leave the Palais des Festivals, home is just a short jaunt away—but you're not ready to turn in yet. The sun is still in the sky and you're feeling a bit hungry, so you continue west, away from La Croisette and towards Le Vieux Port, where the austere, age-old architecture of Le Suquet ascends from the seaside to the hills.
Nearly every European city has an "old town", and Cannes has Le Suquet. Though it looks like a medieval fortress from the outside, once you start following its winding cobblestone lanes, you're charmed by the pastel façades of 18th- and 19th-century buildings where restaurants, cafés, bistros, and tapas bars abound. Before you settle down to supper, though, you have time for one more art excursion—this time, to Suquet des Artistes, a unique morgue-turned-studio space that becomes a pop-up gallery on weekends.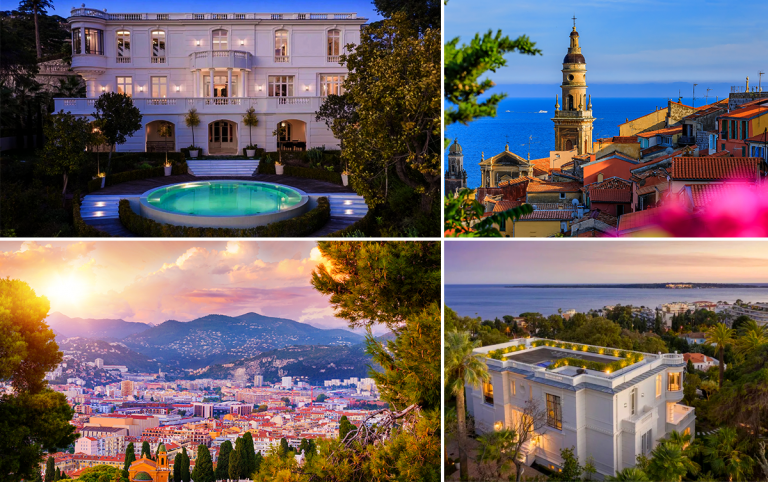 Côte d'Azur Sotheby's International Realty
Before it's time to leave Le Suquet, crest its steep streets and take in the panoramic sunset from the historic churches at its summit—Église Notre-Dame d'Espérance and Chapelle Sainte-Anne—then make your way back to your estate. You notice how Cannes itself has become an art gallery, with prominent murals honoring some of the most celebrated moments in film.
At home, you're just about ready to rest, but it's a beautiful night and you can't resist a dip in the pool or one last glass of wine—your house boasts an impressive cellar—before a relaxing shower in your spa-like ensuite. It's time to wind down for bed, because you know there's always something happening at the Palais des Festivals, and tomorrow promises to be just as eventful.