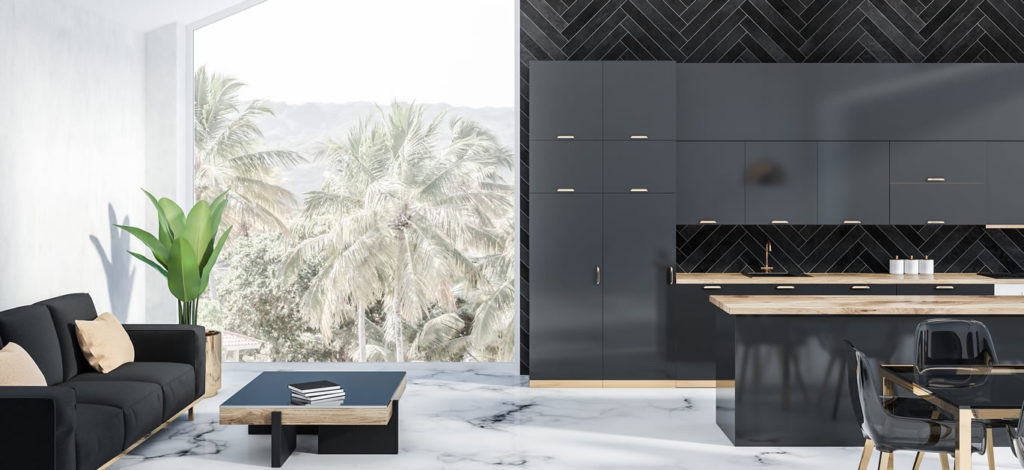 A more multi-functional room than ever before, the kitchen is an area of the house that brings friends together to socialize and family together to cook, dine, and relax.
Installing a new kitchen in your home isn't one of the makeovers you get to do very often in life, so choosing the right elements that will, not only look great, but stand the test of time are essential in order to create the perfect space for you.
One of the more costly rooms to renovate with plenty of hidden extra work that will need to be undertaken, a kitchen renovation involves many features that, when put together in a stylish format, can look outstanding. One of the less obvious elements that actually carries a lot of weight when it comes to an elegant redesign, is the material and style of the flooring used.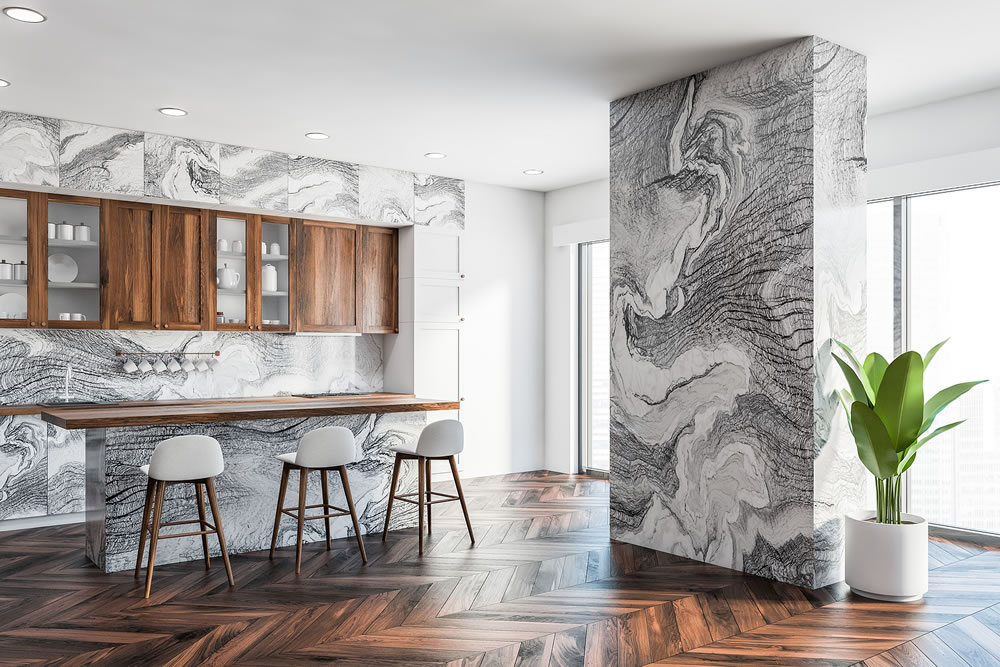 Easy to clean, resistant, highly durable and oh-so stylish is what you're looking for, you don't want a floor that will warp or scratch or stain easily, so much so that your heart skips a beat when a little tomato sauce is spilled or a pan is dropped. You need to feel at ease in your space and allow for spillages, because they will happen!
If you're planning a kitchen renovation, you will certainly want to go for a trend that will see you well throughout the years, so if you're looking for a little inspiration then look no further as we've rounded up the five hottest kitchen flooring trends to give your kitchen the wow factor.
Limestone tiles
For a beautifully delicate looking finish, you can't go wrong with limestone tiles. Hard-wearing, naturally dense, easy to clean and so very versatile, you can pick these up in a range of finishes, shades and sizes to suit any look you are going for in a kitchen makeover. Honey-hued, beige, grey, and even greige, Quorn Stone can provide a variety of natural limestone tiles to fit your style, whether you are opting for an ultra-modern sleek look, a rustic country cottage style affair or a blissful baking paradise.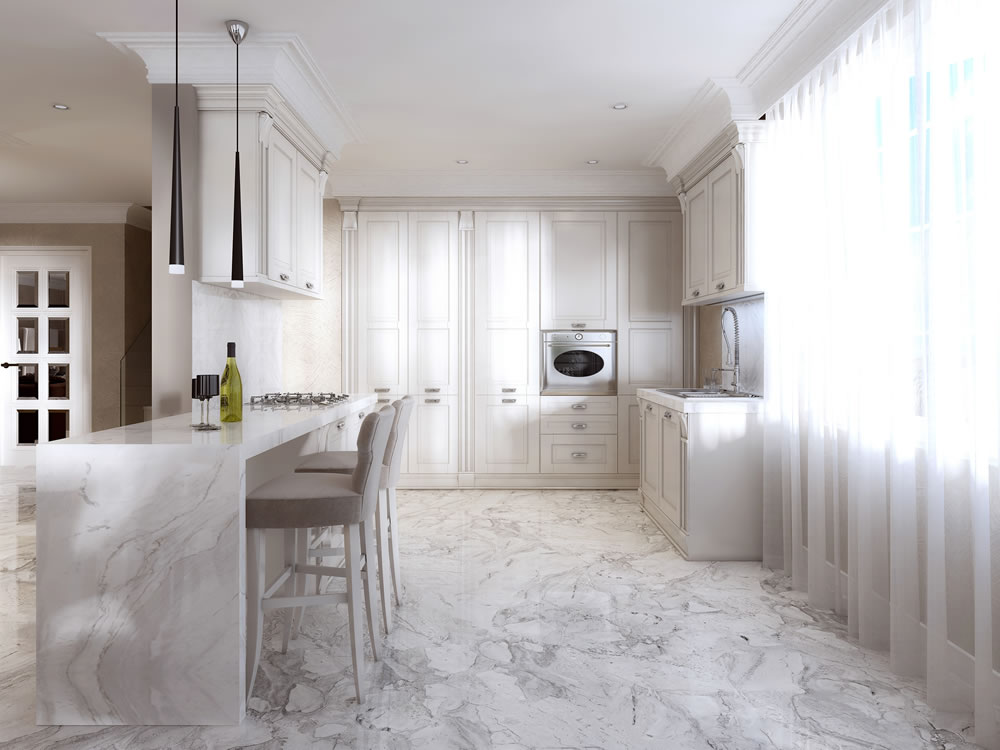 Marble
Usually you would expect to find marble incorporated as part of the worktop and, more recently, within the wall tiles, but expect to see an increasing trend for white marble flooring in the kitchen. There is a reason that marble is one of the top worktop choices for a high-quality kitchen; the resistance to moisture, impact and cleaning products makes it ideal for this, so it makes perfect sense for the stone to be used on the floor too. Polished up for a smooth and shiny texture, white is a great option as it will pair with all colours and many styles and will help the space to look bigger, though watch out for staining, it will need a little extra care when it comes to spillages.
Herringbone
A style that is sticking around, the Herringbone pattern is one that has an, almost magical, ability to pair with kitchens, whether they have a classic or contemporary vibe. Wood planks are arranged in a 'W' shape across the space to provide an eye-catching, yet not overpowering, geometric pattern. Mid and dark woods (or engineered wood flooring to provide a better surface for a kitchen area) pair perfectly with on-trend navy, graphite or deep green cabinets, or you can mix it up and use with an all-white kitchen to allow the flooring to make a statement.
Concrete floor
It may sound unappealing but a concrete floor in the kitchen is about become very on-trend. Taking in to account the fact that grey is a popular choice in the home anyway at the moment, concrete also offers a water and stain resistant floor once sealed and set and presents a rather attractive finish to an industrial-style kitchen. Poured floors have the benefit of creating a seamless finish, are easy to clean and are resistant to cracks and chipping. The downside is the fact they can be cold underfoot so are perhaps better suited to warmer climes.
Porcelain tiles
With a range of textures, porcelain tiles are a great choice for kitchens with a low level of maintenance required and a high resistance to stains and scratches. Where does the wow factor come in? The superb mirror effect! Polished up to create a smooth and shiny tile, porcelain provides an elegant effect in any sophisticated kitchen.
By Luxury Lifestyle Magazine July 30, 2020