The Toronto Real Estate Board (TREB) released its February 2019 report announcing 5,025 homes were sold in the Greater Toronto Area (GTA) through TREB's MLS system for the month.  This is a decrease in sales volume of 2.4 per cent on a year over year basis.
Along with sales volume being down year-over-year, there were 9,828 new listings reported in February which is a greater annual rate decline of 6.2 percent.  This indicates tighter market conditions compared to last year at this time. These tighter market conditions continue to contribute to the year-over-year price growth.
With the continued lack of good listings, we have seen a lot of competition in the city of Toronto with multiple offers and the return of bully offers — those high pre-emptive bids designed to trigger a sale before the listed offer date.
The average selling price for all homes combined in the GTA was $780,397 which is an increase of 1.6 per year-over-year.  The strongest price growth was driven by the condominium apartment segment and semi-detached homes. The condo segment saw a 6.9 per cent year over year price increase in the GTA to an average price of $555,986.  The price of a semi rose 7.5 per cent in the GTA to an average of $794,978.  In the city of Toronto, semis averaged $1,087,363.
However, the number of detached home sales declined by 9.4 per cent in the city of Toronto compared to a 5.2 per cent increase in sales the surrounding GTA areas.  Prices for the detached house sector fell by 2.4 per cent to an average of $963,618 in the GTA. The average sold price for a detached house in the city of Toronto dropped 3.3 per cent year-over-year to $1,294,936.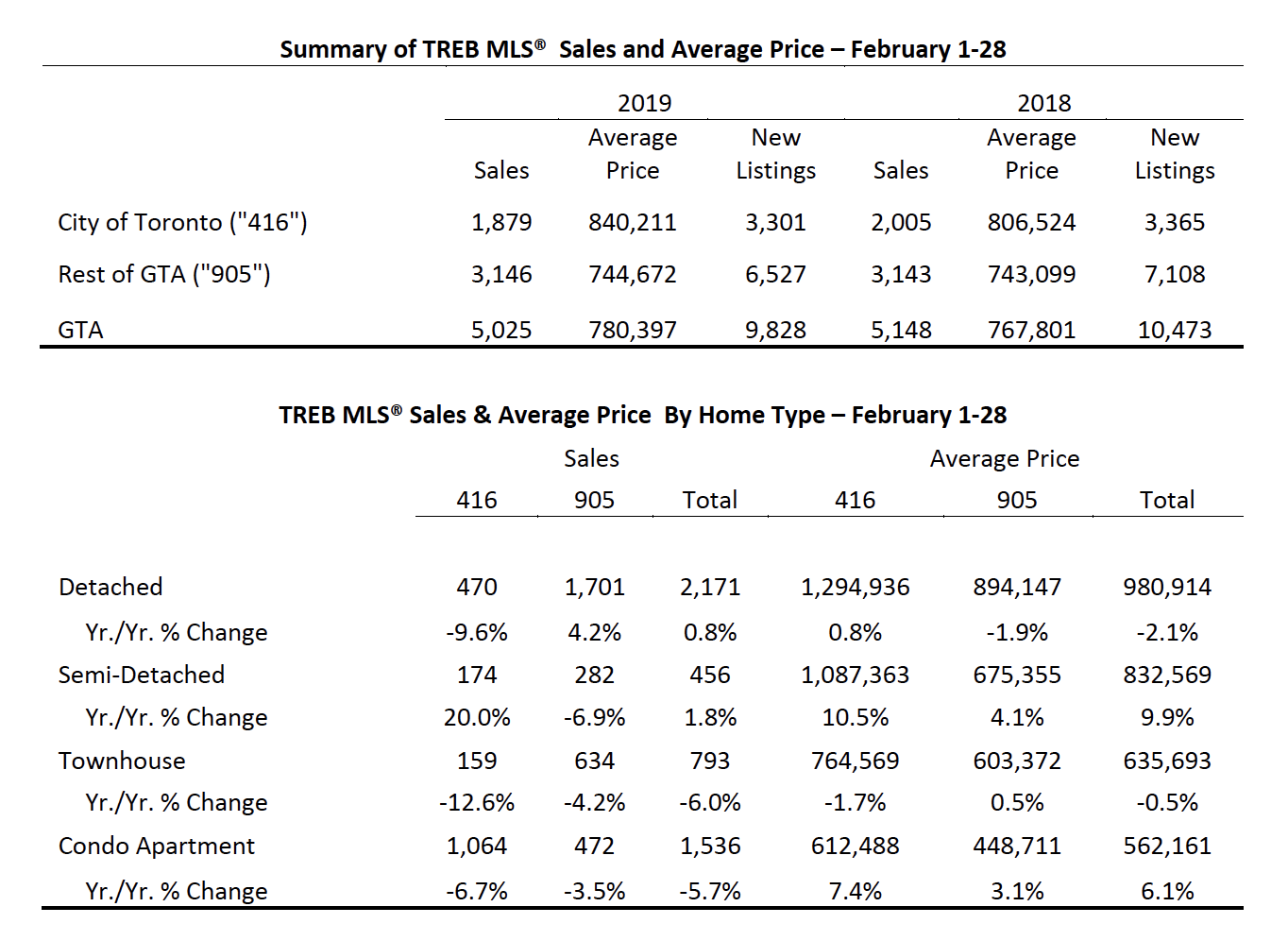 It is also noted, GTA real estate sales have a substantial impact on the Canadian economy. "Home sales reported through TREB's MLS® System have a substantial impact on the Canadian economy.  A study conducted by Altus for TREB found that, on average, each home sale reported through TREB resulted in $68,000 in spin-off expenditures accruing to the economy. With sales substantially lower than the 2016 record peak over the last two years, we have experienced a hit to the economy in the billions of dollars, in the GTA alone.  This hit has also translated into lower government revenues and, if sustained, could impact the employment picture as well," commented Jason Mercer, TREB's Director of Market Analysis and Service Channels.
There has been a lot of discussion as of recent regarding the tougher stress test on mortgage borrowing that was implemented at the start of 2018 by the federal government.  This new measure has left a lot of buyers unable to qualify for the type of home they would like to purchase. TREB is calling on Ottawa review the stress test qualifications considering the current interest rate environment along with bringing back 30-year amortizations for federally insured mortgages in the upcoming spring budget.  The 30-year amortizations would help a lot of first-time buyers enter the market. Mr. Garry Bhaura, TREB President commented "It will be interesting to see what policy measures are announced to help with home ownership affordability".
Other news this past week, interest rates will remain the same as the Bank of Canada acknowledged the current economic slump will be longer and deeper than originally anticipated and kept its bench mark rate at 1.75 per cent.  There is speculation the Bank of Canada will hold off on any further increases to the bench mark rate until 2020 but that is still to be determined.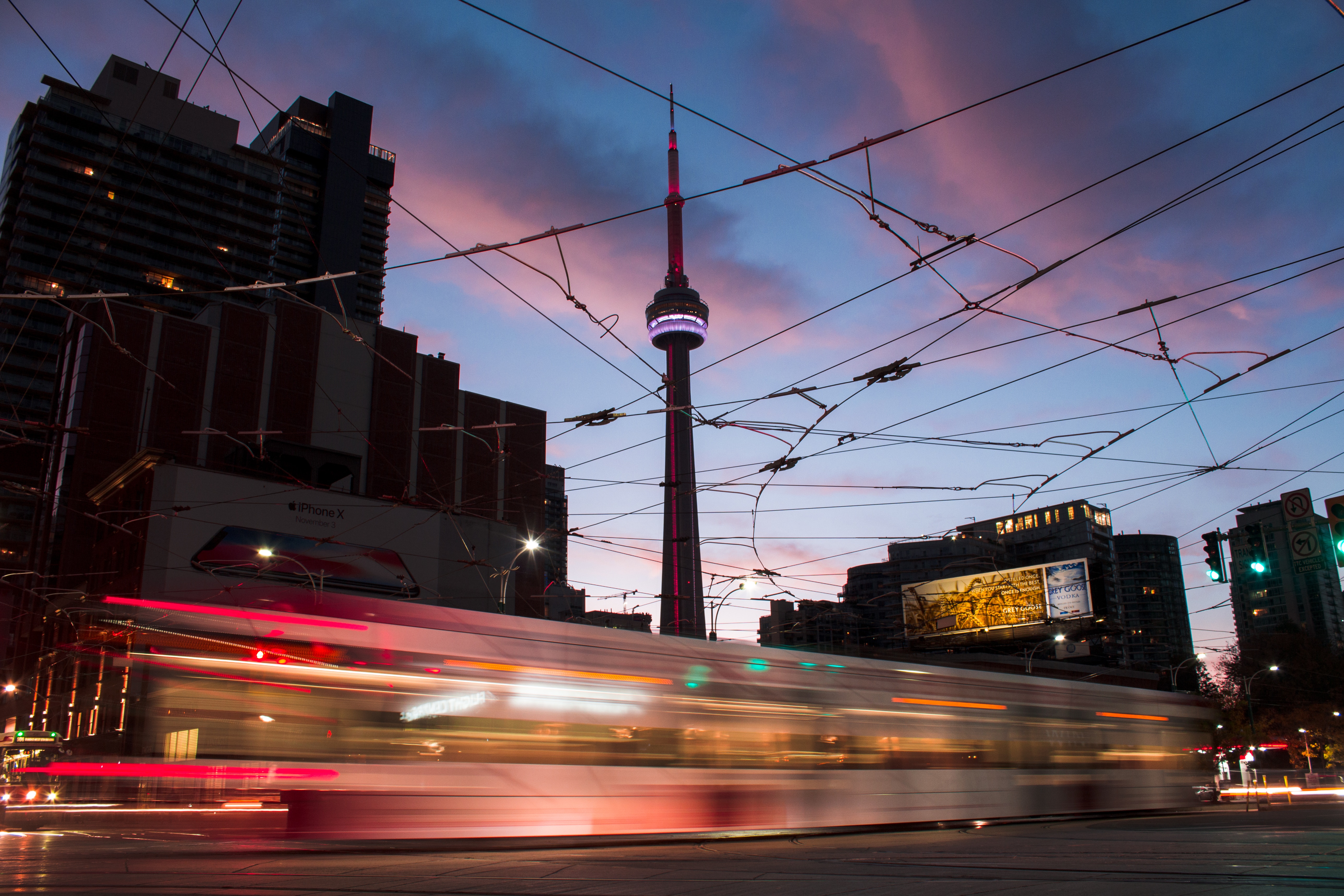 The rental market continues to be in high demand as home prices increase.  The strong competition amongst renters resulted in average rents for one-bedroom and two-bedroom units leased through TREB's MLS system to increase well above the rate of inflation on a year-over-year basis for the first two months of this year.  According to TREB, the average one-bedroom apartment was up 8.1 per to $2,145 per month. The average two bedroom was up by 7.4 percent to $2,810 per month.
TREB CEO, John Di Michele commented, "With vacancy rates hovering in the one per cent range and average rents increasing in the high single digits, it is clear that signing a lease for a rental unit is not an easy proposition in the GTA.  While some rent control provisions have been relaxed by the new provincial government, policy makers need to look at further initiatives to encourage rather than discourage investment in rental apartments. A recent Ipsos survey conducted for TREB found that almost one-quarter of investment property owners are very likely to list their property for sale this year, which is concerning in an already tight rental market."
Toronto has been hard hit by extreme winter weather over the month of February which seems to have a lot of sellers holding off for some warmer temperatures and when one can drive down the streets that are currently filled with huge piles of snow and ice.  There is a lot of activity right now with stagers and home inspectors getting houses prepped for the spring market. Once the combined public and private school March breaks are over towards the latter part of March it is anticipated more inventory will start to hit the market.  Time will tell.
It also appears there are a lot more buyers surfacing who have been waiting to see if prices would drop.  They seem to be realizing this is not happening and are prepared to get in the market. Buyers also seem more confident now that interest rates are not rising any time soon.  And sellers are starting to adjust to the reality that double-digit price gains have settled to a more reasonable annual appreciation of three to five per cent.
Let's hope with spring on the horizon, the temperatures should start to rise, we get a little sunshine to shake off the February blahs, and we start to see some real momentum in the market.