October was another record-setting month for the Toronto region's soaring real estate market.  The Toronto Regional Real Estate Board (TRREB) reported 9,783 homes sold throughout the Greater Toronto Area (GTA) last month, down 6.9% compared to last October's unprecedented record of 10,503 sales. Despite this annual drop, it was still the second-highest level on record for the month of October.  A strong double-digit increase in condominium apartment sales mitigated annual declines in low-rise home sales.  While the number of sales in detached, semi-detached and town homes saw double-digit declines of between 11 and 18%, condo sales soared nearly 34% in the City of Toronto and just over 20% in the surrounding 905.
Fewer homeowners listed their houses for sale last month, leading to a 13% decline from September to October.  For the fifth month in a row, the number of new listings declined on a year-over-year basis.  TRREB's data for October showed new listings decreased to 11,740, approximately a 34% drop from 17,806 during October last year.  At the same time, active listings for last month totaled 7,750 compared with 17,313 in October 2020.
"We have definitely seen the market tighten since the summer, "said Jason Mercer, TRREB's chief market analyst.  With the ratio of sales to new listings continuing to increase, Mr. Mercer said "that suggests more competition between buyers that can lead to an acceleration in price growth."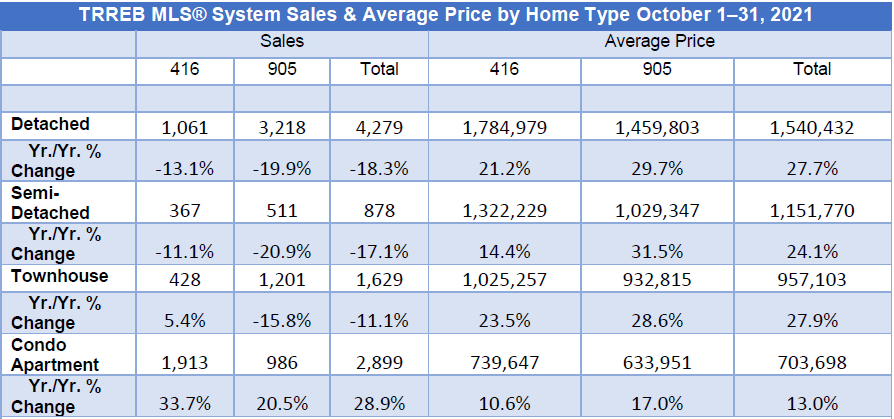 Not surprisingly, the average price of all housing types rose higher again last month with fewer homes on the market and the buyer demand rising.   In all trading areas there is fierce competition amongst buyers paying substantially higher than the list prices. For the entire GTA the average sale prices were 107% of the asking prices.
The average price for all home types sold in October soared by almost 20% to nearly $1.2 million, up 19.3% from $968,535 in the same month last year.
The low-rise housing market continued to lead price growth as it has throughout the pandemic, but condos also showed double-digit price growth in October, up 13% regionwide and 17% in the 905 areas outside Toronto.
"Whereas the low-rise segments of the market were already tightening up at the end of last year and into 2021, the condo segment really started tightening this year, so now you have a scenario where every market segment is once again very much in a seller's market situation where you're seeing a lot of competition between buyers," said Mercer.
Detached houses hit an average price last month of $1.54 million in the GTA, soaring 27.7% compared to last October. The 905 still showed the biggest percentage gain with detached houses selling for about 30% more than they did a year ago, with an average price of $1.46 million. Detached homes in the City of Toronto continued to be the most expensive residential properties, selling for an average of $1.78 million, a 21% increase year-over -year.
The pandemic's real estate boom has largely been driven by home buyers' desire for bigger properties to deal with the perpetual stay-at-home mandates.  And even though a lot of pandemic restrictions have been lifted, home buyers are still seeking more living space in the suburbs.
During 2021, prices in the outlying suburban regions have increased dramatically, proportionally faster than those in the City of Toronto, and now the availability of properties for sale has shrunk to the point where there are currently more properties for sale in the City of Toronto than in all the surrounding 905 regions.
In Halton, just west of Toronto, the home price index rose 6% from September to October. Compared to fall of last year, the index is up 32%.  In Durham, to the east of the city, and in Simcoe, to the north, the index is up 35% year-over-year.
Condominium apartment sales continued their rebound in October. In the City of Toronto, sales were up by almost 34% compared to a year ago. Similarly in the 905 area, condominium apartment sales were up by almost 21% over last October.
Prices followed the rise in sales, increasing by almost 11% in the City of Toronto and by 17% in the 905 area.  Either buyers are overcoming their resistance to live in the dense conditions of high-rise towers or condominium apartments remain the most affordable housing choice.  However, like all other housing types, the supply of condominium apartments is quickly declining. At the end of October, the supply of condominium apartments throughout the entire GTA had declined by more than 11 %, and by 7.5% in the City of Toronto.  This last option of affordability and supply is quickly disappearing.
It is anticipated these tight market conditions will continue for months to come.  The Bank of Canada has suggested it will increase the benchmark interest rate earlier than it had previously forecast, possibly as early as the spring.  There are many buyers looking to take advantage of the current low mortgage rates.  Adding to that, over the next year, we're set to see much stronger population growth as borders start to open more and we make up for lost time on the immigration front.
If the Toronto region wants to continue its upward economic trajectory, it needs to be able to house its diverse workforce. But boosting the housing supply takes time and a lot of collaboration among different levels of government.
We need to look carefully at what different parties and candidates are saying over the next year as we move towards the provincial and local elections in Ontario to see what that collaboration could like, to streamline the approvals process to see more supply become available.