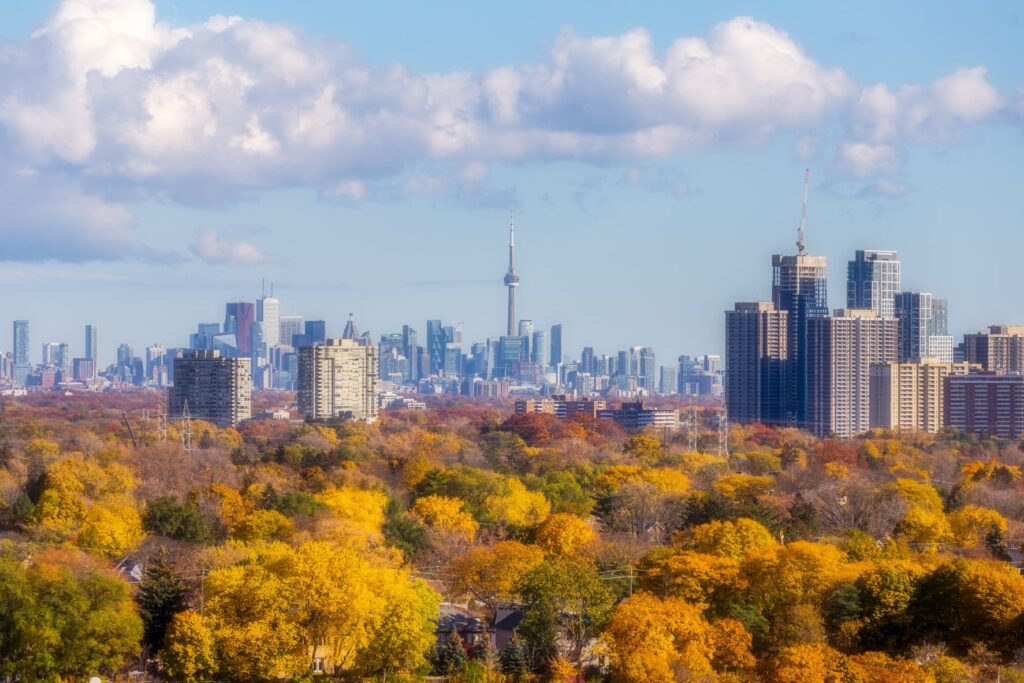 At a time when the typically busy fall real estate season is usually getting started, the Greater Toronto Area (GTA) housing market continued its adjustment to higher borrowing costs in September 2022.  The rising interest rates are dampening demand and mortgages can be difficult to secure.
A total of 5,038 homes traded hands in September, according to the latest data from the Toronto Regional Real Estate Board (TRREB), a decrease of 44.1% compared to September 2021.  This is also a 10.4% decline in sales from August's activity leading to further downward pressure on prices.  The decline in sales can be directly attributed to the rise in the Bank of Canada's benchmark rate. In early March it was 0.25%, and now it's 3.25% with the expectation to rise once again by the end of October when the BoC provides its analysis of the economy and its views on inflation.
In Toronto, the price decline followed a short-lived resale and price upswing in August, which led to speculation the five-month market decline may have started to reverse. However, September's numbers were in line with the broader trends since March, with fewer sales and falling prices.
The average price for all home types in the GTA came in at $1,086,762, roughly flat from a monthly perspective, but down 4.3% from September 2021.
Meanwhile, the MLS Home Price Index (HPI), which excludes sales of extremely expensive homes, reported an increase on a year-over-year basis of 4.3% to $1,110,700 in September.   This number is down 1.2% from August and 19.3% from the market peak in March.
In the City of Toronto, there were 1,744 homes sold, down 48% from last September, pushing the average price down by 2.6% to $1,061,876.  Sales were down to a lesser extent in the surrounding 905 markets with 3,294 transactions, down 41% year-over-year, however, the price declines were deeper, falling 5.3% compared to last September to an average of $1,099,938.

By home type, the steepest price declines were seen in the detached segment, falling 10.2% to an average of $1,368,186, with sales down by 40% over last September. In the City of Toronto, detached homes fell to $1.586M a drop of 11% year-over-year.  A turnaround from recent months when the more affordable price points were driving the market, GTA condo sales fell 50.5%. This segment was still the only one to post an annual price gain, up 3.2% to an average of $730,818.  In the City of Toronto, this gain was up 3.4% to $769,058.  In central Toronto, where most of the greater Toronto area's condominium apartments are located, the average sale price came in at $827,478.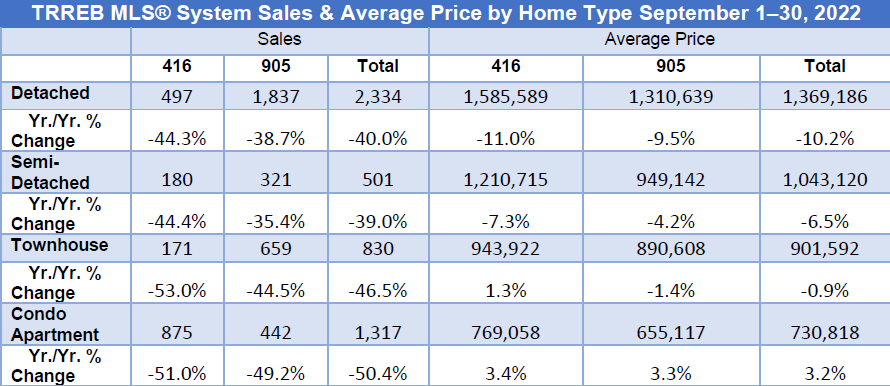 While its clear prospective buyers have taken to the sidelines, it appears sellers are taking caution too and waiting for stronger market conditions.  New listings were down on a year-over-year basis by 16.7% to 11,237.  This was the lowest number of new listings reported for the month of September since 2002. This is especially troublesome given that the stock of homes in the GTA increased markedly over the last 20 years.
"We must ensure that the temporary dip in housing demand is not allowed to mask the critical shortage of homes available for sale in the GTA. Candidates running in the upcoming Ontario municipal elections must ensure home buyers and renters have adequate housing options in the years to come. Municipal council decisions have a direct impact on housing affordability, in terms of the protracted development approval processes, high development fees, and other related policies that preclude timely housing development," said TRREB President Kevin Crigger.
The real estate board emphasized that a lack of supply remains a critical issue in the region, even as higher interest rates, which jumped by 75 basis points in September, are working to curb demand. However, the lack of new listings means there still may not be enough properties to go around.
"We're not creating enough housing units to satisfy the needs of a growing population.  When you look at what most governments have done over the last 10 years, they've really focused on demand suppression." TRREB President Kevin Crigger said in an interview following the release of the results.
We are not in a buyer's market at this point, but perhaps we could say we are in a more balanced market.  October generally represents the peak of the fall market, so it will be important to see where price trends head over the next month, especially coupled with another rate announcement from the Bank of Canada in late October.  The consistently increasing rates have had a negative financial and psychological impact on buyers. Hence, we most likely will expect a continuation of September's market trend through to the end of 2022.
​Keep in mind, once inflation is under control​ it's just a matter of "when" and not "if"​,​ the Greater Toronto market will start going up again. ​Depending on your situation it could be a great time to make a move.  ​With strong overall fundamentals around employment, skilled immigration, and the consumers' desire for home ownership, the ​GTA​ real estate market will continue to stay strong.