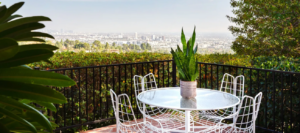 These stunning designs will turn your backyard, terrace, or rooftop into your own oasis
With warmer weather comes the urge to soak up the sun, dine alfresco, and lounge poolside. If you're eager to create your own backyard oasis, these stunning outdoor seating ideas will provide plenty of inspiration. Discover gorgeous backyard designs including inventive patios that are as practical as they are arresting. These inviting displays are more than just seating options—they create intimacy, make clever use of space, and are conversation starters in their own right. Get inspired and manifest your own savvy interpretation to fit your space (even if it's just a fire escape or balcony).
A Breezy Lounge in Ibiza
Painter Olivier Mourao devised a dreamy seating area at his Ibiza oasis using a white sofa and adding flowing curtains for a touch of privacy.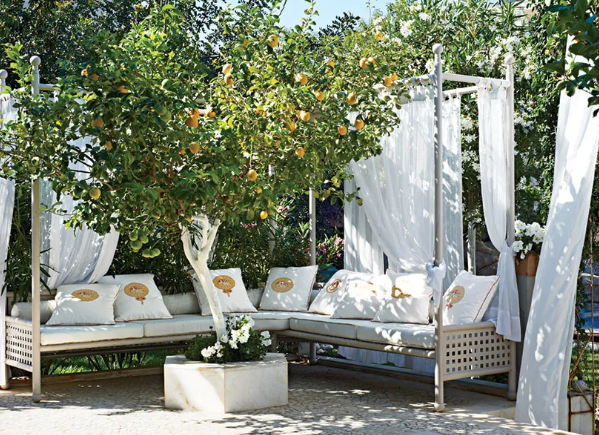 Sleek and Simple
Architect and designer Niels Schoenfelder went for simplicity and comfort at this upstate New York modern farmhouse that opens directly to the breakfast nook inside.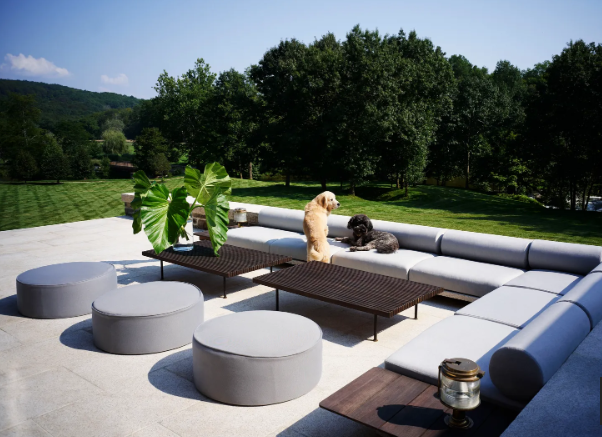 A Refined Rooftop
Edward Siegel created the trellis and fireplace for the rooftop terrace of a Manhattan apartment. The slate paving is from Stone Source, the daybeds and glass-top tables are by Dedon, and the pillows are made of Sunbrella and Janus et Cie fabrics. The plantings are by Miguel Pons Landscaping and Matthias Kirwald Landscaping.
An Urban Oasis
Adding a dining table is one of the best patio ideas. Your table will be the seat of magical midsummer dinners, warm-weather brunches, and sunrise coffee sips. The stunning zinc-top dining table on this Manhattan terrace is by Lucca Antiques.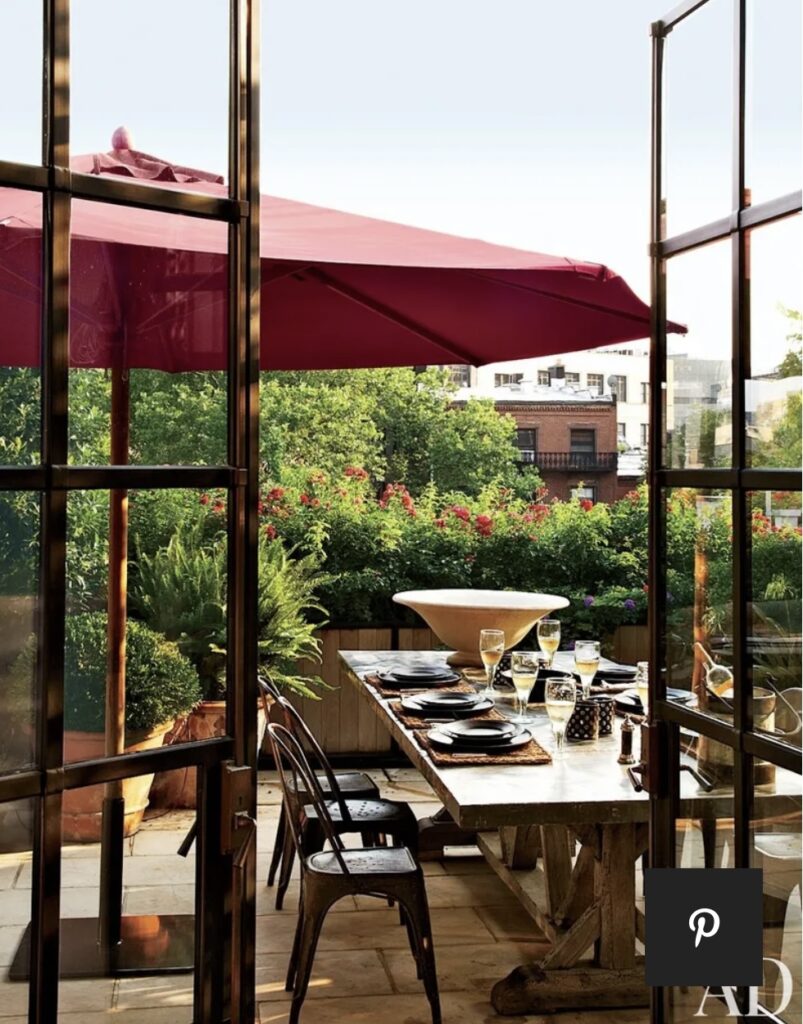 A Romantic Terrace
Kiwi vines shade a terrace at the Maine home of Martha Stewart. The dining area is furnished with a Charles Rennie Mackintosh–style teak table and chairs by R. L. White and Son.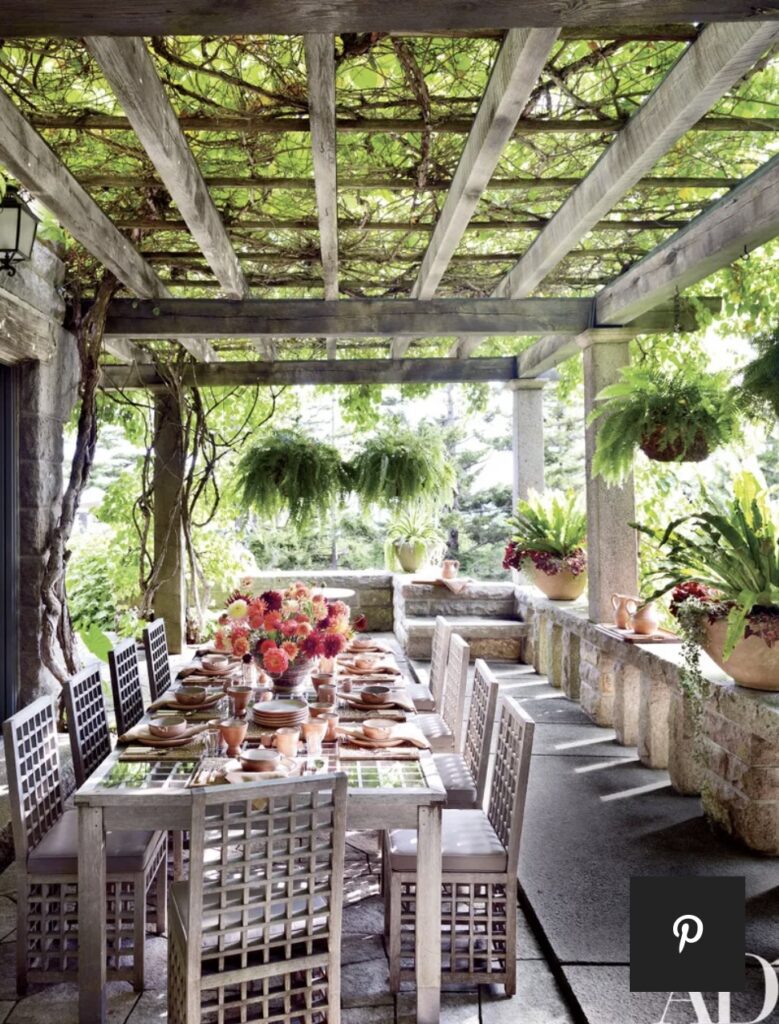 A Traditional Terrace
The rear terrace at Ralph Lauren's home in Bedford, New York, is used for dining and entertaining. Large umbrellas shade the stylish spot.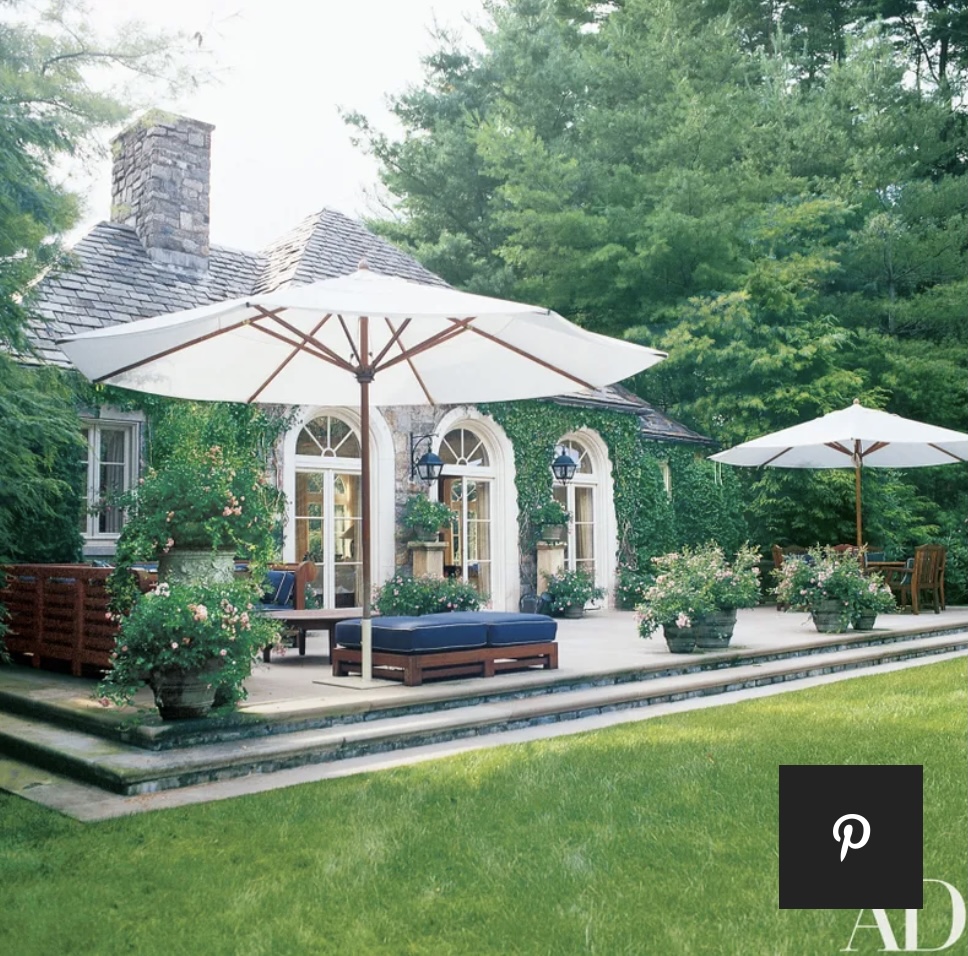 A Verdant Hideaway
Potted plants not only dot the patio, but they are also placed on a large table to create a lush garden on a city patio.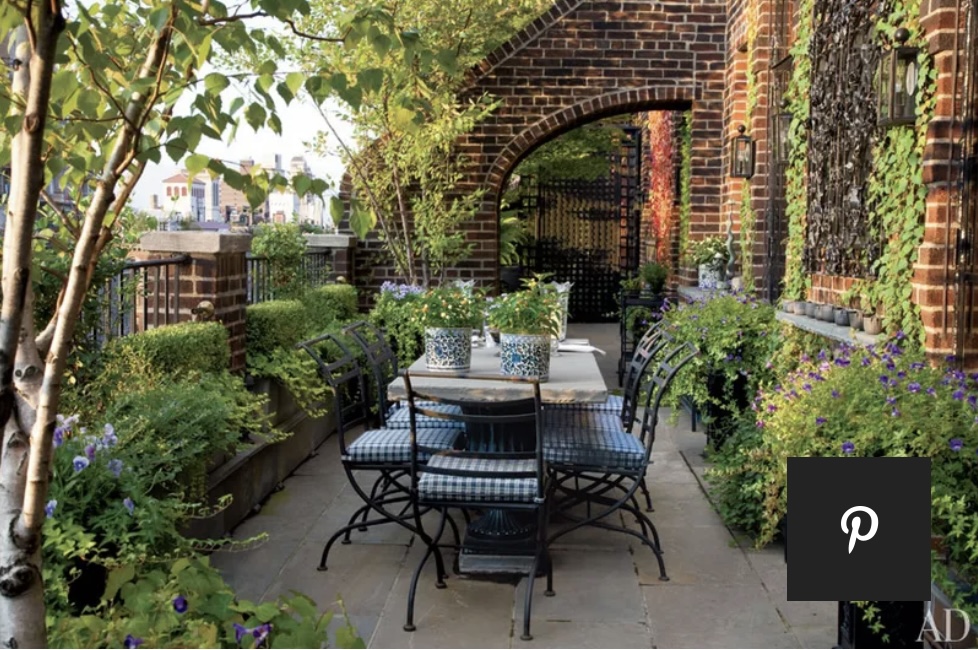 A Rooftop Oasis
Ralph Lauren chief retail creative officer Alfredo Paredes and writer Brad Goldfarb divided the expansive terrace of their Manhattan apartment into several entertaining areas, including one with a cluster of teak furnishings and another with a zinc dining table surrounded by vintage chairs.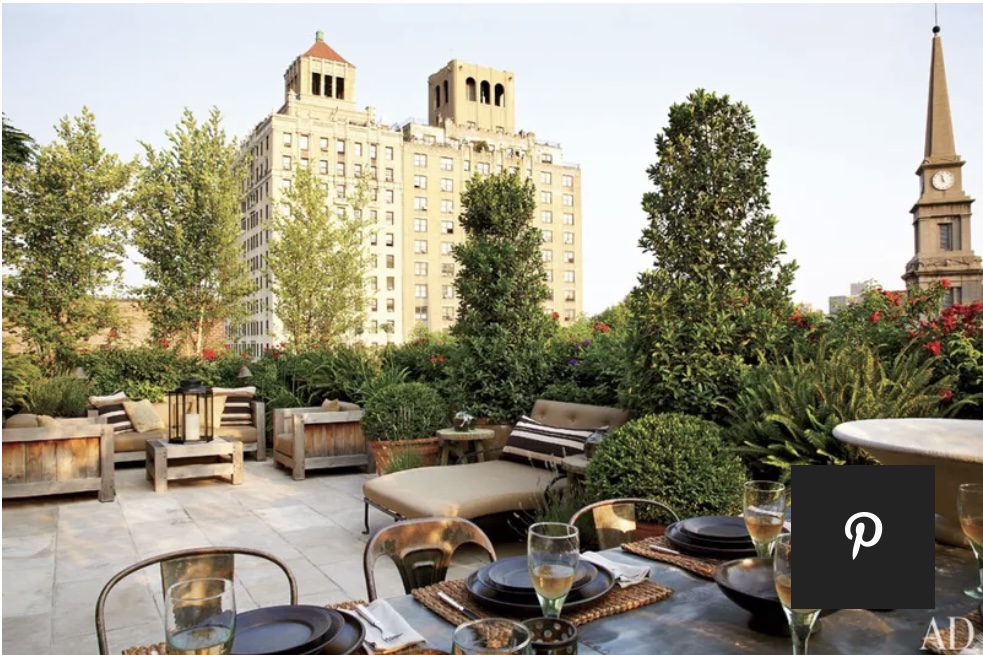 Tuscan Outdoor Living Area
At Sting and Trudie Styler's farm in Tuscany, landscape designer Arabella Lennox-Boyd conceived a mix of intimate and grand outdoor spaces. An oak tree shades a gravel dining area, where lunch is often served.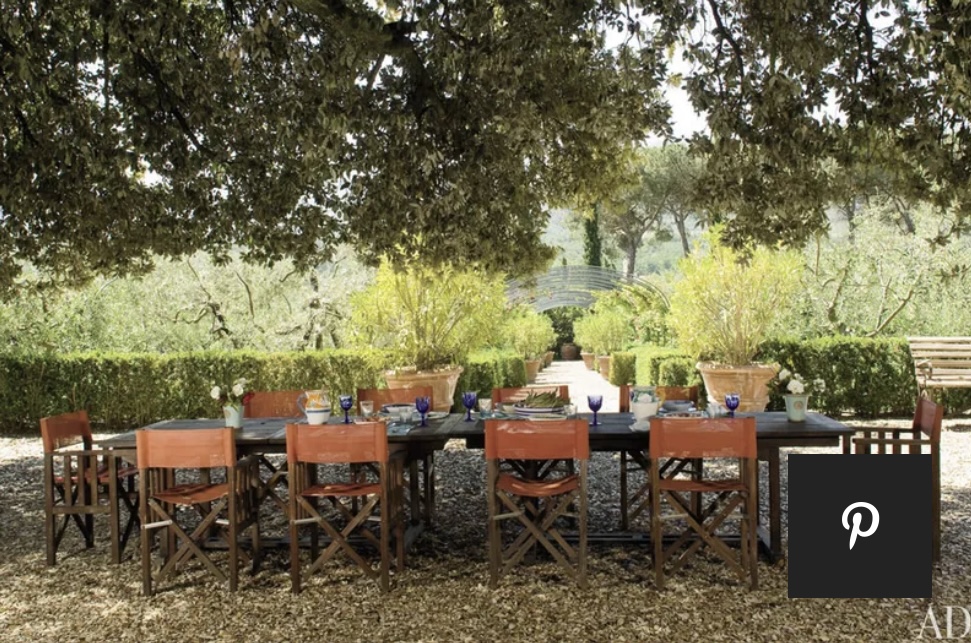 Perfectly Framed
At Instagram founder Kevin Systrom's Lake Tahoe home, fashioned by AD100 designer Ken Fulk, one of the outdoor living spaces is perfectly framed by one floor-to-ceiling window.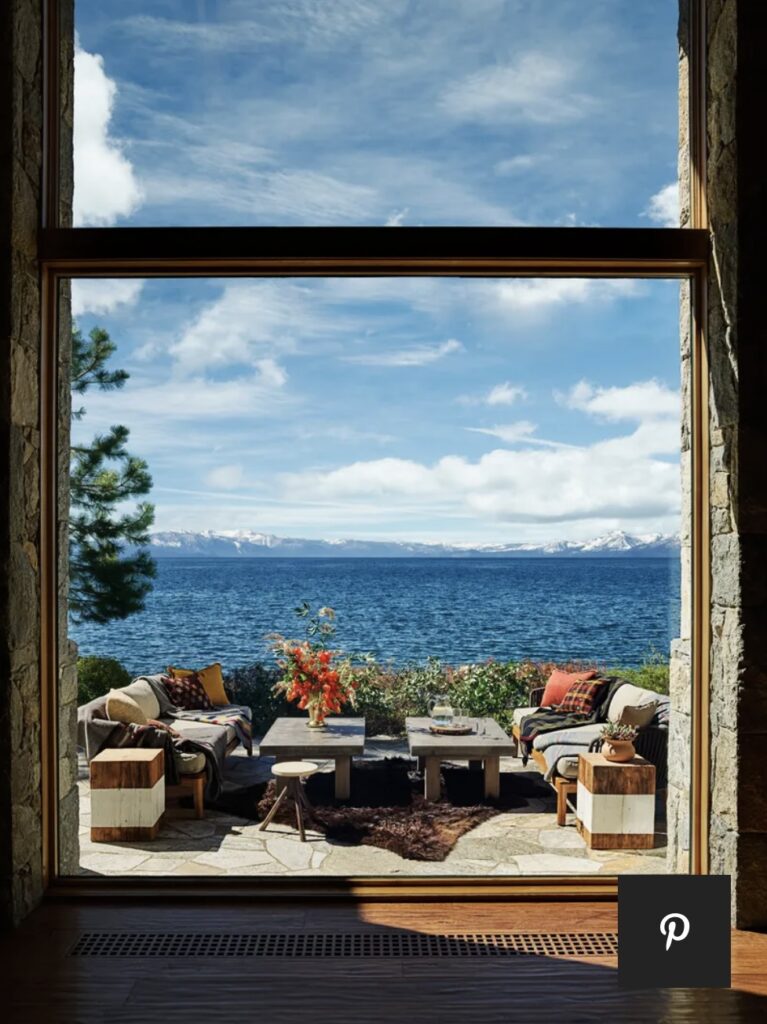 A Refreshing Space
The pool and terrace serve as the focal point of designer Greg Jordan's V-shaped Hollywood Hills residence. The exterior space even informs the interiors—a pair of sofas in the living room are aligned with the cypress trees.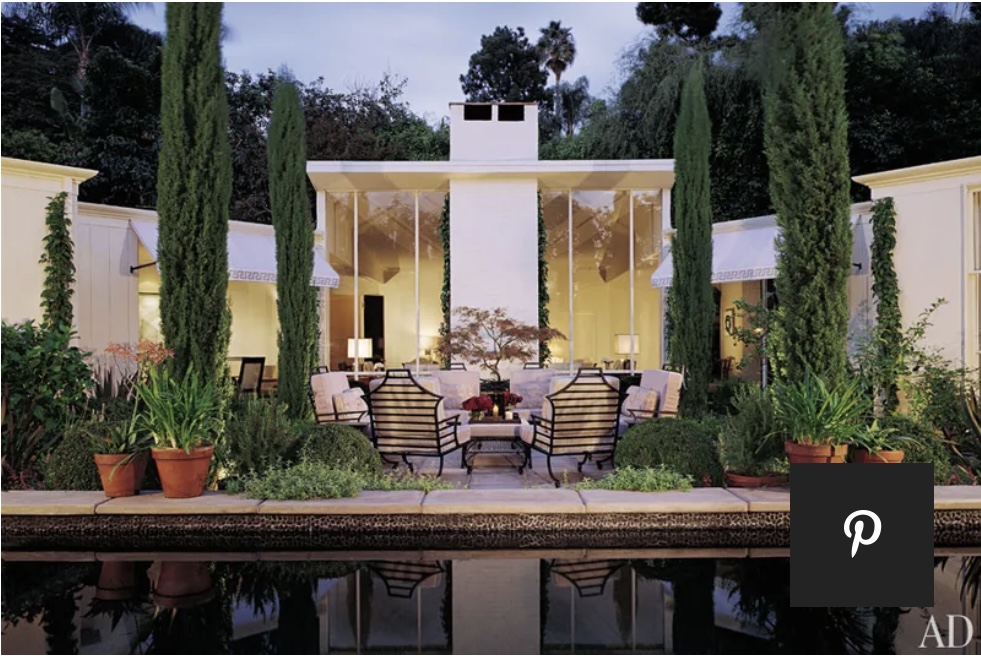 Dreamy Patio With a Firepit
On the rear terrace of a Los Angeles home designed by Silvia Kuhle and Jeffrey Allsbrook of the architecture firm Standard, Summit Furniture armchairs are upholstered in a Perennials outdoor fabric.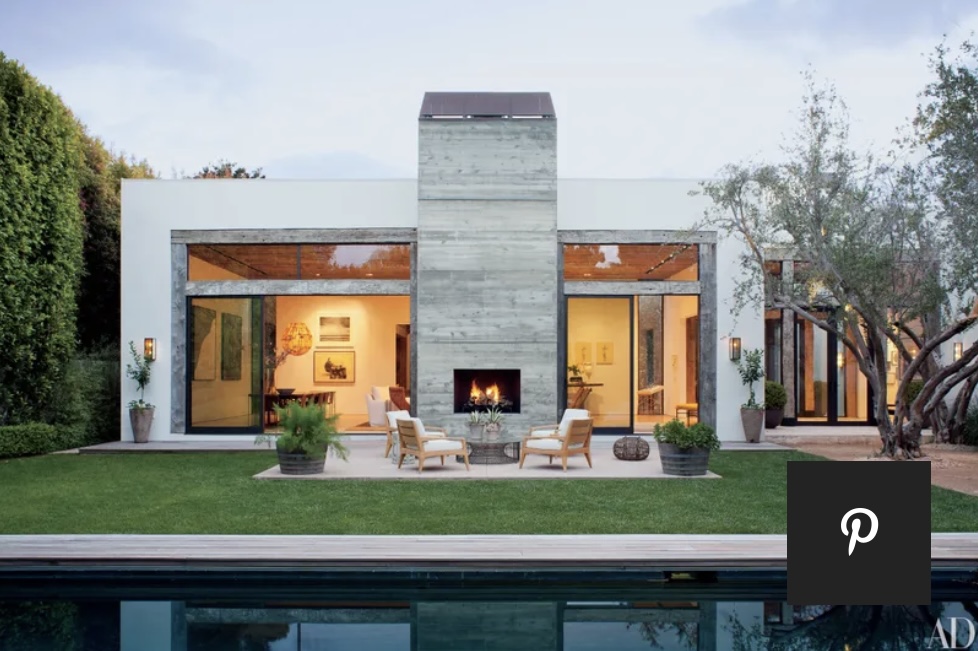 Manhattan Rooftop Patio
This is another one of those rooftop patio ideas we can all get behind. This patio is off the master suite in a Lee Mindel–designed Manhattan penthouse and furnished with outdoor furniture by Kettal.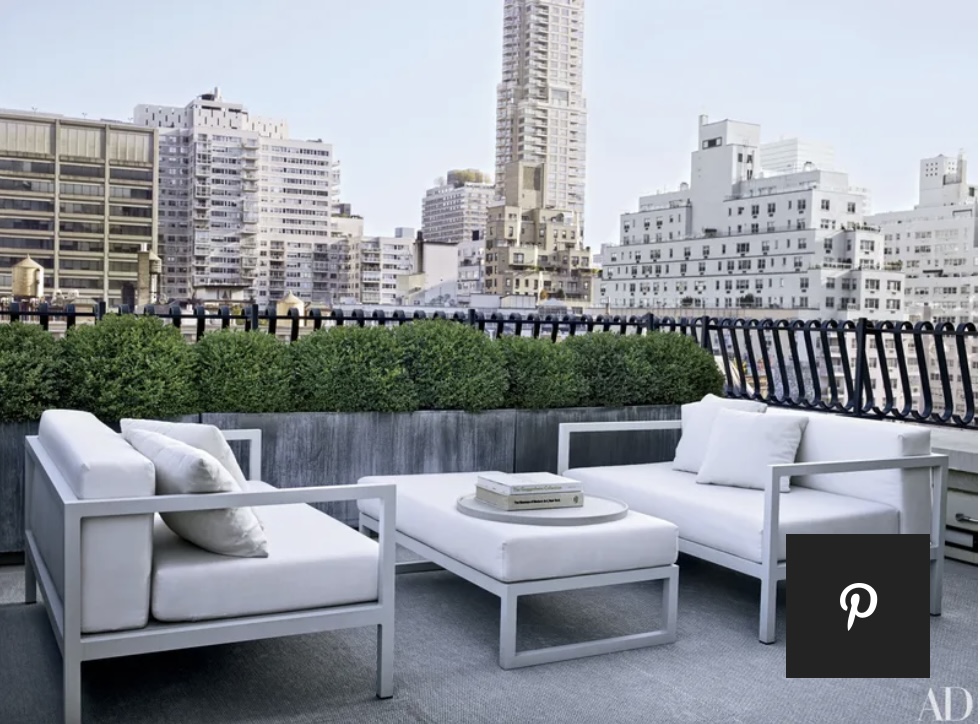 Bel Air Beauty
Trip Haenisch decorated the Bel Air, California, home of actor Hank Azaria, his partner, Katie Wright, and their son, Hal. Honeysuckle climbs the trellis of the outdoor living room, which is furnished with Haenisch-designed seating upholstered in Perennials outdoor fabrics; the cocktail table is by Holly Hunt.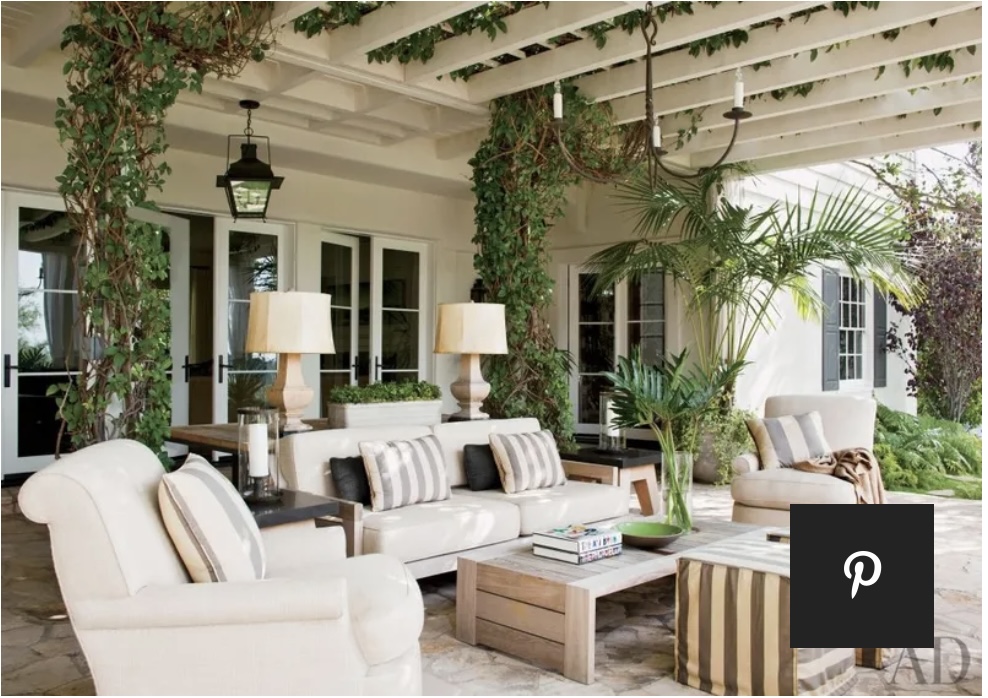 London Backyard Patio
A Ben Jones dog sculpture is displayed on the slate-paved terrace of a London home.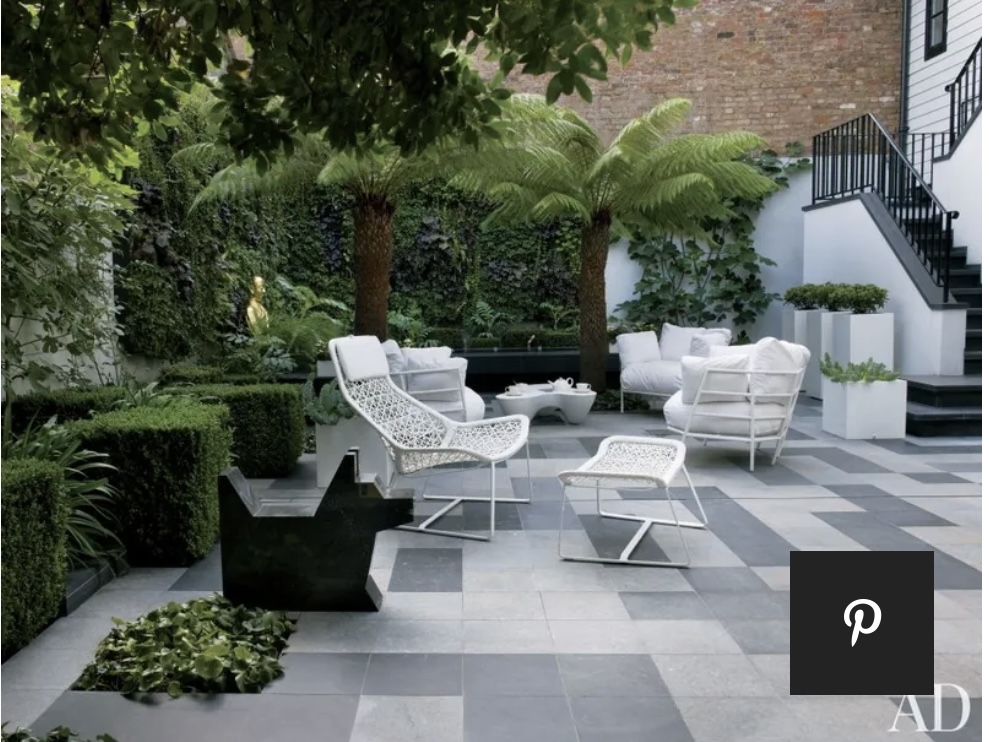 Peaceful Outdoor Oasis
This patio makes excellent use of a neutral palette. The natural colors and textures, plus ample outdoor seating, create another one of our favorite outdoor patio ideas.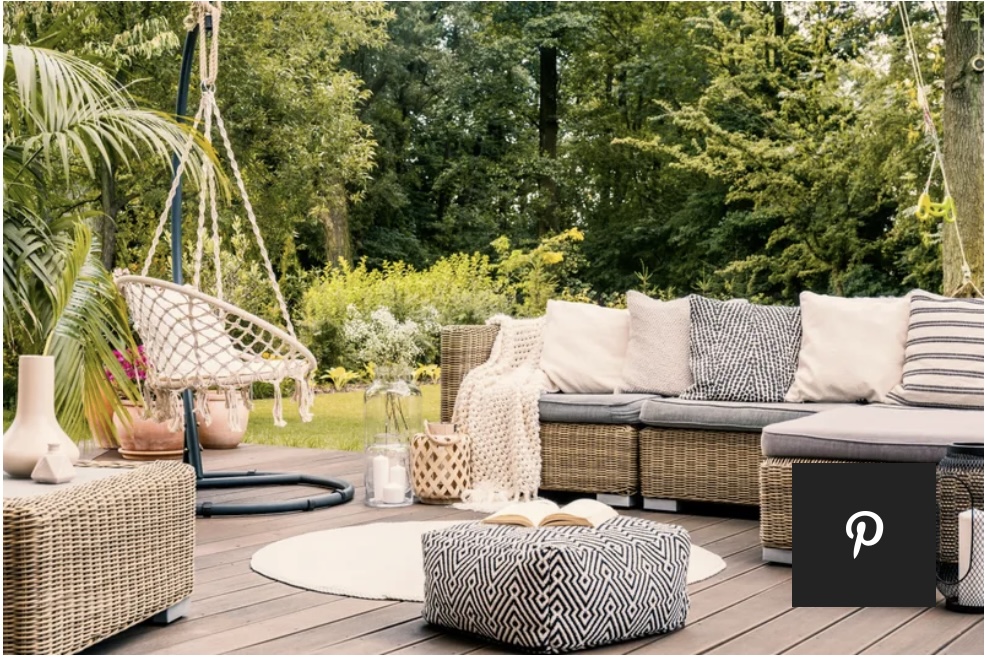 Tiled Patio
A Piranesi-inspired mural by Miguel Rivero and Eduardo Cortes overlooks the pool at dealers David Serrano and Robert Willson's Mérida, Mexico, home, which was renovated by Bohl Architects. The griffin statues and terra-cotta chair are from the couple's Los Angeles shop, Downtown, while the mosaic-tile panel leaning against the wall is 1940s Italian.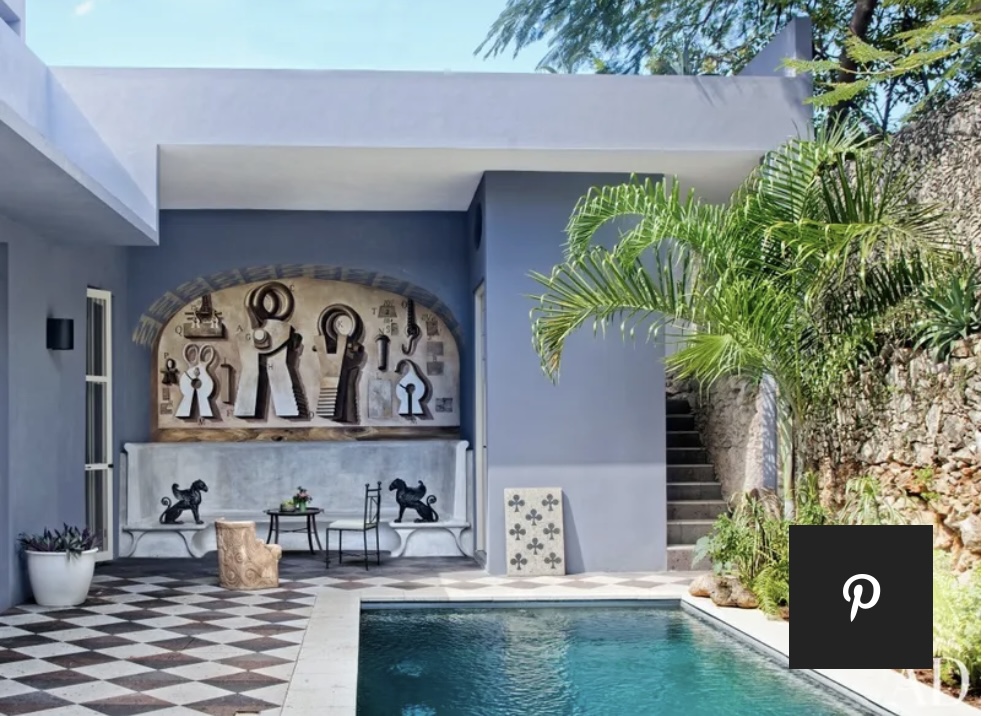 The Circle of Life
In lieu of typical backyard seating, AD100 firm Studio Shamshiri opted for a trio of curved couches that combine into a circle. Instead of regular old pavers, pebble flooring was placed in a circular pattern too.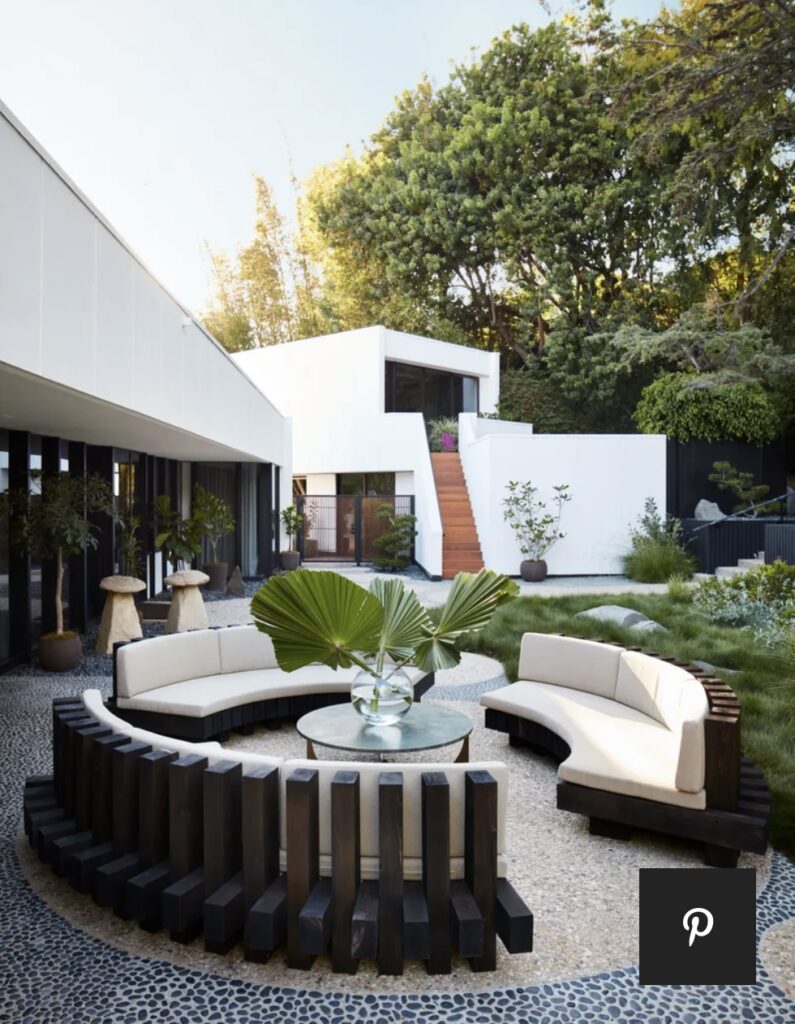 Patio with a Center Stage Fireplace
Arranged near the outdoor fireplace of a Southampton home by Carrier and Company Interiors and architect John David Rose are Country Casual sofas and chairs cushioned in a Sunbrella fabric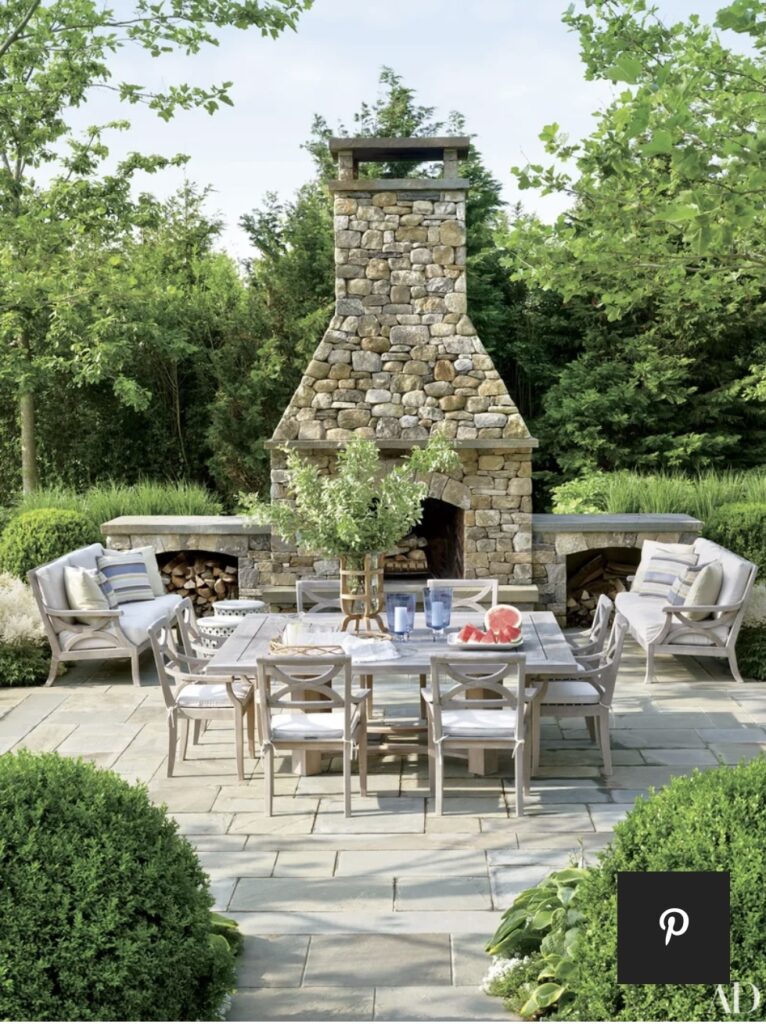 Go Loggia
As seen here at this Nashville property by interior designer Suzanne Kasler and architect Bill Ingram, adding a loggia to the side or back of your home allows for a covered outdoor space that can be used year-round. Also, a loggia allows you to hang a pendant light or ceiling fan.