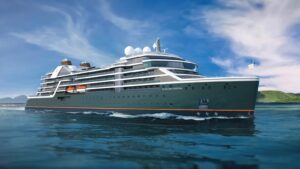 THE ULTRALUXURY CRUISE LINE PREPS THE LAUNCH OF TWO NEW EXPEDITION SHIPS
Veteran travelers who have already cruised the world's seas in style on well-appointed ships are increasingly looking to take their love of aquatic exploration to another level. Expedition travel—one of the fastest growing segments of the cruise industry—is now positioned atop many a bucket list.
Seabourn, a brand of Carnival Corp. and PLC, is launching two purpose-built expedition ships: Seabourn Venture is scheduled to make its maiden voyage this July, while Seabourn Pursuit is set to debut in 2023. Each ship will feature 132 luxurious oceanfront veranda suites, with a total capacity of up to 264 guests.
They'll also venture farther north and south than any ship in Carnival's history.
"Our primary goal in building these new ships is to give expedition travelers the best possible destination experiences onboard and far afield, with an innovative design that enables us to get all guests out into the environment as quickly as possible to fulfill those travel wish lists," says Robin West, vice president of expedition operations for Seabourn. "These ships have been designed from conception for expedition travel blended with ultraluxury and personalized service."
The hull for Seabourn's expedition ships has been constructed to PC6 Polar Class standards, making the ships capable of summer and autumn operations in Antarctica, the Arctic, and other exotic destinations. Propulsion will be delivered by Azipod units, giving the ships greater maneuverability.
Other operational design touches include shell doors, which will be used by guests to move on and off the ships, placed right at the waterline to make it easy for passengers to step right on to a Zodiac boat. This improved accessibility allows guests to move quickly to view wildlife or go ashore to enjoy remarkable landscapes. And lots of open deck space means passengers take in views of mountains, glaciers, and greenery.
Onboard crew will include a 26-person expedition team of experienced wilderness experts, scientists, historians, and naturalists. During each sailing, the experts will regularly interact with guests to provide in-depth insights into the history, ecology, and culture of each destination.
In 2022, Seabourn Venture will visit destinations in the Arctic, the Caribbean, and Central and South America. Customers can choose from more than a dozen immersive voyages, ranging from 10 to 15 days. Seabourn Venture's maiden voyage, "Northern Isles & The Viking Homeland," will depart from London in July.
"Our expedition itineraries in 2022 will offer a 'safari at sea' where travelers experience the diversity of nature and wildlife on either side of the equator," says Josh Leibowitz, president of Seabourn. "Seabourn Venture will offer the perfect balance of immersive, compelling adventures combined with our unrivaled luxury service."
Seabourn Pursuit's inaugural voyage, "Lands of Fire and Ice," is scheduled to depart Reykjavik, Iceland, in April 2023. The itinerary, which winds its way along the coasts of Iceland and Greenland, will allow passengers to explore snowy landscapes, magnificent waterfalls, hot springs, and lava fields. In August 2023, the ship's Northwest Passage journey will take it through some of the Northern Hemisphere's most remote areas, from Kangerlussuaq, Greenland, to Nome, Alaska.
High-End Accommodations
Despite the incredible surroundings, passengers might find themselves tempted to stay in and luxuriate in the boats' opulent guest suites; the Veranda, Panorama Veranda, and Penthouse categories have been designed by New York City's Tihany Design. Each suite features elegant touches that reflect bygone maritime craftsmanship; materials include wood, stone, and intricately textured fabrics.
Each suite also has a built-in heated jacket wardrobe, where guests can grab a warm coat before heading out or hang wet parkas and other gear to dry quickly.
The two-story Grand Wintergarden suites, a new layout for Seabourn, have been designed by Tihany to provide expansive, apartment-style accommodations. Located midship, these suites have a generous lower level living area that is large enough for entertaining, with a separate guest bath, a pantry, and wet bar stocked with a customized selection of spirits including a bottle of Shackleton Blended Malt Scotch Whisky, inspired by Sir Ernest Shackleton's iconic British Antarctic Expedition of 1907.

Underwater Exploration
Each ship will carry 24 Zodiacs and an assortment of kayaks, as well as a pair of battery-powered submarines operating excursions for an extra charge. Each U-Boat Worx Cruise Sub 7, designed specifically for Seabourn, will carry up to six guests as well as one pilot, who will guide journeys up to 300 meters beneath the surface. "The undersea world is often considered as the last great frontier on Earth, with more than 80% of the underwater realm remaining unmapped, unobserved, and unexplored according to the U.S. National Oceanic and Atmospheric Administration," West says. "With these subs, we're going to take our guests to places that few have ever seen firsthand, leaving them with a perspective on the world around us that is jaw-dropping and will create stories to last a lifetime."
The subs will be operated multiple times per day in regions around the world where conditions are suitable.

Health And Wellness
Completing the experience is an immersive spa and wellness facility as well as a mindful living program with Dr. Andrew Weil.
"Spa & Wellness is sure to be a standout space for our guests," Leibowitz notes. "Over the past year, wellness has grown in importance in many people's personal lives, and our highly trained staff will be devoted to providing a robust series of mind and body programs and rejuvenating treatments developed in collaboration with Dr. Weil to ensure travelers can relax, reconnect, and recharge during their time on board."