In a year when our homes became the center of our universes, awareness of the spaces we inhabit and the objects we place inside them has taken on a depth and a richness of possibility that empowers us all to think more like interior designers. It's a level of care and consideration that will carry over into our lives and the homes we create, making this holiday season a perfect time to gift these six outstanding 2021 architecture and design books, each of which is as powerful to read and learn from as it is a decorative object in and of itself.
Woman Made: Great Women Designers by Jane Hall

Woman Made gives due to women in design, some whose names were left off their creations or whose entire careers went under-recognized. It includes the work and the stories of more than 200 designers like Ray Eames, Eileen Gray, Florence Knoll, Ilse Crawford, and Faye Toogood. The power of the book lies not only in the ingenious designs it showcases but also in the way it tells the story of the women whose lives were shaped by their visions, and whose visions—whether we knew it or not—have shaped our lives.
Bunny Mellon Style by Linda Jane Holden, Thomas Lloyd, and Bryan Huffman
If there is a single tastemaker synonymous with American interior design, it's Bunny Mellon, whose sharp eye and playful imagination invented a unique personal lexicon of style as widely appealing as it is profoundly original. The woman who had her gardening clothes designed by Balenciaga and redid the White House Rose Garden for her dear friend Jackie Kennedy had a curious motto: Nothing should be noticed. With one look at this much-anticipated book, Mellon's meaning of the word "noticed" becomes clear in the context of her world of sprawling gardens, libraries, and Cartier jewels.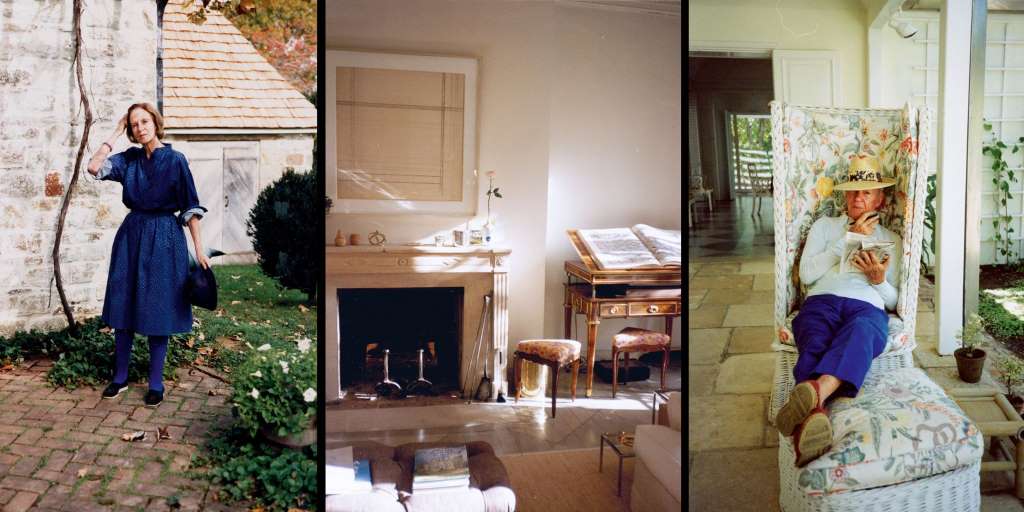 Her motto points to an impeccable sense of style that knew how to translate the attitude of being subdued about public display without actually ceasing to care about it. There is a core of understatement in how she thought about a room—draping them with Rothko paintings or purposely distressing her 18th-century French furniture to look more lived-in. The book, which includes photographs, an introduction by her son, drawings, and excerpts from her writing, is an ode to a personal vision made achievable through financial and creative means most people only dream about.
Koichi Takada: Architecture, Nature, and Design by Koichi Takada and Philip Jodidio
| | |
| --- | --- |
| | In the context of climate change, architect Koichi Takada is already realizing the buildings and houses we are only beginning to imagine. When he designed a tower in Downtown LA, it was not only inspired by the redwoods that have become synonymous with the state, but it also created a building meant to improve air quality as a tree does, with an unprecedented facade filled with greenery. His sunflower house literally shifts toward the sun the way its namesake flower does, creating a structure as energy-efficient as it is visually kinetic. Takada's is a vision of hope for the future, and this book is a must-read for anyone who wants a glimpse of where architectural design may be heading. |
By Design: The World's Best Contemporary Interior Designers by Phaidon
As in a great museum, experiencing the creative vision of a designer in the context of her peers can emphasize the originality of the work. Phaidon's By Design packs the work of more than 100 of the greatest designers of our time, gathered by a selective nominating committee, into a single volume that's part contemporary design encyclopedia, part eye candy. With lavish spreads of rooms by designers like Kelly Wearstler Studio and Takenouchi Webb, chosen by nominators like author and T Magazine editor Hanya Yanagihara, the book is a compendium of taste from the highest minds in the field.


Isabelle Stanislas: Designing Spaces, Drawing Emotions by Isabelle Stanislas and Thomas Erber
Isabelle Stanislas, an architect and designer who has redesigned the Élysée Palace reception room and ballroom at the request of the French president himself, thrives at the intersection of construction and fine craftsmanship. It's easy to find the basis for her renown when you step into a room she designed and know, like spotting a Rembrandt, that it could not have been made by anyone else.

Her new book from Rizzoli provides a survey of what makes her vision so distinct, from marble sofas with cashmere cushions to a hole cut into a ceiling to open a living room into a Parisian turret dome. She is as admiring of the interiors of the 17th century as she is of minimalist and deconstructionist details that bring to mind the work of artist Gordon Matta-Clark. It's a book that redefines the meaning of the word "classic" and pushes French style from its roots into new territory. No designer or lover of design should be without it.
50 Lessons to Learn from Frank Lloyd Wright by Aaron Betsky and Gideon Fink Shapiro
This book reveals how Wright's creative innovations in the field of architecture still resonate with a surprising practicality today. By distilling 50 distinct lessons from the master's work, like "Let Nature Inspire You" and "Embroider a Room with Textiles," it becomes clear how much Wright's design practices were also a way of life. Each lesson is applicable to any reader's home, making it one of the most immediately useful books on Wright's work ever printed. It comes complete with stunning photographs by Andrew Pielage of Wright's greatest projects, where you can see his ideas or "lessons" come to life.