Calgary Central Library, Calgary Alberta  Photo:  Michael Grimm/Courtesy of Snohetta
From Snøhetta's $245 million Central Library in Calgary, Canada, to Berlin's "eco-intelligent" Philological Library by Norman Foster, these stunning spaces are anything but quiet
Though historians consider the 17th century to be "the golden age of libraries," these futuristic libraries suggest a biblio-renaissance is well underway. Once a silent sanctuary for books, today—thanks to new technology and trailblazing design—contemporary interpretations of the humble education and resource hubs are far from quiet. In these modern versions, you'll find dynamic tools and spaces, from podcast recording studios to game development labs. Robotic book-retrieval systems have made way for communal spaces punctuated with art, turning the library into a social sphere.
According to an analysis of US library attendance by Pew Research Center, millennials use libraries more than any other generation. As a result, services and spaces have evolved to appeal to digitally native generations. One tradition has been remained, though: The art of making the library an architectural centerpiece. In the spirit of buildings like Dublin's Trinity College Library, today's institutions are designed to inspire. Below, AD surveys the 15 most stunning futuristic libraries.
Helsinki Central Library Oodi (Helsinki, Finland)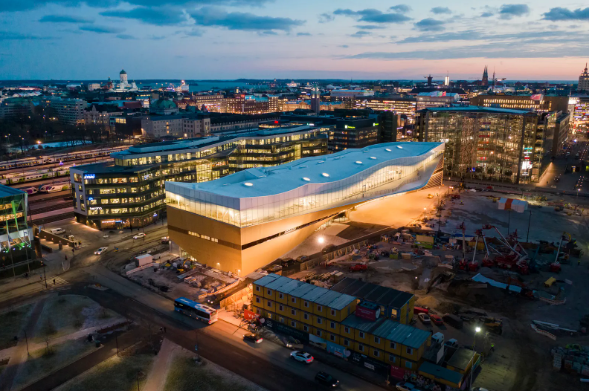 For a cultural institution defined by silence, in a country known for its love of the same, the new Helsinki Central Library, which opens this week, has been the talk of the town. The 185,774-square-foot, Finnish spruce timber–clad library, called Oodi ("ode" in Finnish) is the work of local architect firm ALA, led by Juho Grönholm, Antti Nousjoki, and Samuli Woolston. (They were chosen following an anonymous competition.) Some of Oodi's famous neighbors include Finlandia Hall, Alvaar Aalto's magnificent iceberg-inspired Concert Hall, and Finnish Parliament. Finland is known for its vibrant library culture, but ALA's design upset any traditional library model, most noticeably by relegating reading space and bookshelves to the top floor, which sits under an undulating roof (it also resembles an iceberg, creating a visual rhyme with Finlandia Hall). The library's other two levels seem to meld into each other through a series of curving zero-threshold spaces that start in the outdoor plaza. They are spaces designed just for the public to hang out in in the heart of the city, "a civic living room." That's a dominant theme of the library's design, following a mandate to promote democratic equality (other themes—active citizenship and freedom of expression—are answered by Oodi's proximity also to the Helsingin Sanomat newspaper and the Parliament. The Living Room area also includes a theatre, a "Makers Space" equipped with 3D printers, a children's play area, and a recording studio. (At one point the architects considered a sauna as well.) Art by Finnish artists Jani Ruscica and Otto Karvonen was commissioned for the building. With only a third of the library's space devoted to books (a relatively meager 100,000 volumes are on the shelves at a given time), Oodi is allowed to embrace emerging technology—including book-sorting robots—to create new opportunities to access books. The library's 3.4 million other volumes are available, for example, through a much larger, cutting-edge distribution system. It's an exciting, new space, miles away from the old idea of libraries as dark, immovable, and quiet temples. Antti Nousjoki, one of ALA's three partners, says, "Oodi is a large public forum of thought and action operating under the library organization, but with a range of reach and functionality well beyond a traditional book depository."
Calgary Central Library (Calgary, Alberta)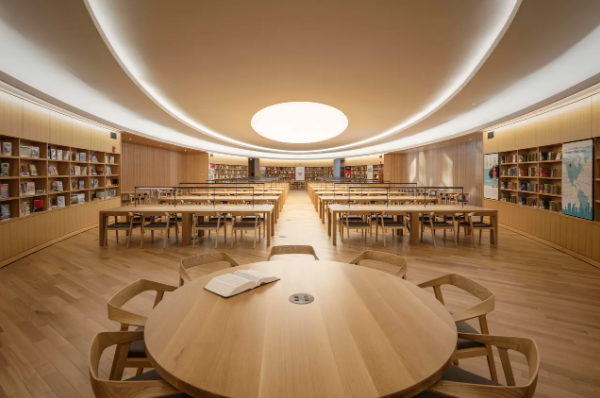 As one of Canada's most anticipated projects of 2018, Calgary's new Central Library opened on November 1 of that year as a design-forward response to the city's fast-growing library system. The $245-million project, designed by Norwegian architecture firm Snøhetta and Canadian firm Dialog, pulls inspiration from Alberta's arch-shaped Chinook cloud formations. The façade's interlocking hexagonal pattern speaks to the library's focus on the collective community, as does the fact that all sides of the building function as its front. Inside, sustainably sourced western red cedar interiors juxtapose a sleek digital learning lab with gaming and podcasting programs. "By investing in their Central Library to create an open platform for making, not just taking, the city has opened a new door into a future that banks on a culture of creativity and innovation," says Snøhetta's founding partner Craig Dykers. Works by indigenous artists are prominently featured as part of a $500,000 Indigenous Placemaking project, marking a step forward in the library's goal of inclusivity.
Qatar National Library (Doha, Qatar)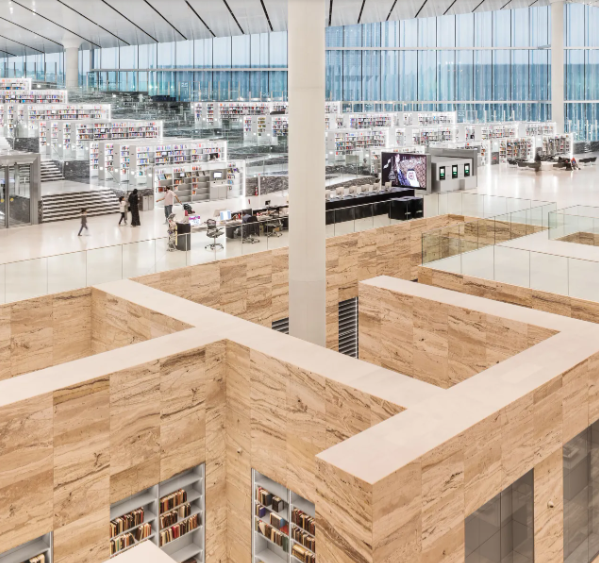 The wow factor of the Qatar National Library begins at its entrance, which immediately brings visitors to the center of a 485,000-square-foot space designed by Dutch firm OMA. With over a million books from the Doha's National Library, Public Library, and University Library, the library's collections are best perused via the "people mover" (a cross between an elevator and an escalator). Since opening in 2017, the library's programming has focused on bridging the past and present through concerts and an exposition of historical archives in six-meter-deep glass vitrines, symbolizing an excavation site. "From the main library in the plaza, you can look down and see all the books from the Heritage Collection, " says Vincent Kersten, Senior Architect at OMA. "It's not only a storage but also an exhibition."
Austin Central Library (Austin, Texas)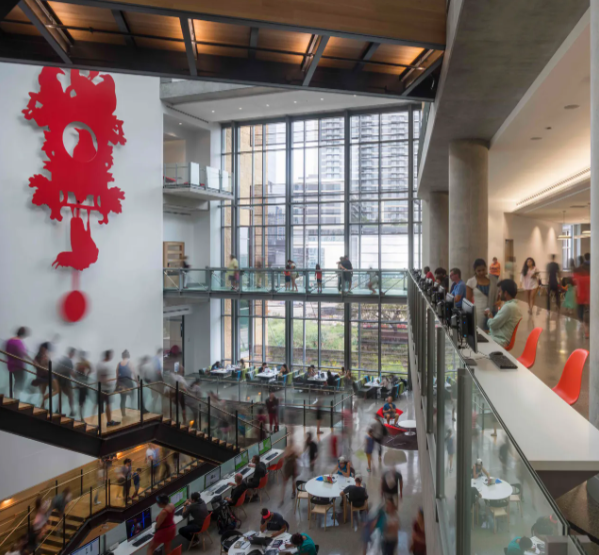 Heralded as the most day-lit library in the US, the $120 million Austin Central Library has attracted attention for its hyper-flexible design and sustainable resource use. The joint venture between architectural firms Lake Flato and Shepley Bulfinch was completed in 2017 and responds to Texas's droughts with a 373,000-gallon rainwater system created from a concrete vault that existed on the site. "It represented a challenge and an opportunity. Removal would have been expensive but its location gave us the chance to capture all the rainwater from the roof of the library," says Sidney R. Bowen, managing principal at Shepley Bulfinch. In addition to its light-filled atrium, the library embraces the outdoor life of Austinites with two reading porches and a roof terrace shaded by solar panels.
James B. Hunt Jr. Library (Raleigh, North Carolina)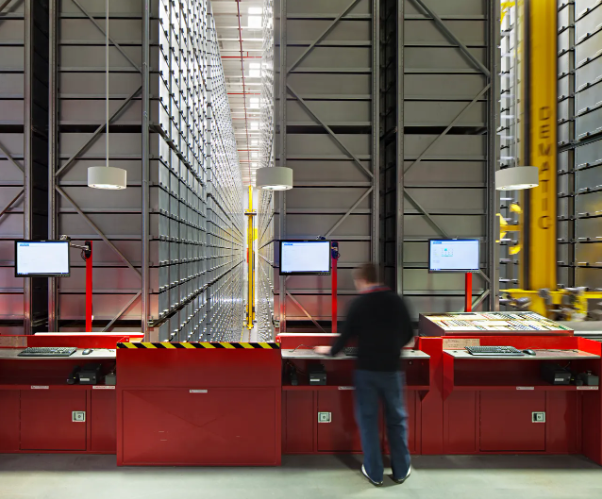 The canary yellow stairway isn't the only thing that's pleasantly "disruptive" about the North Carolina State University's revamped Hunt Library. The Snøhetta-designed building, completed in 2013, eschews traditionally introverted spaces in favor of surprising design features and stimulating technology zones. Interactive digital surfaces and HD video display screens are scattered throughout the building, as are creative spaces that include a video game development lab. With North Carolina's state energy requirements being stricter than LEED requirements, several sustainability measures were implemented. Solar panels line a high-albedo roof built to control the interior climate. And thanks to a sleek automated book-retrieval system, the library was able to cut its space in half—delivering high-design and innovation in less than 220,000 square feet.
Tianjin Binhai Library (Tianjin, China)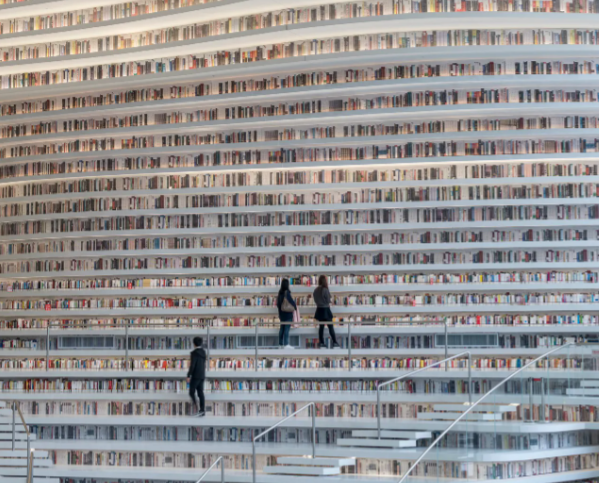 It's no surprise that images of the Tianjin Binhai Library went viral when the building opened its doors in 2017 to receive over 10,000 visitors per day. The futuristic library, designed by Dutch firm Mvrdv, features an atrium with floor-to-ceiling shelving that appears to house an endless number of books. There's a catch though: Not all of the books are real. Inaccessible shelves have been filled with aluminum plates digitally printed with book images. Regardless of this controversial detail, the building's social media popularity has turned the project into Tianjin's number one tourist attraction and a testament to the important role of design in library attendance.
The Arabian Library (Scottsdale, Arizona)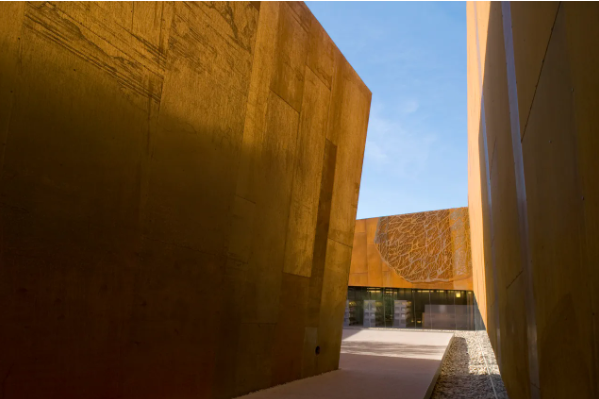 Inspired by Arizona's slot canyons, the Arabian Library's distinctive pre-rusted steel façade makes it one of Scottsdale's most expressive buildings. The interiors were designed to feel more like a retail-store-meets-living-room than a traditional library, encouraging younger generations to check out a book using the self-serve kiosks or read in one of the library's many Herman Miller chairs. Despite all the activity, Phoenix-based architecture firm richärd+bauer wanted to ensure the library offered a calm escape and pay homage to the environment. Thanks to its use of sustainable materials, including recycled cotton, for insulation and recycled perforated MDF board for the ceilings, the library received the 2008 IIDA/Metropolis Smart Environments Award. More than a decade later, its parking lot—filled with charging stations for alternative fuel vehicles—is rarely empty.
The Joe and Rika Mansueto Library (Chicago, Illinois)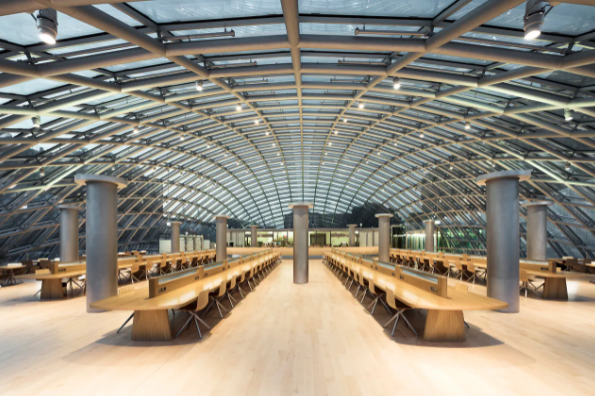 At first glance, the University of Chicago's Mansueto Library almost appears to be out of a sci-fi film. Its 3.5 million books are stored underground in a repository tended by robotic cranes, while a glass dome covers an expansive reading room upstairs. "By putting the book storage below, we were free to create an open and luminous space," says Chicago-based architect Helmut Jahn about the project, which was completed in 2011. Upper sections of the dome's glass panes feature patterning that blocks heat and UV rays, ensuring that the atmosphere is comfortable for up to 180 students at a time. Though the University of Chicago doesn't have an architecture program, notes Jahn, the library is a perfect match for the physics and science departments' devotion to innovation.
Philological Library (Berlin, Germany)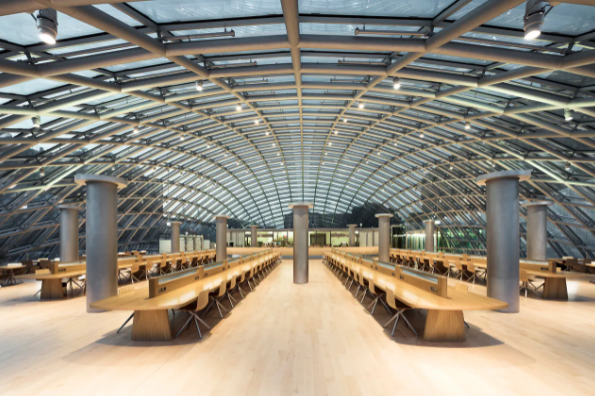 Nicknamed the "Berlin brain" for its cranial form, the Philological Library on the campus of the Free University of Berlin has been applauded for its eco-intelligent structure since opening in 2005. British architect Norman Foster spent years researching and experimenting with how buildings can employ active and passive technologies to increase energy efficiency. As a result, the building's naturally ventilated, bubble-like enclosure consists of three parts. The external shell features aluminum and glazed panels that regulate the internal temperature. The supporting steel frame, formed from radial geometries, separates the inner and outer layers. And lastly, a translucent inner membrane filters daylight, allowing just the right amount of ambient light to shine through and create a perfect studying environment.
Seattle Library (Washington, United States)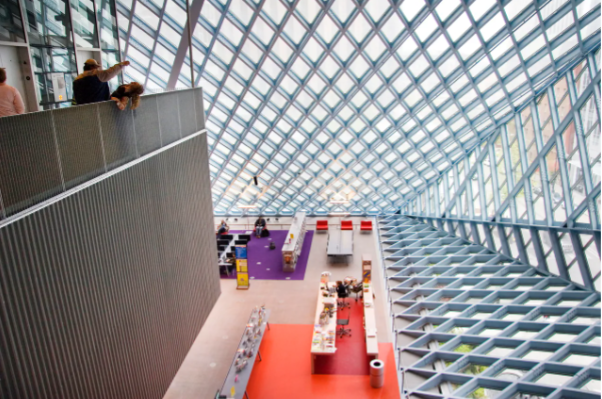 Opened in 2004, an 11-story glass and steel building designed by OMA/Rem houses the flagship branch of the Seattle Public Library system. Able to hold over one and half million books, the building was designed to accommodate a change in the requirements of these cultural institutions. "The Seattle Central Library redefines the library as an institution no longer exclusively dedicated to the book, but as an information store where all potent forms of media—new and old—are presented equally and legibly," the firm shared on a write up published on Arch Daily. The designers opted to create "tailored flexibility," where specific sections are equipped for different duties, but are versatile within.
Black Diamond (Copenhagen, Denmark)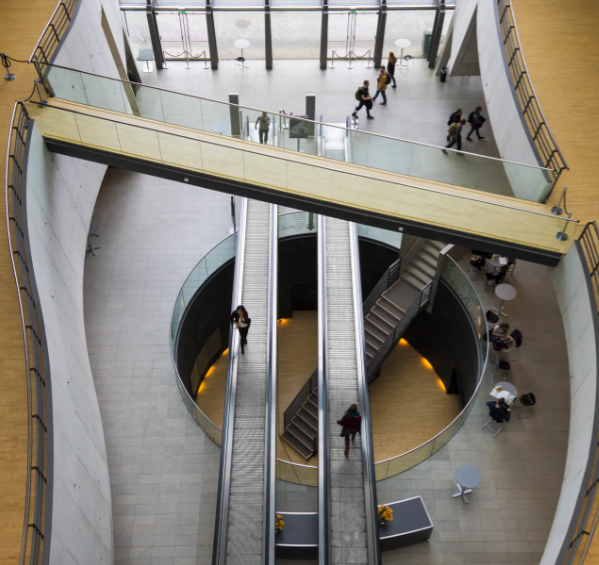 Designed as a modern waterfront expansion to the Royal Danish Library, the Black Diamond offers art exhibitions, concerts, and a café, in addition to the books and reading rooms in the modern space. Designed by the Danish firm Schmidt Hammer Lassen Architects, the monolithic structure contains 450 rooms across eight floors. The front façade of the building contains 26,909 square feet of absolute black granite from Zimbabwe. Vistors will find a number of art works throughout the space for their enjoyment in addition to a sound art performance every day at 1 p.m. in the central atrium. Played through a special built-in 12-channel speaker system, Danish composer Jens Vilhelm Pedersen wrote 52 pieces of music—one for each week of the year—inspired by pieces within the library's collection.
Stuttgart City Library (Stuttgart, Germany)
Stuttgart City Library was designed by Yi Architects and opened in 2011. The site for the institution was specifically chosen as a future city center, and the final design honored both this forward-thinking and culturally important locale. Appearing like a large cubic monolith on the exterior, the stark white and bright interiors nod to the library's distinctly modern point of view. Still, the design doesn't completely disown tradition—the core of the library was inspired by the pantheon.
Vennesla Library (Vennesla, Norway)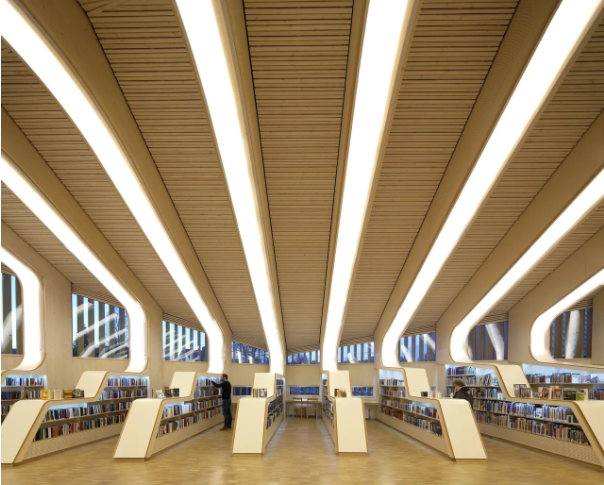 Nestled between two existing buildings, the design brief for the a new library in Vennesla was ambitious. The city was looking for an energy-efficient building that would not only encourage more people to visit the library, but that could also house various activities including concerts, plays, and exhibitions. Architecture firm Helen & Hard won the design competition based on their concept of an all wood and glass cultural hub. The library is based on 27 ribs, which inform the ceiling's structure, book shelves, and study nooks.
Book Mountain (Spijkenisse, the Netherlands)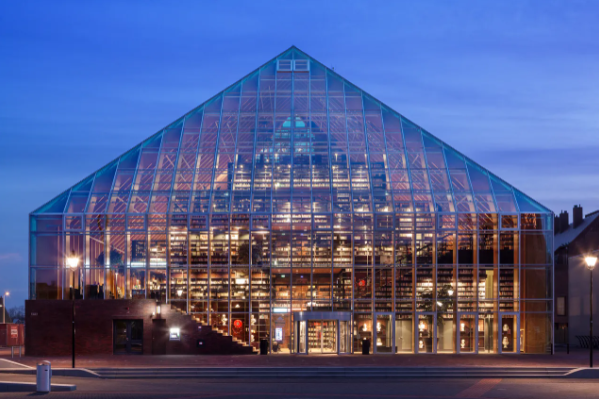 MVRDV was responsible for Book Mountain in the Netherlands, which the firm describes as a "monument to the power and pleasure of reading." Its sheer size and visibility support this statement, while its all-glass façade makes the books an integral part of the building's appearance. Further, the pitched roof is a reference to Dutch farmhouses, providing a unique sense of place for the monumental building. In addition to books and research materials, visitors can also find a chess club, auditorium, environmental education center, meeting rooms, commercial offices, and retail space within the building.
Starfield Library (Seoul, South Korea)
The 42-foot tall curved bookshelves are certainly the standout feature of the Starfield Library in Seoul. Designed by Gensler, the library is a part of COEX, a subterranean shopping and lifestyle complex. Appropriate for a futuristic library, the cultural center has a collection of iPads available for patrons who wish to read ebooks in addition to the wide breadth of print materials.
Architectural Digest by Julia Eskins & Karen Burnstein (Oct. 4, 2023)