Celebrate the season with vibrant furnishings, containers and plantings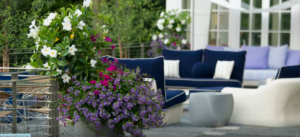 Let's explore how to refresh a terrace in time for spring.
The chill may still linger, but spring––at least according to the calendar––is upon us. With the season of rebirth come opportunities to connect with nature, be it in the city or country, and splash our porches, patios and terraces with bold, vibrant colors.
"Nature has an incredible palette all her own," said Monique Tollgård of Tollgård Design Group in London. "Add to this the architectural elements that are the backdrop of a terrace and we have a lot to play with."
Three design pros to share their thoughts on refreshing a terrace with color this spring. Here's what they recommend.
Go With Bold, Colorful Furnishings, Influenced by Nature
"In spring, fresh colors like pea green and crocus lavender can lift spirits. In fact, these shades can complement actual plantings on the terrace. The usual suspects that are regular reds, blues and yellows are too primary. Colors that come from nature present a calming vibe and can please almost anyone. These colors can include sunny yellows, leafy greens, and vegetal colors like eggplant, tomato and carrot.
"We love Paola Lenti's designs and incorporated her sofa, lounge chairs and counter- height stools on the rooftop. Her materials are innovative, and her color choices are exquisite. We incorporated a nice mix of an eggplant-purple and leafy greens, which gives the penthouse rooftop a pop of color. The green chairs also match the greenery of Central Park that one has a perfect view of from the penthouse rooftop."
—Calvin Tsao of TsAO & McKOWN Architects in New York
Introduce Colorful Containers with Annuals and Perennials
"When I design container plantings, I like to emphasize style, as well as the plants themselves. The style and material of the container are as important as the plant material, and should echo the style of the house and the garden that it embellishes. One point—if your color preferences are muted and neutral tones, consider that outside in the garden our sensibilities are different. The wide-open scale and proportions, the overhead blue sky, bright sunlight and changing light welcome varied colors, textures and scents..
"Some of our favorite plants for color include sweet potato vine, Hydrangea macrophylla 'Summer Crush,' Lavender and Ice Plant––it's deer-resistant, heat, drought and salt tolerant.
"Try tulips, daffodils, hyacinth or snow drops, and overplant with a hearty evergreen vine like vinca, ivy or euonymus. Early spring favorites, hellebore and guinea-hen flower, mix beautifully with pansy, viola and ranunculus. These stunning flowering plants are all easily adapted to survive a sudden cold snap and can often be transplanted to a shady spot in the garden once it's time to switch your containers to summer plantings.
"Annual favorites for colorful leaves include caladium, canna, coleus and begonia. These leafy plants tend to wilt in the sun, so just make sure to keep them well watered. They will do fine in the shade."
—Landscape Architect Janice Parker in Greenwich, Connecticut
Color a Terrace With Accessories
"Colorful accessories add joy to a scheme and remind us of the color and variety that nature has to offer. They also bring the interior decorative scheme out to another space, encouraging the sense that the design of the home extends into each and every space.
"Our accessories start with the all-important foundation of a terrace: the outdoor rug. This is the layer that can transform a terrace from something that you want to look at to a space that you want to go outside and visit. The smaller choices range from small planters for colorful succulents, decorative cushions, cozy blankets, trays, plastic glasses, and jugs and lanterns.
"Unless you are prepared to bring outdoor cushions back inside at the end of each day, you need to choose an outdoor fabric that has a high fade resistance and uses outdoor foam that dries quickly. We prefer to use fabrics that combine colors in a small-scale geometric pattern rather than big blocks of single colors. We like to make sure we use a variety of [pillow] sizes, using some plainer colors or textures at the back in larger sizes (around the same or a little smaller than the height of the sofa) and then layering more colorful ones in front."
Designer Monique Tollgard said colorful accessories bring the interior scheme outdoors.  (Richard Gooding Photography)
—Designer Monique Tollgård in London
Mansion Global March 29, 2023 (Tracy Kaler)