From home security tools that can detect porch pirates to brilliant microwave makeovers.
Whether you're a tech wiz, design enthusiast, or you're simply looking for ways to upgrade life at home, CES 2022—one of the world's most influential tech events—was full of exciting innovation revelations and visions for the future of life as we know it. While knowing where to begin with installing smart home technology and the best home gadget buys can seem pretty tedious, here are 10 top smart home products to watch this year. From Wi-Fi enabled faucets that will ensure your bath ritual is perfect every time to the world's first residential smart doors, there is a lot of fascinating new tech coming to the market in 2022 that will improve, elevate, and simplify our daily routines.
Not all of these exciting smart home innovations are available just yet, however all of these new features are worth keeping tabs on this year while we wait for them to be available for use in our dwellings. What is great about the following products is they promise to be user-friendly no matter how comfortable you are (or aren't) with the latest tech.
1. AI-Powered Laundry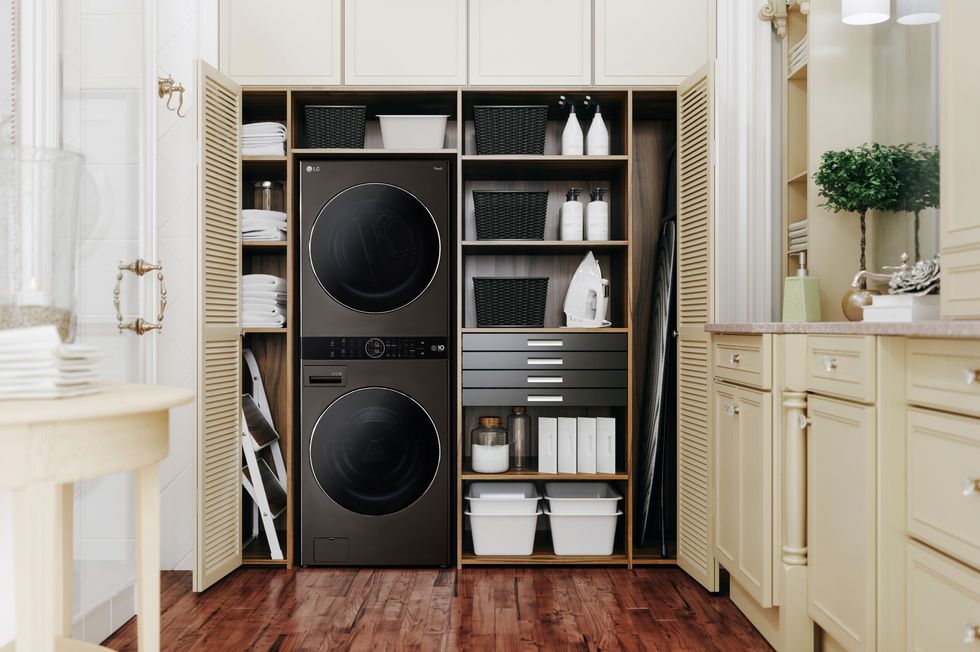 LG had many exciting announcement at this year's event, and especially in the ways it's leveraging artificial intelligence to boost our daily chores. LG's newest WashTower washer and dryer pair harnesses Artificial Intelligence Direct Drive (AI DD™) technology, which makes laundering more convenient than ever before.
The new WashTower can sense load size, fabric type, and even how soiled an item of clothing is, automatically utilizing the ideal amount of detergent and wash style for gentle care. The new washer also employs LG's steam technology to ensure clothes always come out refreshed and clean. The Smart Pairing feature sends information from the washer to the dryer to suggest the optimal drying cycle as well. Your clothes and linens will have never looked better.
2. Hands-Free Handles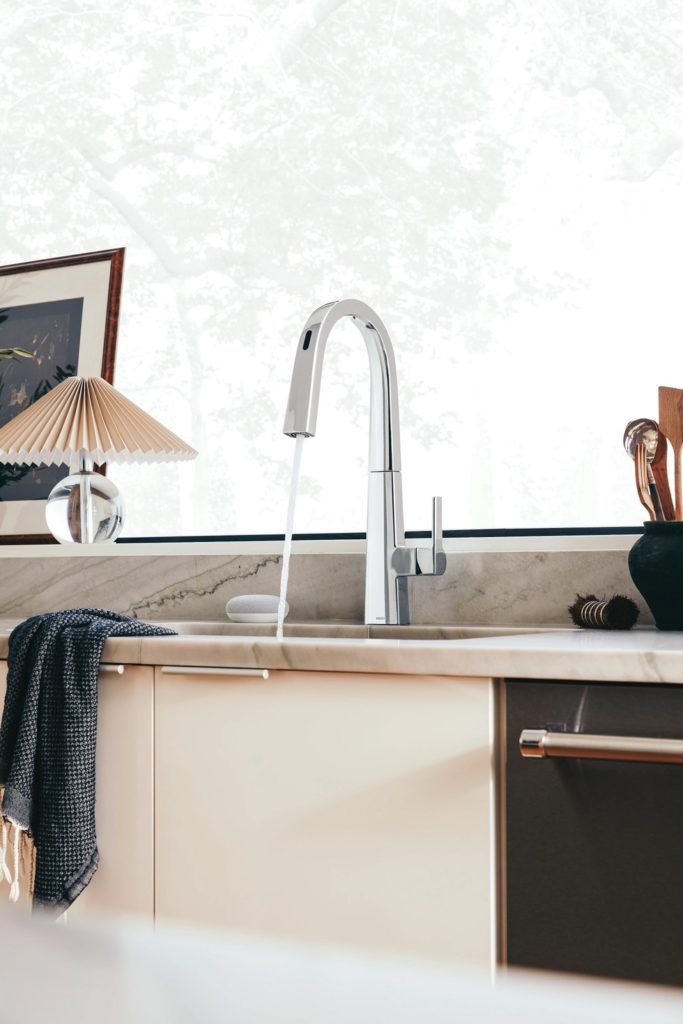 In the wake of a pandemic, many of the biggest conversations in tech were about creating fewer pathways for spreading germs. A few of the latest innovations that works in part to prevent the spread of illness is Moen's sleek Smart Faucet (shown here) and eToilet.
The Smart Faucet allows users to control temperature and water flow by using simple hand motions and one version has been designed without a handle. This gadget is also voice-activated to offer more flexibility and personalization options to the consumer. This product will integrate with Moen's Smart Water products that aid in winterization and burst protection.
The 5 Series eToilet is of special interest due to its auto-close and flush capabilities as well as its ability to pre-wet the bowl prior to use in order for the toilet to remain cleaner longer without any chemical cleaning products. There's even a deodorizing system to keep the whole room fresh.
3. Next-Level Smart Blinds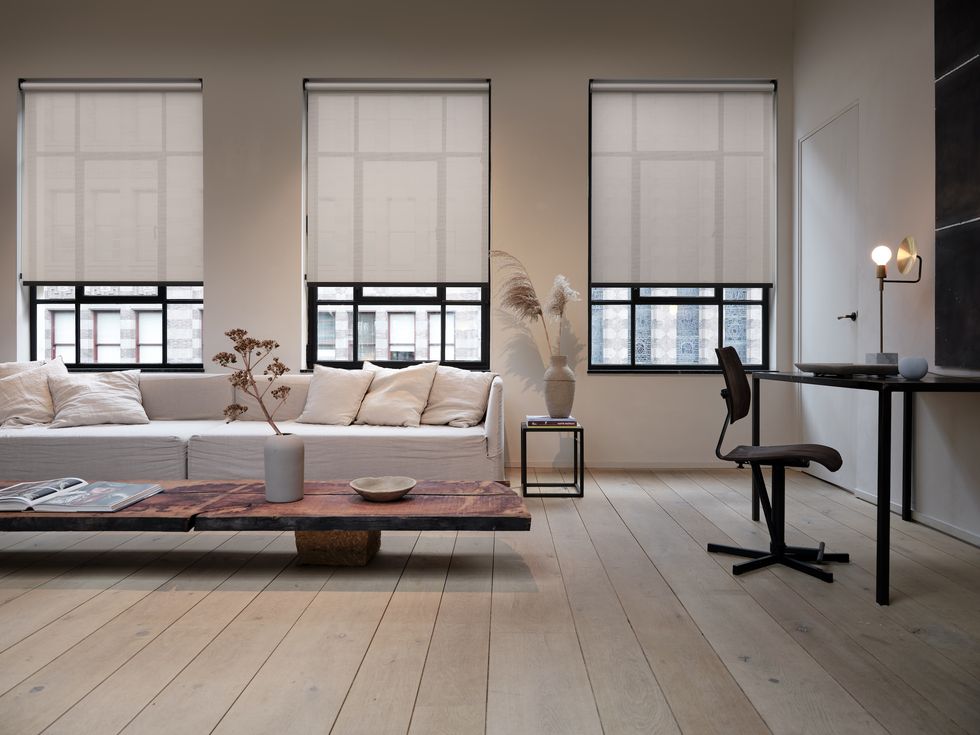 Smart blinds aren't exactly a new concept, but Eve Home's MotionBlinds, designed in collaboration with window coverings specialist Coulisse, are the first connected blinds and shades motors to support Thread technology and works with Apple HomeKit and Bluetooth for a seamless experience.
The product is designed with user-friendliness in mind and simplifies installation: simply scan the HomeKit setup with a smart phone. Plus, the MotionBlinds safeguard consumer privacy as all data is stored on the motor rather than a cloud.
4. Do-It-All Air Purifiers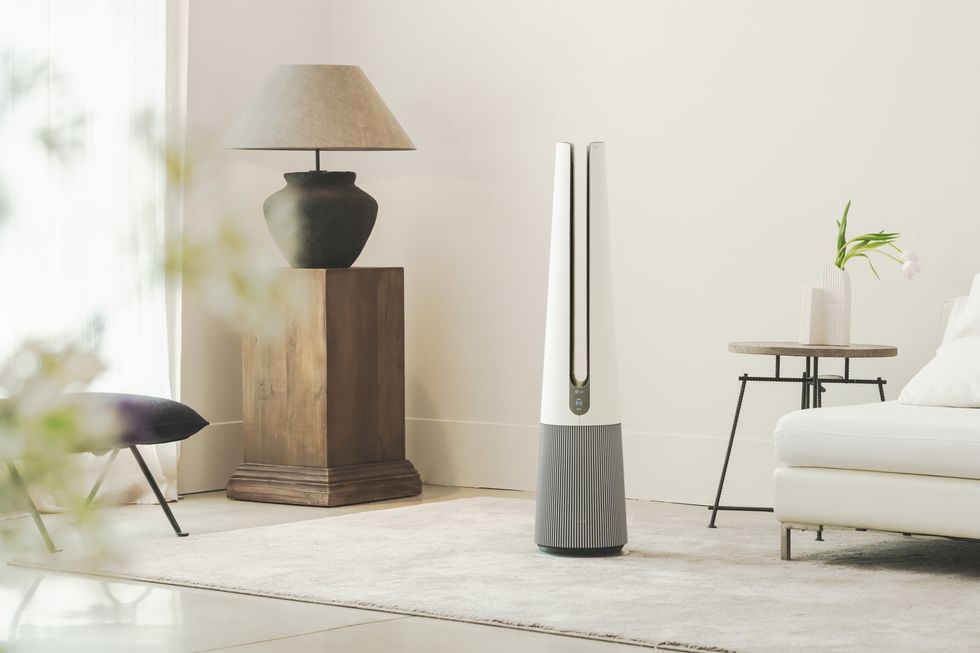 LG is rethinking air purifier technology as we know it by creating a stylish, versatile product that serves as a purifier, fan and heater. The PuriCare™ AeroTower Air Purifying Fan offers a personalized heating or cooling experience while delivering clean filtered air.
Offered in Beige and Silver, these sleek models offer quiet yet powerful breezes. LG UVnano™ technology which employs ultraviolet-C light to reduce the presence of bacteria that often collect on the fan and the product is able to capture 99.97 percent of different types of particulates, thanks to multi-stage True HEPA filters.
5. Home Entertainment Gets Solar Powered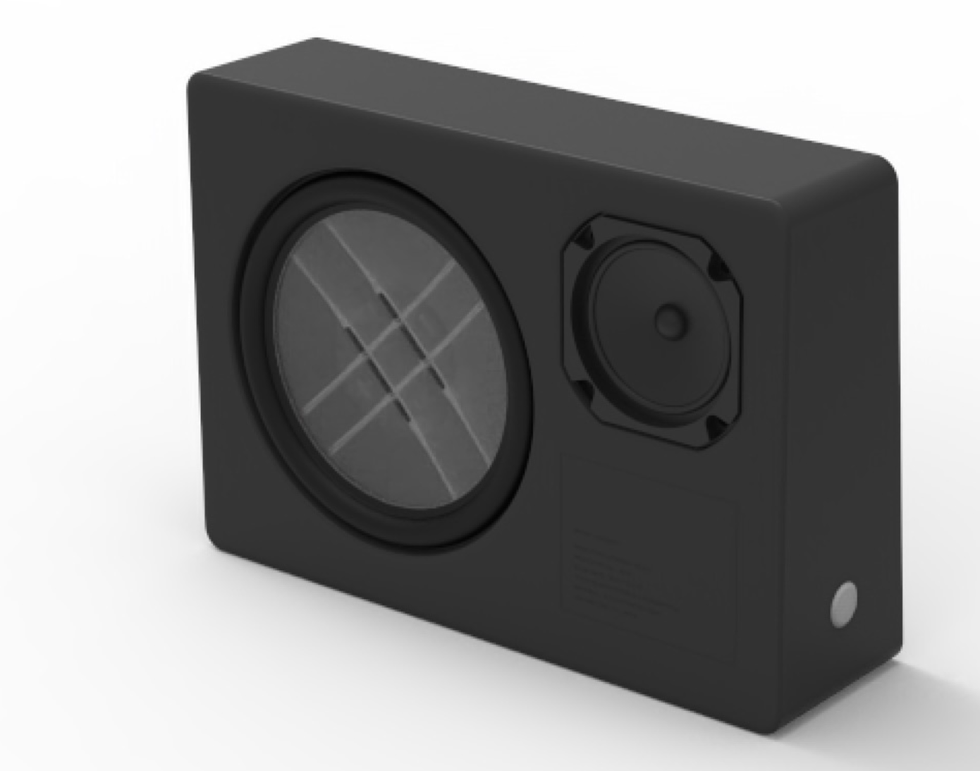 Thanks to the latest home entertainment innovations featured at CES 2022, the future of at-home gatherings is bright. New technology, such as Mahyt's HeartMotion (shown here) and Samsung's Eco Remote that was first introduced in 2021 but has been revamped for 2022, proves that solar-powered devices will dominate the market in coming years, so the party never has to stop. Both products don't have to fully rely on solar power as they can harness any type of light source for power—and the Eco Remote can even be charged via Wi-Fi routers.
6. New (Smart) Doors on the Block
One of the most innovative home security innovations to come out of CES is a collaboration between Masonite, Ring, and Yale Home. The powerhouse team debuted the M-Pwr Smart Door at this year's event, which is the first residential exterior door to integrate power, lights, a video doorbell, and a smart lock into the door system. The combination of Masonite's top-tier fiberglass doors, Ring's popular doorbell security system, and Yale's smart locks, these doors are surely the future of home safety.
Special technology ensures the door is always connected to the home's electrical system and wireless internet network and an emergency back-up battery can power the door for 24 hours in the event of a power outage when fully charged.
7. Turn Any Room Into a Movie Theater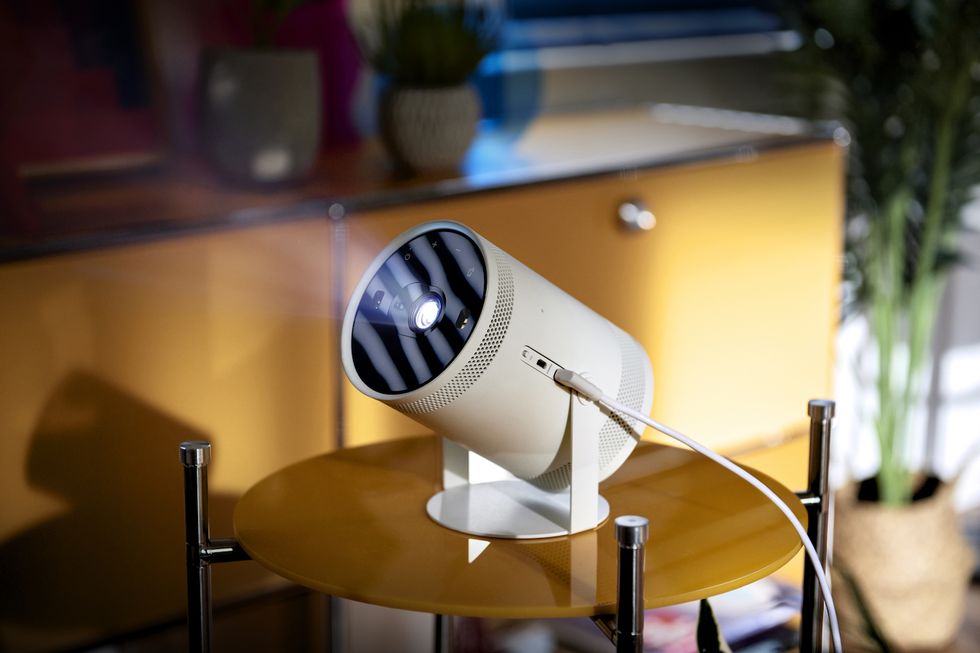 One of the most buzzy debuts of CES 2022 was Samsung's Freestyle projector, which is modeled after an old-school stage light while featuring all the bells and whistles of the future. The small gadget connects to Bluetooth, allowing anywhere to become a bonafide movie theater. The 180 degree design allows users to point, play and enjoy a big screen while offering 360 degree sound for a premium cinematic experience. The Freestyle also has the ability to access streaming apps, blast a favorite playlist, and utilize voice assistants.
8. Home Security with All the Bells and Whistles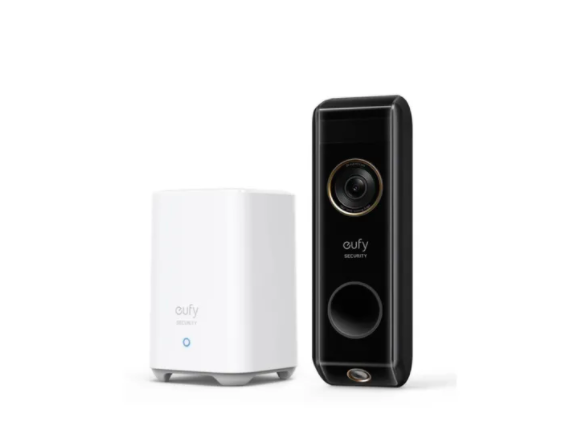 It's not just front doors that are getting the home security treatment. Smart doorbells, which have become a popular source of home safety tech, are getting even more useful. Eufy Security has debuted the Video Doorbell Dual with one camera that can capture the face and body of a visitor while another camera is able to monitor packages left on the doorstep to protect against porch pirates. The brand has also announced the launch of the Garage Cam, which acts as a garage door controller and security camera in one gadget.
9. Tech-Enhanced Self-Care Rituals
It's only natural that the self-care industry is also getting a digital revamp. Kohler has just introduced its PerfectFill smart bathing technology uses a built-in voice assistant to ensure your tub's water is the right depth and temperature every time—it can even control the way a tub drains.
And of course, the PerfectFill technology news comes on the heels of last year's product unveiling from Kohler: the smart Stillness Bath, which will finally be on the market in 2022. This futuristic freestanding tub harnesses water, light, fog, and aromas to create a spa-like, transportive bathing experience.
10. The Microwave Makes A Glorious Return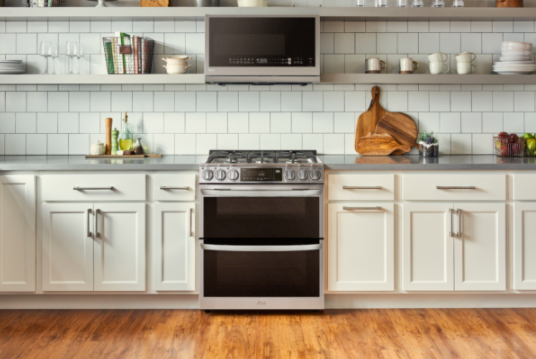 While many have predicted the death of the microwave as sales have declined for the last 20 years, LG is rethinking the way this once-revolutionary appliance functions for the modern family. The company's new Kitchen Duo consists of an LG InstaView® Double Oven Range and Over-the-Range Microwave Oven that offers seamless integration with more new tech: the LG ThinQ™ Recipe service. This technology allows users to search, plan, purchase and cook, following hundreds of easy-to-follow recipes. Many of the built-in recipes are shop-able, turning a single recipe or a weekly meal plan into a grocery delivery order from Amazon Fresh or Wal-Mart.
The Over-the-Range Microwave Oven uses Steam Cook Technology to make foods juicier, healthier, and more delicious while the Slide-out ExtendaVent works to reduce the presence of smoke and kitchen odors. An EasyClean interior makes this product a cinch to get looking like new again, thanks to an advance coating that prevents buildup of food and grease. Welcome to the next generation of microwave cooking.
Veranda Jan 7, 2022 (Lauren Wicks)