Designed by world-renowned architects such as Zaha Hadid and Santiago Calatrava, these bridges are travel destinations in their own right.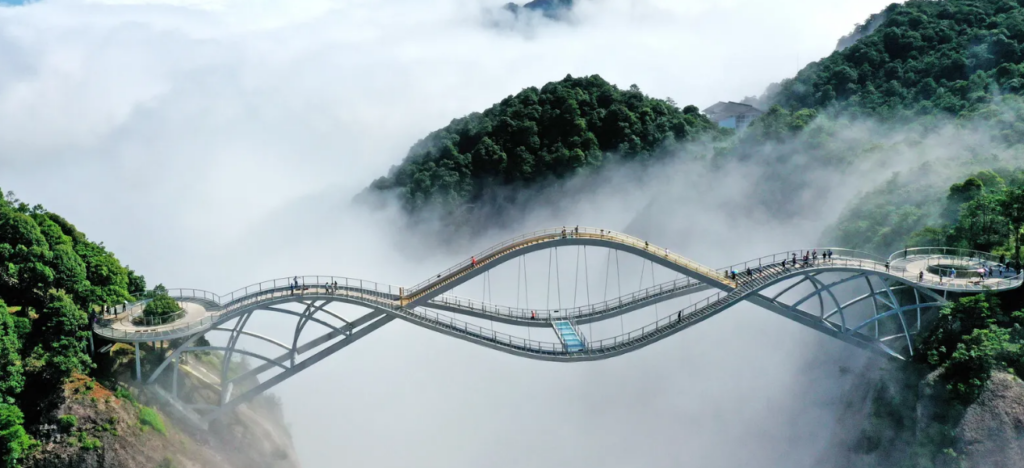 XIANJU, CHINA – JUNE 12 2021: A view of Ruyi Bridge, a bending glass-bottomed structure spanning across a canyon in Shenxianju scenic zone, in the clouds in Xianju county in east China's Zhejiang province Saturday, June 12, 2021. (Photo credit should read Feature China/Future Publishing via Getty Images)
In the world of architecture, perhaps nothing is more utilitarian than a bridge. Indeed, not only do these spanning structures allow us to safely pass over a gap, but unlike some skyscrapers and homes, everyone has access to a bridge. And just because they are functional it does not mean they have to be ordinary in design. In fact, it's in bridges that some of the world's biggest architects show what their creative minds are capable of. From the Zaha Hadid–designed bridge in Abu Dhabi to perhaps the lesser known Khaju Bridge in Isfahan, Iran, AD rounds up 27 of the world's most beautiful bridges. In function, they allow us to reach the other side of the divide. In form, however, they do something else entirely.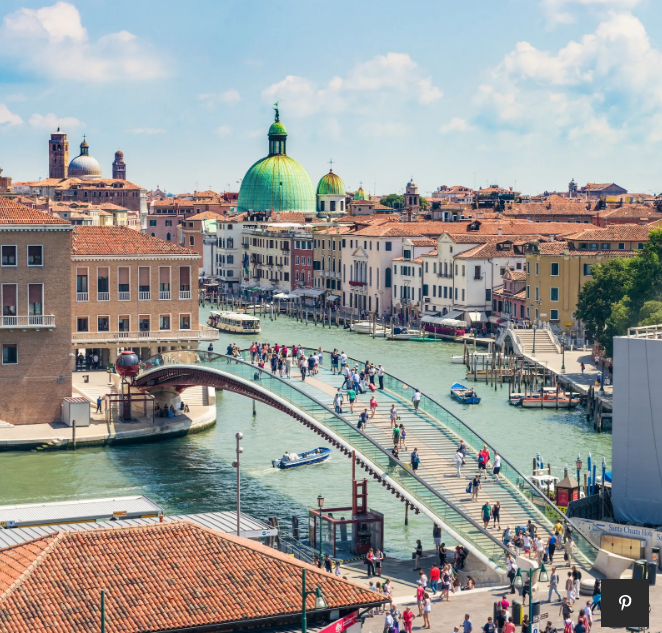 Constitution Bridge (Venice, Italy)
Completed in 2008, Venice's Constitution Bridge is an iconic landmark that stands out within a city packed with incredible architecture. Designed by starchitect Santiago Calatrava, the structure is equally as beautiful to look at from above as it is from below (which is a concave, ribbed design).
Henderson Waves Bridge (Singapore)
At it's highest point Henderson Waves bridge is just over 118 feet, making it Singapore's tallest bridge. The modern pedestrian bridge is surrounded by the regions lush natural foliage. Designed by the U.S.-based firm RSP Architects, Henderson Waves bridge connects Mount Faber Park and Telok Blangah Hill Park.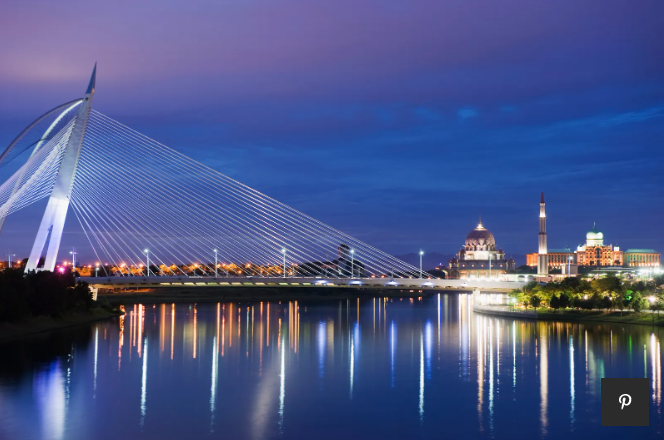 Seri Wawasan Bridge (Putrajaya, Malaysia)
Completed in 2003, the Seri Wawasan Bridge was designed by the Kuala Lumpur-based firm, PJSI Consultants, and is located in Putrajaya, Malaysia.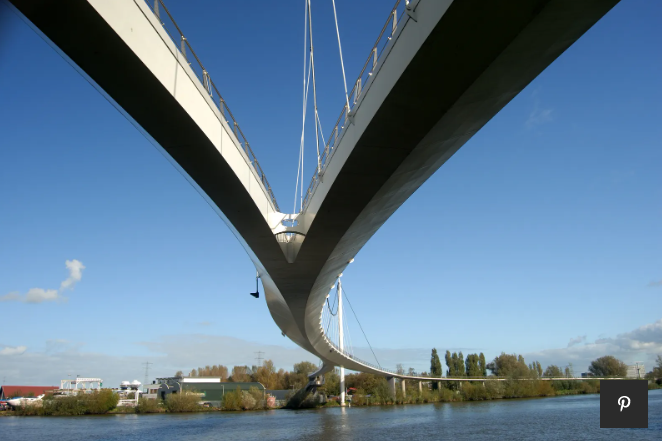 Nescio Bridge (Amsterdam, Netherlands)
Completed in 2006, Amsterdam's Nescio Bridge was so breathtaking in beauty and form that it won three major awards in a two-year span. Designed by the London-based WilkinsonEyre, the total length of the structure spans almost 2,600 feet, carrying pedestrians and cyclists over the Amsterdam–Rhine Canal.
Rialto Bridge (Venice, Italy)
Venice's Rialto Bridge, which was built in the 16th century, is the oldest bridge still standing over the city's Grand Canal.
Zubizuri (Bilbao, Spain)
The Zubizuri footbridge (which also goes by the names Campo Volantin Bridge and Puente del Campo Volantin) was built in 1997. Designed by the legendary architect Santiago Calatrava, the structure is located in Bilbao, Spain.
Manhattan Bridge (New York City, USA)
When the Manhattan Bridge was completed in 1912, it took the Brooklyn Bridge's place for the longest bridge in the city. Spanning some 6,855 feet across the East River, the Manhattan Bridge was designed by Leon Moisseiff. Today, hundreds of thousands of commuters use the bridge, crossing by automobile, subway train, bicycle, or on foot.
Sheikh Zayed Bridge (Abu Dhabi, United Arab Emirates)
Designed by the late Zaha Hadid, Abu Dhabi's Sheikh Zayed Bridge was completed in 2010 for a total of $300 million.
Széchenyi Chain Bridge (Budapest, Hungary)
Designed by the British-born engineer William Tierney Clark, Budapest's Széchenyi Chain Bridge opened in 1849 and crosses the mighty Danube river.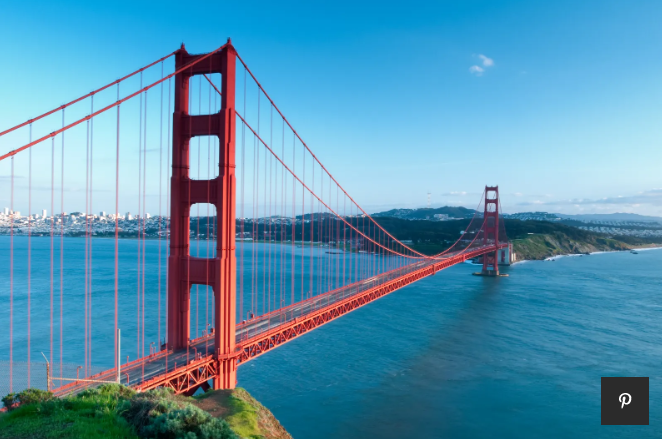 Golden Gate Bridge (San Francisco, USA)
Among the most recognizable structures in the world, San Francisco's Golden Gate Bridge was completed in 1937. Conceived by architect Irving Morrow, the Art Deco-designed building was named one of the Wonders of the Modern World by the American Society of Civil Engineers.
Puente de la Mujer (Buenos Aires, Argentina)
Designed by starchitect Santiago Calatrava, Puente de la Mujer, which was completed in 2001, is located in the commercial district of Buenos Aires.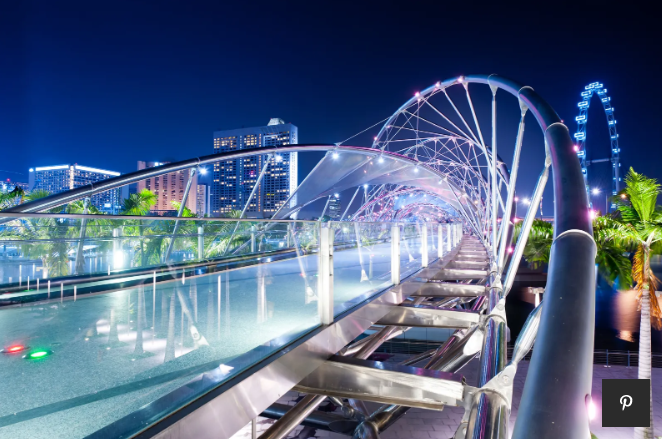 The Helix Bridge (Singapore)
The Helix Bridge twists through the heart of Singapore, linking Marina Centre with Marina South. Completed in 2010, the bridge stands out in a city with modern architectural gems.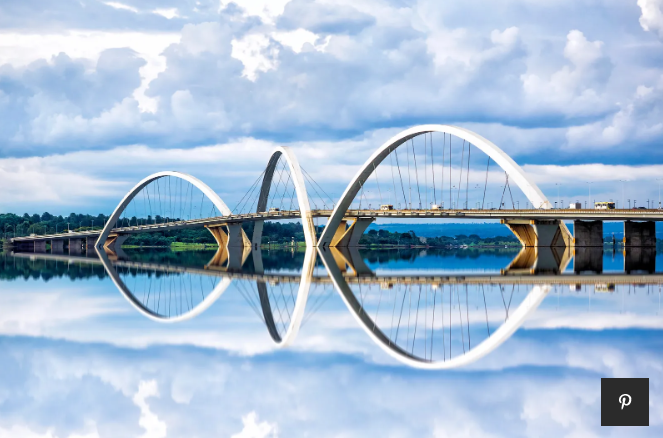 Juscelino Kubitschek Bridge (Brasilia, Brazil)
Located in Brasilia, Brazil, the Juscelino Kubitschek Bridge (also referred to as the JK Bridge) was designed by the architect Alexandre Chan and the structural engineer Mário Vila Verde. When it was completed in 2002, the total cost of the bridge was roughly $57 million.
Millau Viaduct (Creissels, France)
Besides being one of the most beautiful bridges in the world, the Millau Viaduct is also the world's tallest bridge. Running through the valley of the River Tarn near Millau in southern France, the bridge's summit rises some 1,125 feet above the base of the structure. Designed by architect Sir Norman Foster and structural engineer Michel Virlogeux, the bridge opened in 2004.
Charles Bridge (Prague, Czech Republic)
The Charles Bridge, which was completed in the early 1400s, is a historic bridge that crosses the Vltava river in Prague, Czech Republic. Built entirely of stone, the bridge nearly stretches 1,700 feet and is decorated with dozens of statues on both sides.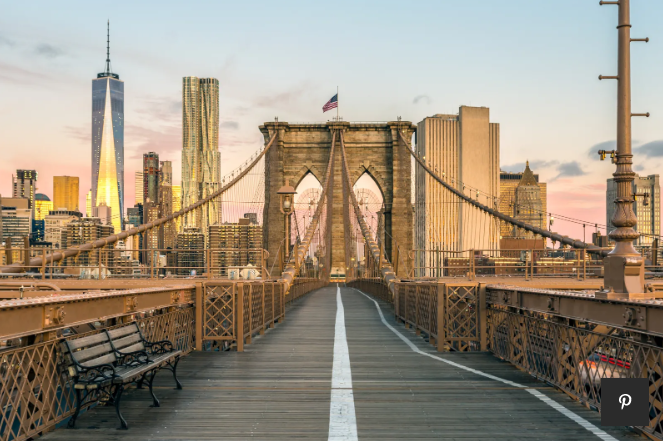 Brooklyn Bridge (New York City, USA)
New York's Brooklyn Bridge is an iconic structure with a rich history. Completed in 1883, the bridge terrified many New Yorkers after a panic on the structure turned into a stampede, leaving 12 people dead. To prove local residents that the bridge was safe, local officials paraded 21 elephants across the length of the Brooklyn Bridge. Today, roughly 150,000 vehicles and pedestrians use it to cross the East River every day.
Khaju Bridge (Isfahan, Iran)
Built in 1650, Isfahan's Khaju Bridge was built at the height of the Safavid dynasty (1501–1736) in modern day Iran. The structure, which is 436 feet long and 40 feet wide, contains 23 arches. Beautiful in the daylight and at night, the Khaju Bridge is a popular public meeting spot.
High Bridge (Amsterdam, Netherlands)
Completed in 2001, Amsterdam's High Bridge (which also goes by the name Python Bridge) was designed by the New York–based firm West 8.
Tower Bridge (London, England)
Today, the iconic Tower Bridge in London is a must-see tourist attraction. Opened in 1894, the bridge allows automobiles and pedestrians to cross the River Thames, while also allowing river traffic to pass, as the bascules can be raised to an angle of 86 degrees.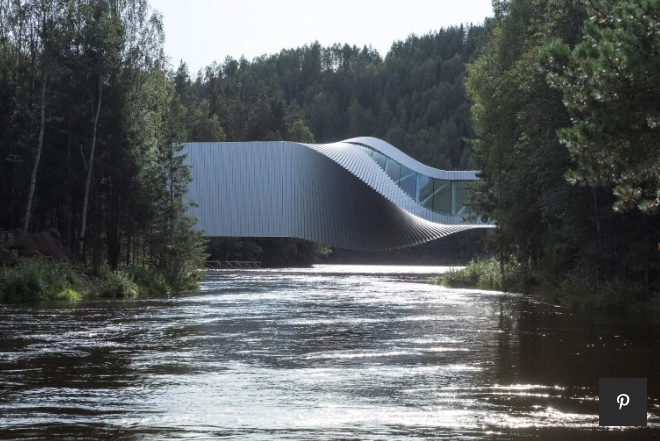 The Twist (Jevnaker, Norway)
Completed in 2019, Bjarke Ingels Group's is three structures in one. Part museum, part bridge, and part sculpture, the nearly 11,000 square-foot art installation primarily acts as a bridge, connecting two forested riverbanks, while also completing the route through Kistefos, northern Europe's largest sculpture park.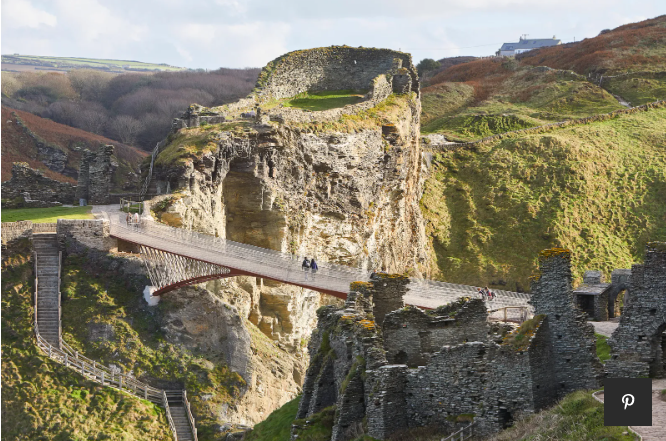 Tintagel Bridge (Tintagel, United Kingdom)
Previously, if you wanted to get to Tintagel Castle, you had to climb up a treacherous road to the top of a mountain. Tintagel Bridge, completed in 2019, reinterprets a historic footbridge that used to connect the divided landscape, though it disappeared between the 14th and 17th centuries. In late 2022, the bridge won the inaugural Building Beauty Awards granted by William Matthews Associates.
Margaret Hunt Hill Bridge (Dallas, USA)
Spanning the Trinity River in Dallas, this modernist bridge was designed by Santiago Calatrava in 2012. The bridge's stunning arch stands at 400 feet tall with 58 strands descending from it.
Skybridge Michigan (Boyne Falls, Michigan)
Claiming the title as the world's longest timber-towered suspension bridge, Skybridge Michigan spans 1,200 feet across Boyne Valley. Hanging 118 feet above the ground, the bridge is particularly popular in the fall among visitors hoping to catch incredible views of the surrounding foliage.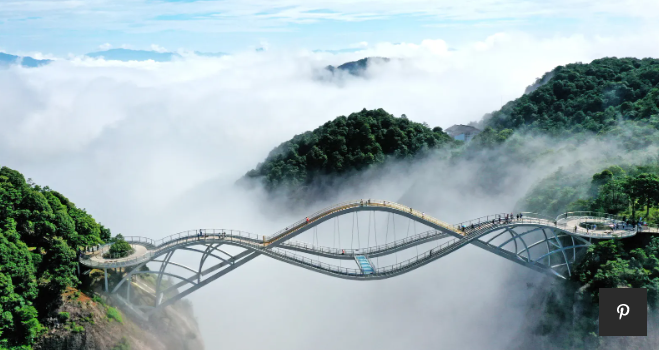 Ruyi Bridge (Zhejiang, China)
Technically three bridges, the Ruyi Bridge is a ribbon-shaped pedestrian bridge crossing China's Shenxianju Valley. Designed by He Yunchang, its construction finished in 2020. Aside from its stunning shape, perhaps the most notable feature is its glass-bottomed floor.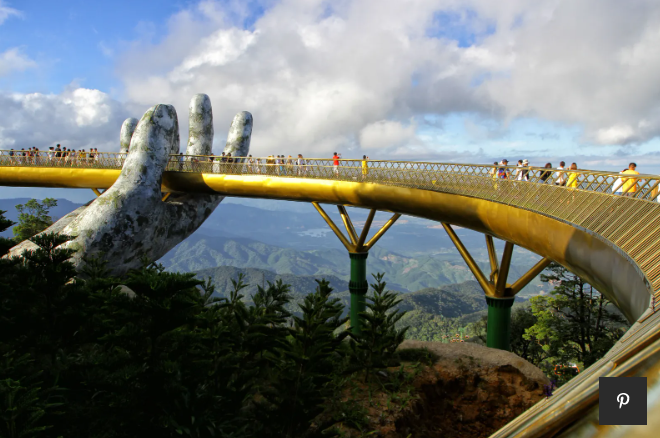 Golden Bridge (Da Nang, Vietnam)
Though it may look like the Golden Bridge in Da Nang is being supported by two oversized hands, rest assured these are mostly for show. Part of the Bà Nà Hills resort, the pedestrian bridge was created to connect a nearby cable car station and gardens.
Laguna Garzon Bridge (Rocha Department and Maldonado Department, Uruguay)
Most known for its unusual shape, this circular bridge was designed to slow down traffic, allowing pedestrians to cross the bridge more safely. Connecting Rocha Department and Maldonado Department in Uruguay, the Laguna Garzon Bridge was designed by Rafael Viñoly.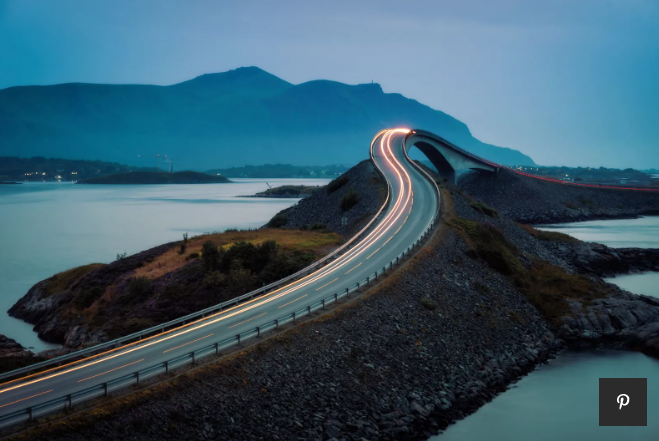 Atlantic Ocean Road (Averøy and Hustadvika, Norway)
Designed to connect an archipelago, Atlantic Ocean Road is a part of County Road 64 in northern Norway. Built in the early '80s, the passageway is now a popular place to shoot car commericals.
Architectural Digest January 2023 (Nick Mafi & Katherine McLaughlin)