Dive into work from Álvaro Siza, Peter Zumthor, Tadao Andō, and other beloved designers
On a hot summer day, a pool is a pool. When all you can think about is cooling off and escaping the heat, if the water is clean and the sun is beating down, function overshadows form. Nevertheless, this doesn't mean aesthetics doesn't matter. Prolific architects have long included pools in their designs as integral elements of a property's visual significance. While these swimming pools beautifully complement the environment they're built for, they are often stunning in their own rights, too. Below, are seven iconic pools designed by some of the biggest names in architecture.
The swimming pool at Das Canoas House, in Rio de Janeiro, Brazil
Architect: Oscar Niemeyer
Built: 1951
Designed by Oscar Niemeyer as his family's home, Das Canoas House is considered a pristine example of modern Brazilian architecture. The boulder anchors the pool and the house while also creating a juxtaposition between the natural and artificial.
Tidal pools at Leça da Palmeira, in Portugal
Architect: Álvaro Siza
Built: 1966
Combining the serenity and safety of a pool with the salt water and sounds of crashing waves from the ocean, the tidal pools at Leça da Palmeira, in Portugal, offer the best of both worlds. Designed by Portuguese architect Álvaro Siza, the beach features two natural pools, which are filled with fresh seawater, and bordered by the rocky terrain to seamlessly blend into the natural environment.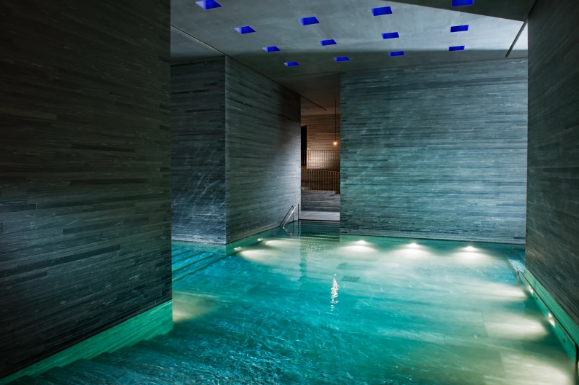 Therme Vals, in Switzerland
Architect: Peter Zumthor
Construction: 1993-1996
Designed by Peter Zumthor, this spa was built over the only thermal springs in Graubünden Canton, in Switzerland. The structure is partially submerged in the hillside—nearly undetectable from the back—and the walls are made from locally quarried quartzite stone. Built up in layers, the 60,000 multitoned strips appear as if a stone were cut in half.

A private swimming pool, in Catalonia
Architect: Ricardo Bofill
Construction: 1973
The red color of this private pool certainly makes a splash. Designed by Spanish architect Ricardo Bofill, the pool is surrounded by an outdoor deck that encircles the entire structure with cascading steps that lead swimmers into the rosy water.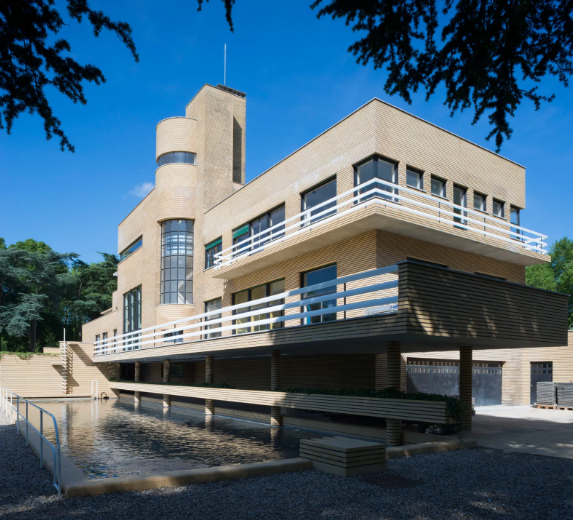 Villa Cavrois Swimming Pool in Croix, France
Architect : Robert Mallet-Stevens
Construction: 1929-1932
This 88.5-foot swimming pool sits directly next to the boiler room at the Villa Cavrois, a 1932 modernist mansion designed by Robert Mallet-Stevens for Paul Cavrois. Hygiene and health were important elements Cavrois wanted expressed through the property, and this swimming pool was one of the ways Mallet-Stevens brought these ideals to life. Visitors can see the property for themselves by visiting the villa Tuesday-Sunday from 10 a.m to 6 p.m.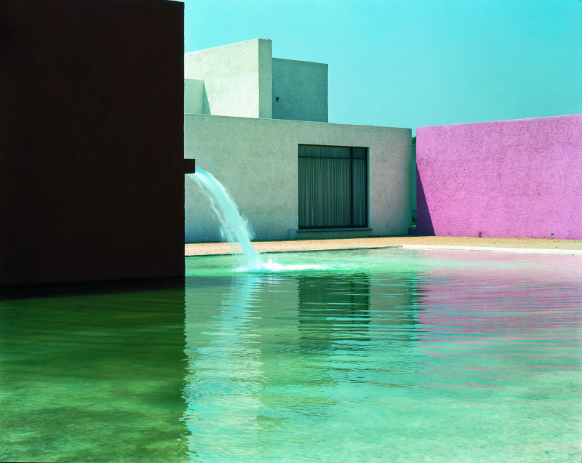 Cuadra San Cristóbal Pool in Los Clubes, Mexico
Architect: Luis Barragán
Construction: 1968
Although the pool at Cuadra San Cristóbal, a private estate, might look inviting, it's actually not designed for humans. Instead, the watering hole is made specifically for horses to swim in and drink from. While this may seem unexpected, it makes perfect sense given the pool borders stables that are on the property.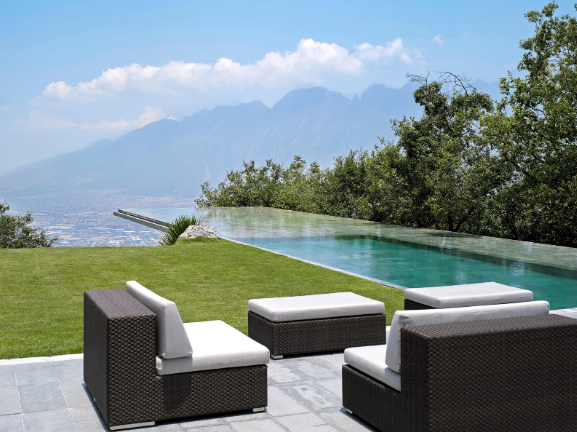 Casa Monterrey, in Monterrey, Mexico
Architect: Tadao Andō
Construction: 2011-2013
This residential property, designed by Tadao Andō just over 10 years ago, features an extraordinary swimming pool that starts on one side of the house and extends into a cantilever overlooking the Sierra Madre mountains.
AD July 19, 2022 (Marina Hemonet)