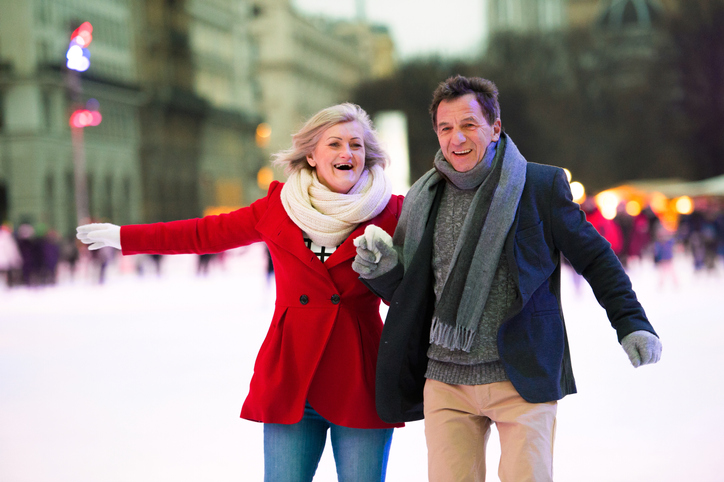 Toronto is alive with activity every winter season. Winter activities here range from lively holiday events for the whole family to fun outdoor activities for the more adventurous people out there.
Find out what's in store in our beautiful city with this list of the 10 best winter activities in Toronto:
Hike on beautiful snowy trails

Toronto offers plenty of picturesque winter hiking trails like the High Park and Sun Valley Trails. Both of these trails are accessible by public transit.

The High Park Trails provide hikers with a unique and peaceful escape from the busy hustle and bustle of city life. Spanning 160 hectares, this park also has an outdoor ice rink and other amenities that complement thebeautiful scenery and wildlife.

For beginners looking for a more leisurely route, the Sun Valley Trails at Crothers Woods is perfect. It's around 1.3 kilometres long, 2.5 metres wide, and is located in the Don River Valley.

Go ice skating

Popular places for this classic outdoor winter activity are the Natrel Rink and Nathan Phillips Square where the iconic Toronto sign can be found. Both provide skate rentals, locker rooms, and washrooms. Hungry? There's a lot of food and drink vendors nearby. The Grenadier Pond and the skating trail under the Gardiner are other skating venues to try. Then for something new, go on a midnight skate at Harbourfront.

On Saturday nights, Natrel Rink turns into what is dubbed as the best winter blockparty in Toronto. This weekly winter event comes with local and international DJs dishing out the best tracks to keep the party vibe going.

Shop at the Toronto Christmas Market

The Toronto Christmas Market gives visitors a truly magical holiday experience. Set in the Distillery Historic District, the Toronto Christmas Market provides a European Old-World flair. It has countless vendors, artisanal food makers, musicians, a beer garden, and holiday-themed attractions like Santa's House. It also has one of the city's largest real Christmas trees on display.

See the Toronto Light Festival

Created by the organizers of the Toronto Christmas Market, the Toronto Light Festival turns the Distillery District into a spectacular exhibit of light art. It features installations by international and local artists.

The festival has stunning light sculptures and beautiful interactive installations createdto "entertain and inspire." This free event starts mid-January until early March.

Attend the Winterfolk Music Festival
Music lovers of all ages and genres will definitely enjoy the Winterfolk Music Festival. This mid-winter festival celebrates all types of music – folk and country, rock, jazz, and blues. This three-day event features over 150 artists performing at five venues. Tickets for the show start at $15.

The Winterfolk Music Festival also has special tribute events, award ceremonies, community stages, and all sorts of themed musical workshops for the ultimate experience in sound and harmony.

Snowshoe or cross country ski across the winter landscape

For the more adventurous souls, try snowshoeing or cross country skiing.The City of Toronto is surrounded by breathtaking open space that literally turns into a winter wonderland.

Head toward the Edwards' Garden Trail for a scenic and more laidback route.Another popular place to snowshoe and cross country ski is The Toronto Islands. It has trails spread across the islands,each having a spectacular winter view. The wide expanse and tranquility of these pockets of snow-covered land make them perfect for exploring.

See beautiful winter art

In what is turning into a yearly event, the Ice Breakers exhibition fills the Toronto lakefront with gorgeous winter art. The exhibition featuring five outdoor art installations by local and international artists goes on display for five weeks along the Queen Quay West.

The Bloor-Yorkville Icefest at Cumberland Street and Bellair Street is also a must-see. Watch incredible live ice carving demonstrations and look at exquisitely-carved ice creations at the Main Ice Exhibit.

Visit Evergreen Brick Works

Evergreen Brick Works has for this winter season their Winter Wednesdays event. Skate under the stars then grab delicious hot chocolate afterward. For a little more kick in one's drink, there's the Sipping Station. Plus,there's plenty of food trucks that offer delicious street fare.

For those not fond of ice skating, there'sbocce ball, giant Jenga, and street curling games. This year's event starts from January 16 until February 20.

Ride a bike through the city

Explore the city and see unique and breathtaking winter sights on a fat-tire bike. These bikes are perfect for rough terrains covered in snow. Evergreen Brickworkshas fat-tire bikes for rent,and offers group biking rides for those who don't want to sightsee alone.

Biking through the city is a great way to experience everything Toronto has to offer while keeping away from the busyness of the downtown area.

See the lights of Upper Canada Village

Be captivated by over a million lights decking the historic Upper Canada Village at the Alight at Night event. This is the largest outdoor lighting festival in Ontario. Other feasts for the eyes here are enchanted horse-drawn wagons, life-sized toy trains, a vintage 1965 merry-go-round, and more.
Learn all about life in Toronto and real estate options in the area. Just give Cheryl Thompson and Linda McEwan a call at 416.419.1991 or send an email to cthompson(at)sothebysrealty(dotted)ca.